A Congresswoman Called Trump A "B*tch" On Twitter & Yup, That Happened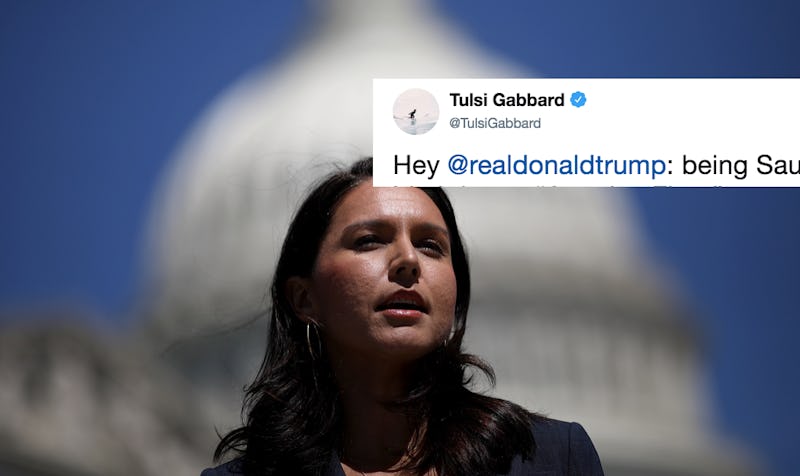 Win McNamee/Getty Images News/Getty Images
The president has long used Twitter to release harsh public statements about people he disagrees with, but sometimes the tables turn and the platform is used to send a message to him, instead. Such was the case on Wednesday, when Hawaii Rep. Tulsi Gabbard tweeted about Trump and Saudi Arabia, calling the president a "b*tch."
Gabbard's tweet was straight and to the point. "Hey @realdonaldtrump: being Saudi Arabia's bitch is not 'America First,'" she wrote.
Gabbard's tweet seemed to directly reference President Donald Trump's Tuesday statement about Saudi Arabia, in which he effectively defended the Saudi Crown Prince Mohammed bin Salman over the death of Jamal Khashoggi, a Saudi journalist who was critical of the government. (Khashoggi was a U.S. resident.) In his statement, Trump claimed that the United States may "never know all of the facts surrounding the murder of Mr. Jamal Khashoggi," and ended with an exclamation of "America first."
"In any case, our relationship is with the Kingdom of Saudi Arabia," the president said in his statement. "They have been a great ally in our very important fight against Iran. The United States intends to remain a steadfast partner of Saudi Arabia to ensure the interests of our country, Israel and all other partners in the region."
Although Gabbard drew a lot of attention for her tweet, not all of it was positive. Many were quick to point out that while the congresswoman was criticizing the president for sidestepping the CIA's conclusion that the Saudi Crown Prince had ordered Khashoggi's killing, Gabbard has ignored general consensus on foreign matters in the past, as well. Specifically, back in 2017, Gabbard cast doubt on whether Syrian President Bashar al-Assad had a hand in issuing chemical attacks on his own people, something the United States and its allies widely understood to be true, according to The Washington Post.
In April of 2017, Gabbard posted a series of tweets which suggested that she believed it wasn't clear who was behind the chemical attacks, for which she received vehement backlash from both Republicans and Democrats. Just a few days later, the Gabbard explicitly told CNN that she was, indeed, "skeptical" of the claim that the Assad regime was responsible for the chemical attacks, provoking yet another wave of criticism.
This reputation colored the response she received on Wednesday, when she brazenly swore at the president on social media. Many of those who responded were extremely harsh.
"TFW Assad's pal is dunking on you for being too cozy to a Middle Eastern dictator..." tweeted The Daily Beast's editor-in-chief, Noah Shachtman.
Indeed, many were quick to dub Gabbard as an outright "supporter" of the Syrian president. "Bashar Assad's most prominent congressional supporter is deeply concerned about Trump's relationship with Saudi Arabia," tweeted BuzzFeed News opinion editor Tom Gara.
As for the president, his statement on Tuesday indicates that he does not plan to condemn Saudi Arabia any time soon. "Our intelligence agencies continue to assess all information," the president said, "but it could very well be that the Crown Prince had knowledge of this tragic event – maybe he did and maybe he didn't!"
How the U.S.-Saudi Arabia relationship will proceed is not entirely clear. However, the situation does seem to show that, especially in the age of the internet, recent history is not so quickly forgotten.