Tumblr Is Banning NSFW Content Starting In Mid-December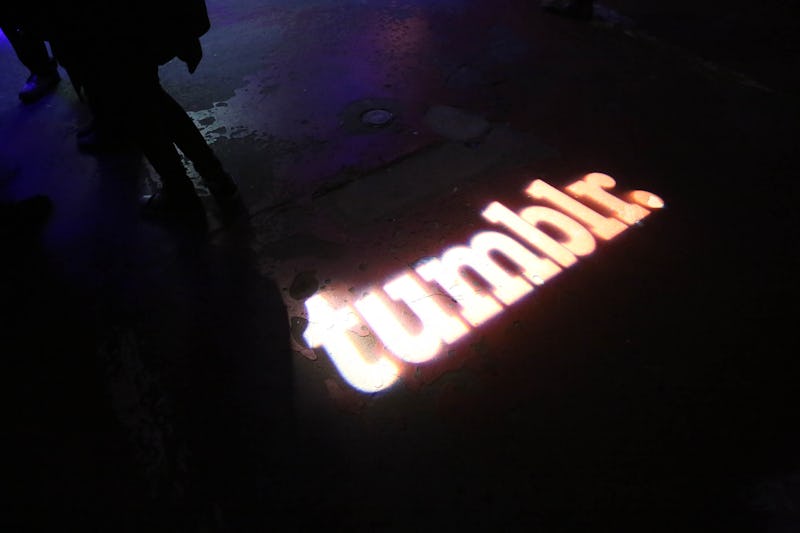 Rob Kim/Getty Images Entertainment/Getty Images
The micro-blogging platform Tumblr announced that it would ban adult content beginning on Dec. 17, The Verge reported. Come mid-December, Tumblr will no longer allow: "photos, videos, or GIFs that show real-life human genitals or female-presenting nipples, and any content — including photos, videos, GIFs and illustrations — that depicts sex acts," an updated community guidelines policy reads. The site will use an algorithm to go through sites and flag potentially NSFW content; site owners will then get an option to repeal Tumblr's decision.
Those who currently have adult content on their Tumblr site will see that content revert to a private setting that can only be viewed by the content creator. The new update also gets rid of "safe mode," a screening tool that appears in front of blogs featuring NSFW content to block it from being accidentally opened in public. While pornography will be banned, other forms of nudity will be allowed to remain on Tumblr.
"Exceptions that are still permitted are exposed female-presenting nipples in connection with breastfeeding, birth or after-birth moments, and health-related situations, such as post-mastectomy or gender confirmation surgery," the guidelines explained. "Written content such as erotica, nudity related to political or newsworthy speech, and nudity found in art, such as sculptures and illustrations, are also stuff that can be freely posted on Tumblr."
In a statement on Tumblr's website, CEO Jeff D'Onofrio posted that the change is a part of the company's evolution. "It is our continued, humble aspiration that Tumblr be a safe place for creative expression, self-discovery, and a deep sense of community. As Tumblr continues to grow and evolve, and our understanding of our impact on our world becomes clearer, we have a responsibility to consider that impact across different age groups, demographics, cultures, and mindsets," D'Onofrio explained.
The move comes after reports of child pornography on the site resulted in the app being removed from the Apple app store; at that time, Tumblr stated that "We're committed to helping build a safe online environment for all users, and we have a zero tolerance policy when it comes to media featuring child sexual exploitation and abuse."
Some Tumblr users are expressing concern over the new policy. Some say it will do little to stop bots from continuing to post explicit content while others predict it will be the end of the platform altogether.
D'Onofrio noted that the decision was not made lightly. "We spent considerable time weighing the pros and cons of expression in the community that includes adult content. In doing so, it became clear that without this content we have the opportunity to create a place where more people feel comfortable expressing themselves."
While it seems that the guidelines will still allow artists to post content that involves nudity, it remains to be seen how the ban impacts Tumblr long term. However, D'Onofrio stated that these actions are for the benefit of the Tumblr community at large. "Our actions are out of love and hope for our community. We won't always get this right, especially in the beginning, but we are determined to make your experience a positive one."