Twitter Is Fuming About Ingraham's "Summer Camps" Comment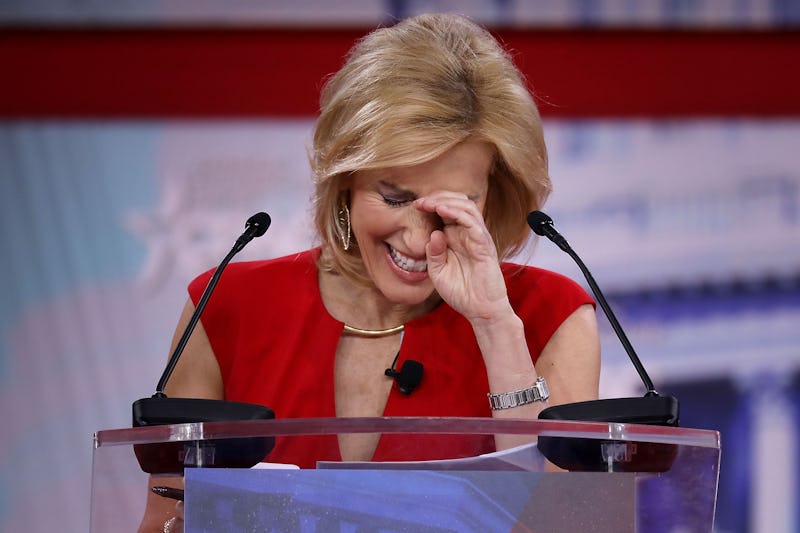 Chip Somodevilla/Getty Images News/Getty Images
For the second time in just about three months, Fox News host Laura Ingraham has drawn a firestorm of criticism to herself over a comment she made about the news of the day. This time, Ingraham referred to the detention centers for children separated from their parents as "essentially summer camps." Now, less than a day later, there are numerous tweets about Ingraham's "summer camps" comment, all showing that no one is quite ready to let that comment slide.
"As more illegal immigrants are rushing the border, more kids are being separated from their parents and temporarily housed at what are, essentially, summer camps," Ingraham said on her show, The Ingraham Angle. She was referring to the Trump administration's "zero tolerance" policy, which, as The New York Times reported, insists on separating undocumented would-be immigrant families as a deterrent to immigration.
Recently, reports have emerged showing not only that over 2,000 children have been separated from their families in the last six weeks, as the Department of Homeland Security announced, but also that many of the children in the detention centers are downright miserable. Ingraham happened to call the centers "summer camps" on the same day that a ProPublica report came out, allowing people to hear exactly how miserable the children were.
Ingraham clarified what she meant, in a statement from Fox News Channel's The Ingraham Angle:
Apparently there are a lot of people very upset because we referred to some of the detention facilities tonight as essentially like summer camps. The "San Diego Union Tribune" today described the facilities as essentially like what you would expect at a boarding school. So I will stick to there are some of them like boarding schools. And I suggest that a lot of the folks who are worried about that spend more time in Central America. I have. And we should make adoption easier for American couples who want to adopt these kids.
This, however, has not quelled the angry tweets rolling in in response to Ingraham.