Twitter Is Loving Kellyanne Conway's Latest TV Fail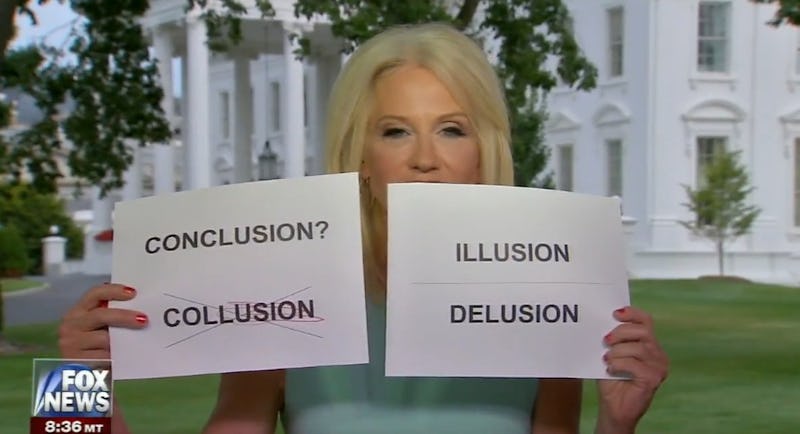 Fox News
On Wednesday afternoon, presidential advisor Kellyanne Conway took her game to a whole new level by using flash cards — you know, the kind you'd see on educational TV — on national television to make her point. The internet, being the internet, couldn't get enough. Some observers took it a step further, reimagining "Kelly's Cards" memes and tweets to mock President Trump, his administration, and oh so much more.
In the original image, Conway is speaking with Sean Hannity on Fox News. She holds a card with the word "conclusion?" printed on the top and "collusion" on the bottom crossed out with a big red X. She says, "What's the conclusion? Collusion? No. We don't have that yet."
She then offers up a card with "Illusion" and Delusion" written on it, arguing that's what she sees on offer — à la Sesame Street's word of the day.
Conway was on, of course, to defend the administration from the latest scandal to rock Trump: his son meeting with a Russian lawyer who promised dirt on Hillary Clinton which was purportedly straight from the Russian government -- a big no-no. The flashcards didn't serve up much of a defense, but they did result in these great memes.