This Trump Supporter Got Temporarily Booted Off Twitter & Here's Why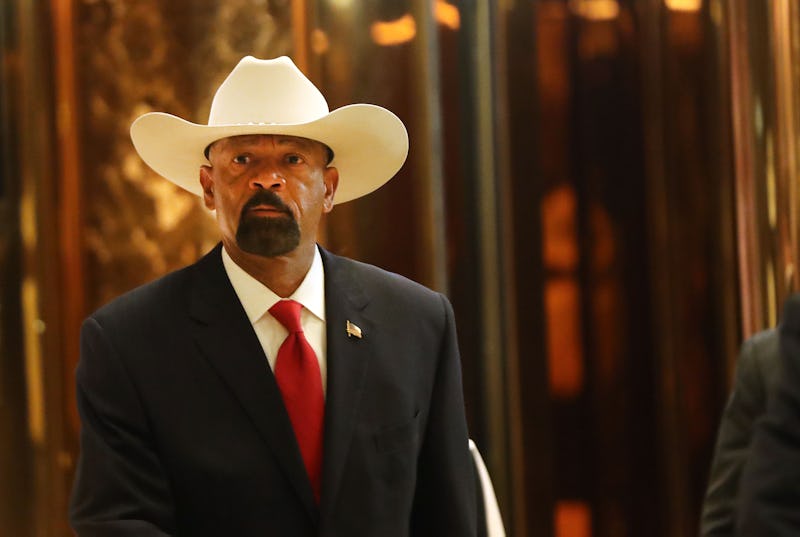 Spencer Platt/Getty Images News/Getty Images
It doesn't look like a certain Donald Trump supporter will be starting the new year off anymore by threatening "liberal media." On Tuesday, former Milwaukee Sheriff David Clarke's Twitter account was locked temporarily until he deleted a handful of tweets. CNN first reported the story, stating that Clarke's Twitter privileges were temporarily terminated after the platform found that some of his tweets were in direct violation of website's terms of service.
In one tweet, Clarke reportedly told his followers to physically assault the "lying [liberal] media." The now-deleted tweet is pretty stunning as it reportedly said,
When LYING LIB MEDIA makes up MAKE NEWS to smear me, the ANTIDOTE is to go right at them. Punch them in the nose [and] MAKE THEM TASTE THEIR OWN BLOOD. Nothing gets a bully like LYING LIB MEDIA'S attention better than to give them a taste of their own blood #neverbackdown.
According to CNN, Clarke's tweet came with a bizarre gif, too. In this animated gif, CNN said that Trump's face was pasted on a wrestler pinning another wrestler down. "CNN" was superimposed on latter wrestler's face. In the gif, the "Trump" wrestler began violently kicking the other fighter in the head. Soon after Clarke reportedly tweeted this gif, a Twitter user flagged the disturbing content to the website's moderators.
The user, who remains unnamed, said that the website responded by saying, "We have reviewed the account you reported and have locked it because we found it to be in violation of the Twitter Rules." The website shared a link to the mentioned rule and added, "If the account owner complies with our requested actions and stated policies, the account will be unlocked." Though it hasn't been verified, it's possible that Clarke actually retweeted the same gif that Trump did back in July. Trump was not temporarily banned from Twitter after posting this:
Yet, Twitter mentions clearly where it stands when it comes to abusive behavior and physical harm. In its own page on rules and policies, Twitter tells users, "You may not make specific threats of violence or wish for the serious physical harm, death, or disease of an individual or group of people." The website also says,
We believe in freedom of expression and open dialogue, but that means little as an underlying philosophy if voices are silenced because people are afraid to speak up. In order to ensure that people feel safe expressing diverse opinions and beliefs, we prohibit behavior that crosses the line into abuse, including behavior that harasses, intimidates, or uses fear to silence another user's voice.
Once his profile was restored along with his tweet and retweet privileges, Clarke seemed unbothered. He tweeted,
I know I'm winning. Some snowflake lib made a complaint to Twitter because of my earlier tweet about black kids being exploited by lefty failed policies at Ballou High School. I said in my tweet, this CRAP is criminal. Twitter said no violation of rules. Diaper change time.
Still going on his diatribe against the "lying liberal media," Clarke tweeted on Sunday, "I keep warning the LYING LIB MEDIA and their liberal goons NOT TO POKE THE DOG because I BITE BACK. They continue to think I will take their DRIVE-BY HIT SMEARS lying down. I WASN'T BUILT TO BACK DOWN. They are not used to THIS conservative's style of SMASH-MOUTH POLITICS #MAGA." Clarke also shared a picture of a snarling Rottweiler in his aggressive capslock tweet.
In spite of his Twitter getting temporarily locked and his tweeting privileges taken away, the former Milwaukee sheriff has yet to explain how exactly the "liberal media" is lying.