Twitter Has Something To Say About Diddy's 'Zorro' Hat At The Billboards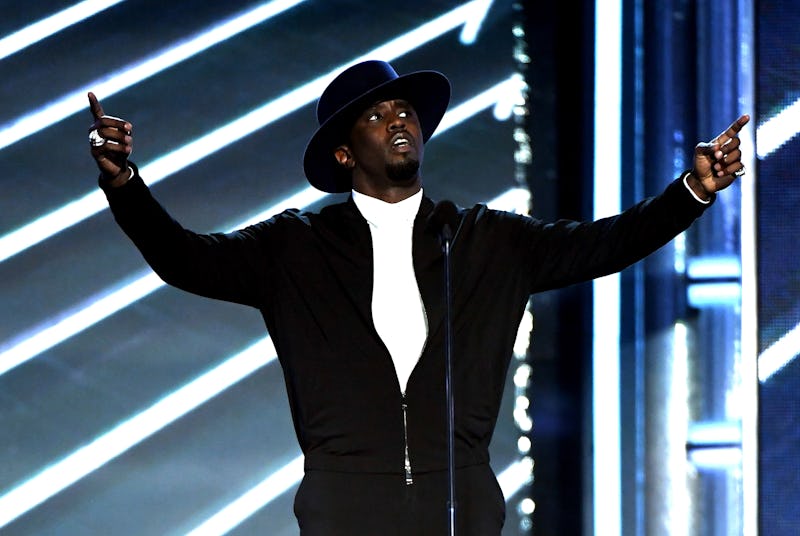 Ethan Miller/Getty Images Entertainment/Getty Images
If there's anything better than the performances at awards shoes, it's the accessories. Stealing the show for his on-stage moment, Sean 'Diddy' Combs' Billboard Music Awards hat has Twitter talking. While some seem to think he got his inspiration from Zorro others have some other possible points of inspiration inspirational. But no matter how meme-worthy the moment was, people seem to love the style.
Just like Pharrell did at the 2014 Grammys, Diddy wore an oversized hat for his on-stage Billboards moment. Because fashion is alive and well for the show, my friends. He stepped on stage to announce the upcoming Biggie Smalls social media campaign, but it didn't take long for the large-brimmed brown hat to steal the show.
People on social media have a whole lot of feelings about the oversized accessory. Combining classy and street style, the producer paired the hat with a black bomber jacket and a white button-up. It was a major style moment to say the least, and, until Diddy says where he got his inspiration from, people on Twitter have some guesses. From Zorro to the Hamburglar, there was a whole lot of talk about his style look-a-like. Here's a photo, so you can decide for yourself.
Apparently, it's all about the tilt. His son hit the stage to join him and was wearing an oversized hat as well. It was quite the stylish father-son moment.
This could just be the most meme-worthy moment of the night. People on Twitter are obsessed with Diddy's hate to say the least. Here are some of the best outfit comparisons of the night.
He might have stole this out of his closet, TBH.
Does Beyoncé know about this?
It's not just you.
BRB, crying.
*Shrugs*
Props for digging this one up!
If you're going to do it, at least commit.
Where's the award for this one?
Bottom line: people will be talking about this style moment for a while.