Twitter Has Some Thoughts On Kim K's Jackie O-Inspired Shoot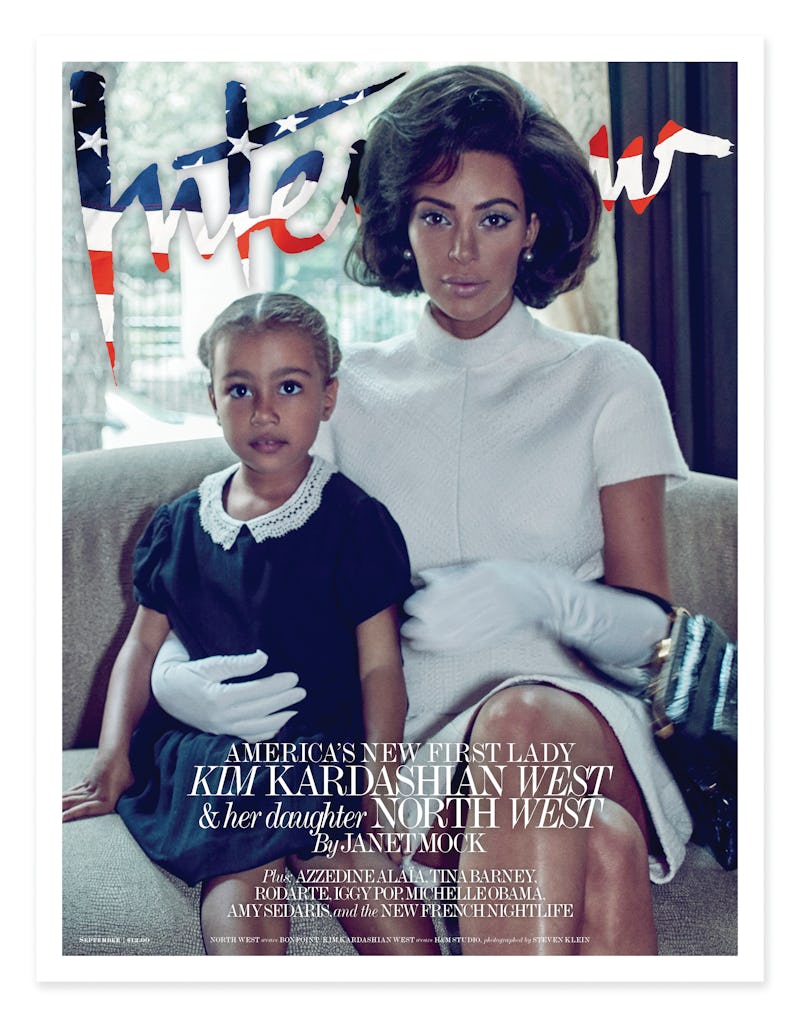 Steven Klein/Interview Magazine
Whenever Kim K is involved in anything — whether it be a new makeup product, music video, or a surrogacy announcement — the internet loses it. Her next move? Kim Kardashian's Interview Magazine cover where she channels a modern day Jackie O. As expected, it is garnering quite the reaction on Twitter.
On Monday, Aug. 28, Interview Magazine released the cover of West posing with her daughter, North, channeling Jackie O in her iconic white dress. She sits on a cream couch in a navy and white dress with North by her side. West also dons white gloves, giving off major '60s Americana vibes. The magazine's title, Interview, is printed at the top in a red, white, and blue font, complete with white stars.
The Kardashian-Jenners are having quite the month in magazine spreads — just two weeks ago, the women of the family posed for The Hollywood Reporter in a spread titled "The Kardashian Decade." There's no doubt that the family is not slowing down, despite the current season of Keeping Up With The Kardashians being their final one.
Now, Kim K has landed another spread, this time dedicated to her and Northie. In the photos, West is posed as the style icon Jackie O, photographed in skirt suits, fur, gloves, and of course, Jackie O's iconic hair.
This wasn't the first time Klein had shot West, though — in 2015, Klein shot her nude LOVE Magazine spread.
Shot at The National Arts Club in New York City, West is dressed and posed as a "powerful female ambassador" according to Interview's press release. "A knowing wink to the fact that in today's climate truly anyone can aspire to the White House."
In an interview with Janet Mock, West opens up about her life as a celebrity, fame, and the harrowing Paris incident.
And as anything surrounding Kim Kardashian West, there were lots of mixed opinions, which users were not afraid to share on Twitter.
Many agree that these photos of her and North West are super cute.
Two honorable titles.
Apparently, fans have been waiting forever!
These vintage vibes got people's attention.
Her fans are passionate.
"Iconic" is no easy feat.
Sometimes a gif says it all.
Others, however, were critical.
Definitely a strong opinion.
And they're not afraid to hold back on their opinions.
Some knew that criticism was coming.
Other had very harsh words.
And some had mixed reviews.
And one in particular had a future premonition.
Are these valid points?
Maybe some need a history lesson on who this "Jackie lady" is.
Whether you're a fan or a hater of the cover, one thing's for certain — it caused a crazy stir. But what else would you expect from the queen of reality TV herself?