Two French Fashion Companies Are Joining Together To End Model Abuse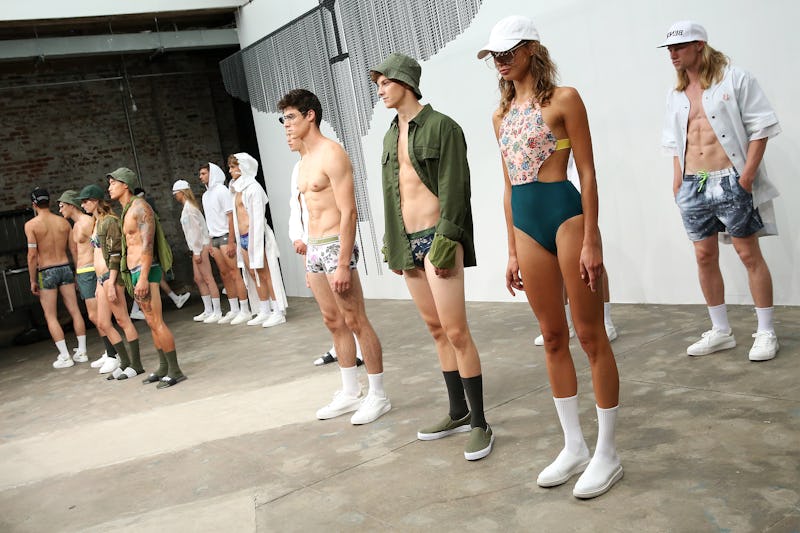 Monica Schipper/Getty Images Entertainment/Getty Images
Here's some good fashion news: French fashion conglomerates LVMH and Kering have joined together to curb the abuse of models. The companies are taking a stand in the name of mental and physical health in the best possible way. Plus, the move is just in time for international fashion weeks.
LVMH and Kering jointly drafted and signed a charter called "The Charter on Working Relations With Fashion Models and Their Well-Being." The document bans brands from using models under that age of 16, and also bans houses from requiring models to be under a size 2. This standard, in turn, requires casting agencies to present models who are size 4 and over.
While brands can still cast size 2 models, this standard is meant to prevent only one body type from being present on the runways.
LVMH houses brands like Louis Vuitton, Givenchy, and DKNY, while Kering houses Gucci, Yves Saint Laurent, and Balenciaga.
According to The Cut, this charter comes after casting director James Scully voiced his opinion on cruelty and discrimination in the fashion industry. He also called out specific brands that are housed under the conglomerates making these changes.
The charter reads:
— The brands commit to working solely with models who are able to present a valid medical certificate, provided by the agencies and obtained less than six months before the shooting or the fashion show, attesting to their good health and ability to work
— The brands commit to ban size 32 for women and size 42 for men (French measurement) from their casting requirements, and will thereby require casting agencies to present women and men models who are respectively size 34 or over, and 44 or over
— The brands agree to put a dedicated psychologist/therapist at the models' disposal during their working time
The charter isn't just stressing the importance of physical health. According to the document, each brand must "agree to put a dedicated psychologist/therapist at the models' disposal during their working time."
In 2007, Independent UK reported that models' mental health is more at risk than their peers. This was attributed to longer hours, societal pressures, and overall stress of the job.
The charter tackles these issues, while protecting youth in the industry. The charter ensures that models under 18 are getting enough schooling, have chaperons, and are not being served alcohol. It also makes sure they aren't working from the hours of 10 p.m. to 6 a.m.
"Respecting the dignity of all women has always been both a personal commitment for me and a priority for Kering as a group," François-Henri Pinault, chairman and CEO of Kering, tells The Cut. "Through the establishment of this charter and our commitment to abide by its terms, we are once again manifesting the importance of this core value in a very concrete manner."
Fingers crossed that this move creates a ripple affect throughout the rest of the fashion world.