How These Two Witnesses Are Trying To Discredit Christine Blasey Ford's Allegation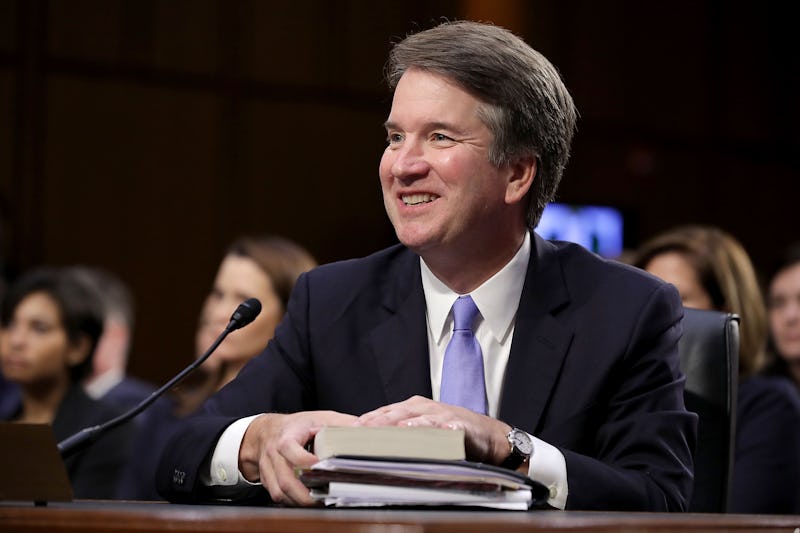 Chip Somodevilla/Getty Images News/Getty Images
As the Senate Judiciary Committee prepared to question one of Brett Kavanaugh's accusers in a Thursday hearing, Republicans interviewed two men claiming they assaulted Christine Blasey Ford — not Kavanaugh, as Ford alleged. The committee released a timeline on Wednesday night revealing that committee chair Chuck Grassley (R-Iowa) spoke to a man multiple times this week who believes he had the alleged encounter with Ford in high school, as well as a second man who made a similar statement, according to The Hill.
Grassley has not disclosed the men's names, nor details about why they believe Ford is mistaken in identifying Kavanaugh as the man who allegedly assaulted her. Democrats on the Judiciary Committee weren't aware of the men's claims until the timeline was released by Republicans on Wednesday, The Hill reports.
Kavanaugh has repeatedly denied Ford's allegations. "I never did anything remotely resembling what Dr. Ford describes," his written remarks submitted ahead of Thursday's hearing said. The two men's claims, though unsubstantiated, will likely come up in Thursday's hearings, as they bolster Republicans' allegations that Ford is "mistaken."
Ford's attorney stands by her client's story, however. Earlier this week, she released polygraph results that said Ford's allegations against Kavanaugh were "not indicative of deception," as CBS News reports.
The first witness who came forward in an attempt to discredit Ford's story was interviewed by committee staffers on Monday, per Buzzfeed News. He was interviewed a second time on Tuesday when he "described his recollection of their interaction in some detail," according to the committee's timeline. On Wednesday, the man submitted an "in-depth" written statement to the committee, and the committee spoke to a second man over the phone who claimed Ford was describing an encounter she had with him, not Kavanaugh.
"I am not questioning that Dr. Ford may have been sexually assaulted by some person in some place at some time. But I have never done that to her or to anyone. I am innocent of this charge," Kavanaugh said in his written remarks prepared for Thursday.
The witnesses' claims appear to back up Kavanaugh's denial, but Ford will have the opportunity to address the Senate Judiciary Committee directly on Thursday. Although her opening statement was submitted before news of the witnesses was released, it reiterates her previous allegations. She admits that she doesn't remember the details of how the party where the alleged encounter took place came together, but she is adamant that she remembers who was there.
"The details about that night that bring me here today are ones I will never forget," Ford wrote. "They have been seared into my memory and have haunted me episodically as an adult."
News of the witnesses surfacing the night before Ford's testimony means Republican senators will probably use the claims to question Ford about the accuracy of her memory. A Democratic aide told The Hill that "Republicans are flailing" and "desperately trying to muddy the waters, having tried and failed to bully and discredit Dr. Blasey Ford."
America will be watching as she addresses these claims and again describes her allegations of sexual misconduct to the Judiciary Committee.
If you or someone you know has been sexually assaulted, call the National Sexual Assault Telephone Hotline at 800-656-HOPE (4673) or visit online.rainn.org.