Tyler Hilton Reflects On Reuniting With His "Teardrops On My Guitar" Costar — Taylor Swift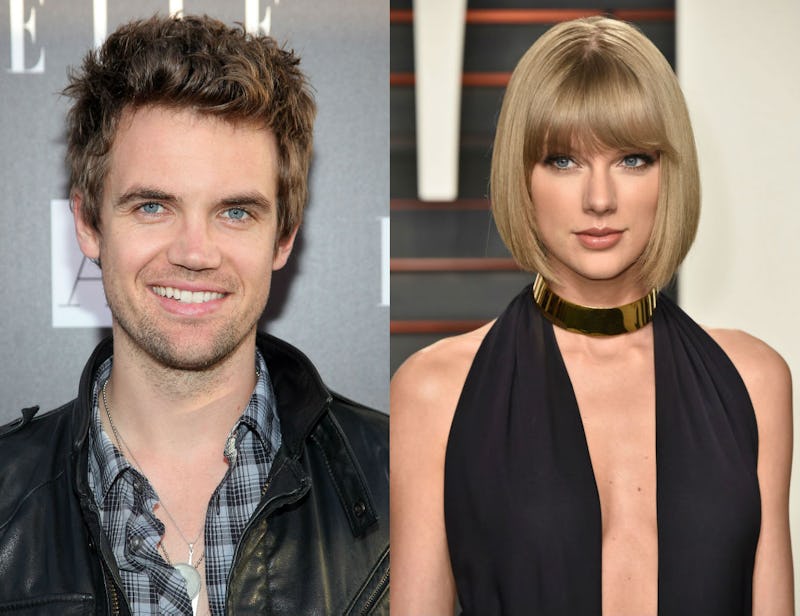 Angela Weiss/Getty Images Entertainment/Getty Images; Pascal Le Segretain/Getty Images Entertainment/Getty Images
Swifties and One Tree Hill fans, let's take a walk down memory lane. If you hadn't seen, Taylor Swift and Tyler Hilton reunited on Oct. 6 in Arlington, Texas during the last leg of her U.S. Reputation tour. The next day, Hilton shared an Instagram of their long overdue meet-up. It's a reunion T. Swift and OTH fans couldn't get enough of, and, now Hilton is opening up about reuniting with Swift. Believe it or not, but being able to see the "Look What You Made Me Do" singer meant the world to Hilton.
"Ever since I first met her when she was 15 and she asked if I'd sing one of my songs with her at her show, I was blown away by her talent," Hilton tells Bustle in a statement sent via email. "Then we went on the road together and I got to know her incredible family."
From that moment on, the actor/singer formed quite the bond with Swift. Hilton even went on to star in Swift's "Teardrops On My Guitar" video, which was released in 2007. As fans most likely recall, he played her crush, Drew. Despite it being 11 years since the video's debut, Swift has held a special place in Hilton's heart and that's exactly why he just had to see Swift at AT&T Stadium.
"So when I saw she was playing next door to where I was playing in Dallas, I had to stop by and say hi," he tells Bustle. "It's incredible the kind of performer she's become and her family are all still the warm, grounded people I've known for years!"
As you can see above, they took several photos together. Hilton captioned the series of images, "Congrats to @taylorswift @camila_cabello @charli_xcx on a killer last night of Tour!! You killed it bud, great seeing you and the fam, come a long way since Teardrops vid we did!!!"
According to Entertainment Tonight, Swift also shared a picture with Hilton on her Instagram Story and wrote, "Teardrops on My Guitar video rise, Tyler Hilton is here."
The reason Hilton has such a strong connection with Swift and her entire family is because he lived on their houseboat after moving to Nashville, Tennessee. Seriously, he had no to place to stay after relocating and they were kind enough to provide Hilton with housing.
The actor who brought Chris Keller to life on OTH told ET, "My dad came out to Nashville and we were looking for a place for me to stay and Taylor and her family were like, 'You can just stay on our boat! We have a boat near our house and it's like a house, so just stay there.'" He added, "Just the sweetest family, the sweetest girl and one of the most talented people I've ever met."
They have a truly special relationship. Any chance he gets, Hilton praises Swift's success. He recalled to ET, "She's really authentic and that whole thing you see with her is what you get — like I remember her playing me songs in her bedroom that ended up on her Fearless record and she really was just a little girl in her bedroom with all these fantasies and a journal full of songs. It was so endearing."
Hilton's support for Swift is lovely and it's clear their friendship is one he'll forever cherish.