Uber CEO's Leave Of Absence Won't Solve Tech's Woman Problem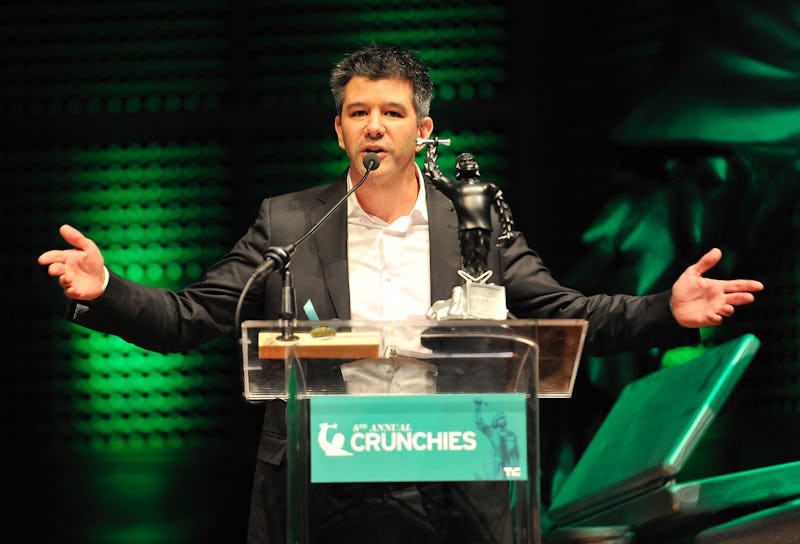 Steve Jennings/Getty Images Entertainment/Getty Images
After an explosive blog post in February by former employee Susan Fowler, who claimed sexual harassment at the company was never adequately addressed, it is clear that Uber is trying to make amends. Controversial CEO, Travis Kalanick, will take a leave of absence it was announced Tuesday. But for all the hype, women in the tech industry are still skeptical what impact this measure will have, as well as the other recommendations put forth in the report released the same day.
Emily Rasowsky, founder of the Women in Tech Campaign, says that many companies in the tech space struggle with diversity and inclusion. But, she believes that the board of Uber's unanimous decision to adopt these recommendations to improve its workplace culture is certainly a step in the right direction.
"I don't think anyone has figured this out," Rasowsky tells Bustle. "I do think that Uber's history and the things that have come out have been, from my perspective, unacceptable for how you strive toward this goal of inclusion. But I think they are acknowledging it and doing the best that they can to move towards some sort of action.
"You have a culture that is very driven and basically whoever is the loudest or the most outrageous gets rewarded and recognized," Elizabeth Ames, senior vice president of marketing, alliance and programs at the Anita Borg Institute. tells Bustle. "People that are in minority populations are very unlikely to be those people, because when you are in the minority, it's an uncomfortable place to be loud and aggressive from."
Ames says key to fixing any of the alleged problems at Uber go to the core of the structure of the company — and many companies in the tech world. "You have to start to build in the right kinds of systems," Ames says. "You have to look clearly at the reward structure, and what kinds of behavior are rewarded. You need to start to build diversity from the leadership team on down."
Rasowsky says that removing Kalanick might send a clear message that the company is taking the situation seriously, but she has doubts as to how his absence would realistically affect the changes that need to be made.
"The thing is that real systematic change has to happen top down, bottom up, right left, across the board," Rasowsky says. "It has to be something that is obviously spearheaded by upper management, but at the same time there are so many things that go into whether or not something sexist is happening in the workplace, and a lot of it is individual and a lot of it is collective culture."
Ames believes that for real hold to take place, it is crucial that change must be demonstrated at the top levels — and perhaps not only with the temporary pause in Kalanick's leadership.
"The value of diversity and inclusion has to be modeled and valued at the very top of the organization," Ames says. "If not, it won't be modeled or valued lower down. Organizations reflect their leadership. Travis has been the leader during this time. If he is going to be the leader going forward, there must be demonstrable change. You can't say it's business as usual."
Still, even Kalanick's temporary stepping away is headline-making. But will such a move be the catalyst for a larger industry change?
Ames is dubious. She thinks larger cultural shifts are necessary for the future of tech, an industry where women only make up about a quarter of the workforce.
"You're not going to change those numbers immensely in one year," Ames says. "That isn't going to change unless the industry starts to wake up. There are companies that are doing great work in this area, and there are other companies that give it lip service, and some that completely ignore it. The industry at large is at risk if they continue to ignore this as being an issue."