A New Lawsuit Is Claiming Uber Drivers Assaulted & Harassed "Thousands" Of Women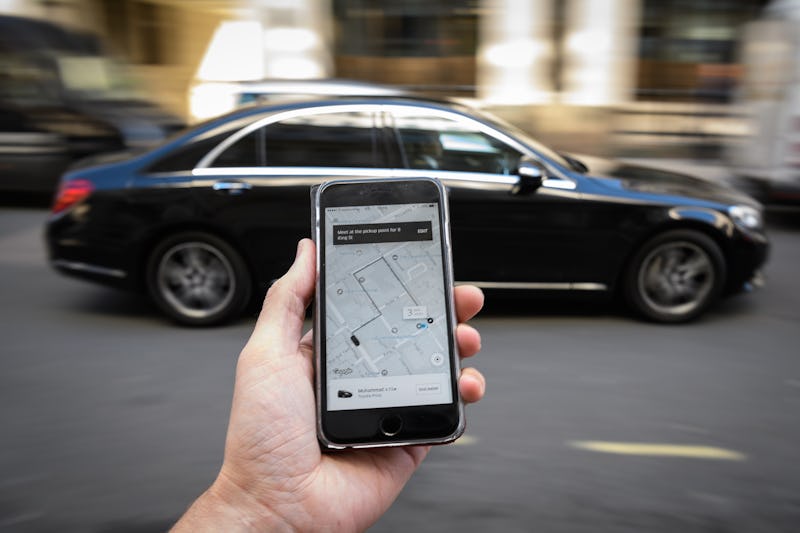 Leon Neal/Getty Images News/Getty Images
A lawsuit filed this week in court in San Francisco alleges that "thousands" of female Uber passengers have been subject to rape, sexual assault, and other forms of "gender-motivated harassment" by the company's drivers since 2010. The complaint was filed on Tuesday by two anonymous women, Jane Does 1 and 2, and seeks class-action status on behalf of all those who've allegedly been victimized.
In a statement provided to Bustle, Jeanne Christensen, one of the attorneys representing the Jane Does, says that Uber "must come forward with information about how many reports it has received about rapes, sexual assaults and gender-motivated harassment to allow consumers to assess whether Uber really does provide safe rides, especially to women." She adds that the recent #MeToo campaign "has exposed the heinous acts that female riders have been forced to endure during Uber rides."
Specifically, the lawsuit calls on the court to force the ride-hailing company to make "drastic changes" to its driver screening practices, and it further claims that the company has engaged in "fraudulent" conduct by misleading riders to believe they would be safe in the company of Uber drivers. Bustle has reached out to Uber for comment. In a statement to CNN, the company said it was reviewing the complaint, adding that "These allegations are important to us and we take them very seriously."
The two women who filed the suit allege that they were sexually assaulted by Uber drivers. Jane Doe 1 claims that a Uber driver in Miami who had previously been charged with a felony carried her to her bed upon driving her home. Doe says she then passed out and awoke the next morning to find "what appeared to be semen stains" on her comforter. She says she was not wearing pants or underwear. Jane Doe 2 alleges that an Uber driver "forced her to engage in intercourse against her will" after following her into her home.
The lawsuit argues that company's label as a "technology platform," rather than a transportation company, allows it to "skirt state and local regulatory scrutiny" and avoid investing in screening drivers. The complaint further claims the number of reported sexual assaults and rapes by Uber drivers has "sky-rocketed" recently. "Uber made such false representations after failing to screen the drivers in any meaningful way, thereby presenting grave threats to Plaintiffs' safety and well-being," it reads. Uber says it runs background checks on its drivers, including motor vehicle record (MVR) reviews and criminal background checks.
The lawsuit also argues the alleged rapes and harassment by drivers isn't the result of a few bad apples, but instead a by-product of the company's culture and hiring practices overall. It alleges that over the past seven years Uber has "failed to monitor drivers for any violent or inappropriate conduct after they are hired. Nothing meaningful has been done to make rides safer for passengers — especially women."
"This is no longer an issue of 'rogue' drivers who act unlawfully," reads the suit. "Uber has created a system for bad actors to gain access to vulnerable victims. Specifically, drivers have the means and opportunity to veer off route without detection, trap passengers inside their vehicles and commit physical and sexual violence without witnesses."
The suit is the latest in a number of legal troubles for the company. In October, three Latina software engineers sued Uber for alleged racial and gender discrimination. That complaint argued that Uber's compensation and promotional practices discriminate against people of color, and women in general. Uber has declined to comment on that case.
Earlier this month, a former California-based Uber driver was sentenced to 80 years in prison after pleading guilty to raping a female passenger and sexually assaulting as many as 14 others.
Uber recently pledged $5 million in funding for programmatic partnerships focused on sexual assault prevention, and added in a November blog post that it would implement "employee education and training." It remains unclear exactly what that training includes, specifically as it relates to Uber drivers.