Uber Finally Has An Opportunity To Send Women A Message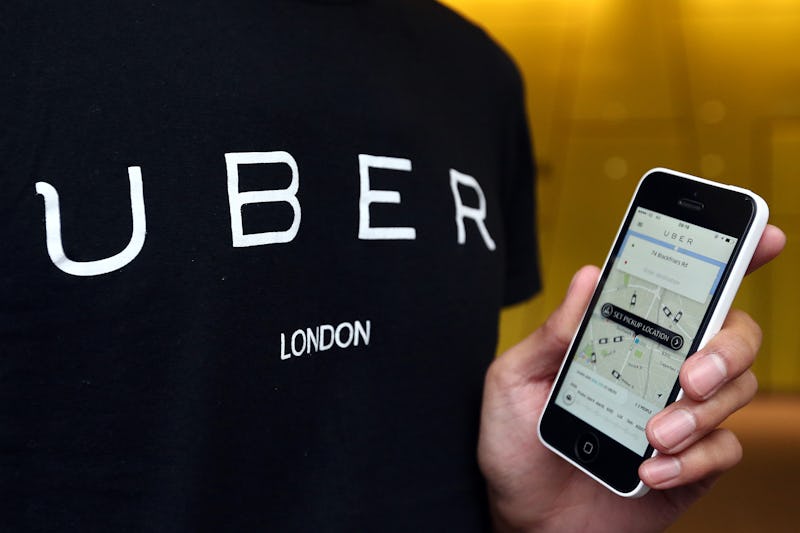 Carl Court/Getty Images News/Getty Images
In a private meeting on Sunday, Uber's Board of Directors met to discuss issues that have plagued the rideshare company's operations and image for months, including allegations of sexual harassment and workplace misconduct. According to the New York Times, the meeting sparked a potential three-month leave of absence for Uber CEO Travis Kalanick. There are concerns that even such a move would not be enough to solve the problems at the beleaguered company.
Uber has faced its share of controversies over the years, but it reached a fever pitch in February, when ex-Uber employee Susan Fowler wrote an explosive post detailing her numerous HR complaints, from sexual harassment to retaliation. In her post, Fowler accused Uber of brushing these complaints under the rug during her time as an engineer there. Consider this excerpt:
On my first official day rotating on the team, my new manager sent me a string of messages over company chat. He was in an open relationship, he said, and his girlfriend was having an easy time finding new partners but he wasn't. He was trying to stay out of trouble at work, he said, but he couldn't help getting in trouble, because he was looking for women to have sex with. It was clear that he was trying to get me to have sex with him, and it was so clearly out of line that I immediately took screenshots of these chat messages and reported him to HR.
Uber was a pretty good-sized company at that time, and I had pretty standard expectations of how they would handle situations like this. I expected that I would report him to HR, they would handle the situation appropriately, and then life would go on - unfortunately, things played out quite a bit differently. When I reported the situation, I was told by both HR and upper management that even though this was clearly sexual harassment and he was propositioning me, it was this man's first offense, and that they wouldn't feel comfortable giving him anything other than a warning and a stern talking-to. Upper management told me that he "was a high performer" (i.e. had stellar performance reviews from his superiors) and they wouldn't feel comfortable punishing him for what was probably just an innocent mistake on his part.
An investigation launched soon after Fowler's post was published, in which lawyers reviewed 215 complaints of misconduct at the company, resulting in 20 Uber staff terminations last week.
It certainly looks like Uber's board is taking the allegations put forth by Fowler seriously and is planning to go beyond the employee terminations. After all, it enlisted former Attorney General Eric Holder's law firm to investigate some of the allegations against the company and the corporate culture it's allegedly fostered. According to the New York Times, Uber's board voted unanimously on Sunday to adopt the recommendations put forth after Holder's investigation.
While the full set of recommendations will not be made public until Tuesday, one of them has already come to fruition. On Monday, the company announced in an email to employees that a top executive, Vice President Emil Michael, was leaving — and his exit was one of Holder's recommendations. Michael faced criticism after it was reported by BuzzFeed in 2014 that he suggested employing people to dig up dirt on reporters who investigated Uber. He also argued that reporter Sarah Lacy, who had criticized the company and encouraged women to delete its app, "should be held 'personally responsible' for any woman who followed her lead in deleting Uber and was then sexually assaulted," BuzzFeed noted.
Michael responded through an Uber spokesperson at the time: "The remarks attributed to me at a private dinner — borne out of frustration during an informal debate over what I feel is sensationalistic media coverage of the company I am proud to work for — do not reflect my actual views and have no relation to the company's views or approach. They were wrong no matter the circumstance and I regret them."
Uber would not confirm whether Michael was terminated or left on his own accord.
Even with Michael's departure, there is the lingering question of whether the board has gone far enough to send a message to women that they are not only welcome, but will thrive at Uber. And will Uber be able to send a powerful enough message that reverberates throughout the tech industry, a world that has grown notorious for its negative treatment of female employees?
In fact, the treatment of women in the tech industry has become a cultural talking point even outside of Silicon Valley. Even Michelle Obama said in her speech at Apple's Worldwide Developers Conference last week that the tech industry needs to "make room" for women, and that it's the men already entrenched in that world who need to create space to have "women at the table." But the incidents detailed by former Uber employees goes beyond the pale when it comes to gendered treatment and hostile work environments.
Any move toward righting these wrongs is a positive step. And Uber, as an industry leader facing these allegations in such a public manner, is poised to set a precedent with its response — in fact, the next moves it makes could help steer the start-up world as a whole in the correct direction.
But doing something concrete about Kalanick may need to be part of such next steps to truly have a lasting positive impact. After all, Kalanick has been caught on tape berating an Uber driver, and has emailed staffers with questionable rules about sex with co-workers. Oh, and under his watch, Uber is also facing a lawsuit over allegations that a (since-fired) employee stole intel from Google on self-driving cars.
From my perspective, Kalanick will need to be removed from Uber to send a message to the tech industry, and especially to women. Sure, the company will bring in lawyers and make a show of taking the issue seriously, but if the guy at the top is allowed to get away with using brash tactics and conducting himself inappropriately, then what makes the people below him think that they have to adhere to these new corporate guidelines?