This College Will Start Offering Free Mental Health Checks To Freshmen On Campus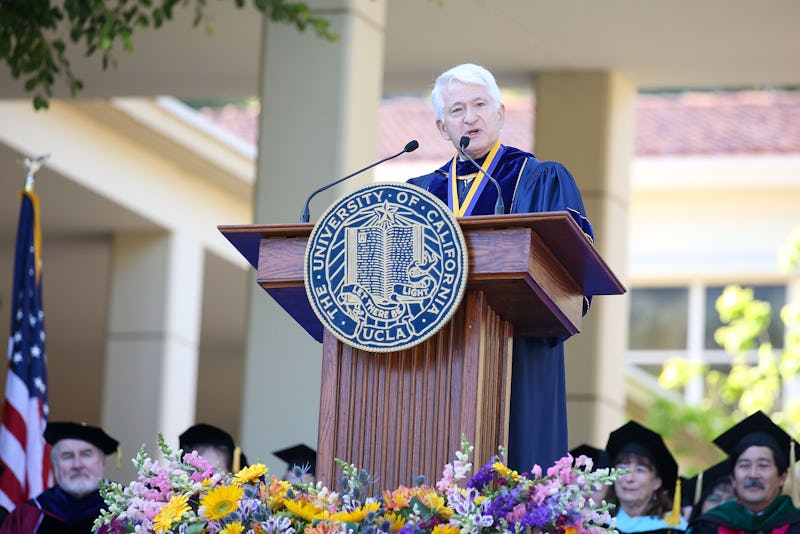 Imeh Akpanudosen/Getty Images Entertainment/Getty Images
Any big life transition, like heading off to college, can be difficult, but for people who suffer from mental health issues, these changes can be exceptionally hard. One college is stepping up to help their students in a big way: On Sept. 14, UCLA Chancellor Gene Block announced the college will offer free mental health screenings and treatment for all incoming freshman and transfer students.Speaking at the One Mind Initiative At Work Summit, Block said that the effort would begin with a voluntary screening for students, and if the student is found to be risk for developing depression or has depression, UCLA will offer them free therapeutic services. UCLA also will offer an eight-week cognitive behavioral therapy program to eligible students, which is a "short-term, focused, goal-oriented type of treatment that requires collaboration between patient and therapist." Though the service will immediately be offered to nearly 10,000 incoming students, the school intends to make the services available to the whole student body in the future; students who are not currently eligible for the new program can still receive mental health assistance through UCLA Counseling and Psychological Services.
UCLA's declaration that mental illness can be best treated by community-driven and comprehensive efforts is an extremely progressive approach to mental healthcare that mental health advocates have long been waiting for. The new program is part of a larger health initiative called the UCLA Depression Grand Challenge, which "connects faculty, students and supporters from all disciplines to work together, adopting a holistic approach to solve critical issues." The UCLA Depression Grand Challenge is similar to the National Alliance on Mental Illness' (NAMI) StigmaFree on Campus initiative, a national campaign spreading mental health awareness and providing resources by forming student-led groups on campuses.
Despite depression being the largest cause of disability worldwide, affecting an estimated 300 million people worldwide, the mental health is widely stigmatized in our society. People who disclose their mental illnesses have been shown to face four major types of public stigma: avoidance, withholding aid or support, coercive treatment, and segregated institutions. In a 2017 survey done by the American Psychological Association, 52 percent of surveyors reported their employer did not offer substantive resources for mental health needs. A majority of studies agree the starting point for dismantling ableism and ending discrimination against mentally ill people is education, which suggests that UCLA's holistic attitude toward mental healthcare will be effective towards ending stigma.
Increasing psychological screening and treatment accessibility is particularly important for college-aged students. NAMI reports, "Most people who live with mental illness are diagnosed by the time they turn 24; over half of all students living with mental illness will drop out of school; and suicide is the second-leading cause of death for college students." Though students are positively utilizing their college's counseling services more than ever before, there has been a surprising amount of stigma-based backlash from some college administrators and professors, who claim their students are "needy" and "less resilient" because of their use of these services. That attitude is exactly what prevents many students from seeking help, putting them at a greater risk of not being able to manage their mental health. UCLA's holistic program directly challenges ableism and prejudice by not "othering" students who struggle with mental illness, and making mental healthcare readily accessible for all.
While UCLA's new mental health initiative is a great stride towards the destigmatization of depression, hopefully intensive services will be developed and extended to those with other mental health issues such as bipolar disorder and schizophrenia. Both disorders have a typical onset of late teens to early twenties, which means young adults are especially vulnerable to developing these disorders in college. Though all around dismal numbers, a National Mental Health Association (NMHA) survey determined 49 percent of people believe those with depression can raise a family and keep a job, while only 14 percent believe people diagnosed with schizophrenia are capable of achieving those milestones. Additionally, people with bipolar disorder are at an even greater risk of suicide than people with depression. The disorder is characterized by fluctuating mood states, and often presents with a dual diagnosis, which makes developing an effective treatment challenging. Much like depression, these disorders must be diagnosed and treated early on to lower the risk of suicide.
UCLA should be commended for the progressive way they are combatting mental health stigmas, and supporting some of their most vulnerable students. Increased options for mental healthcare are so important for young adults who are going through stressful transition periods like going to college for the first time, or setting foot on a new campus. The school's mental health initiative sets a precedent for other college campuses, and hopefully, others might follow their lead.