Anti-Trump Protesters In The UK Weren't Pulling Any Punches & These Photos Prove It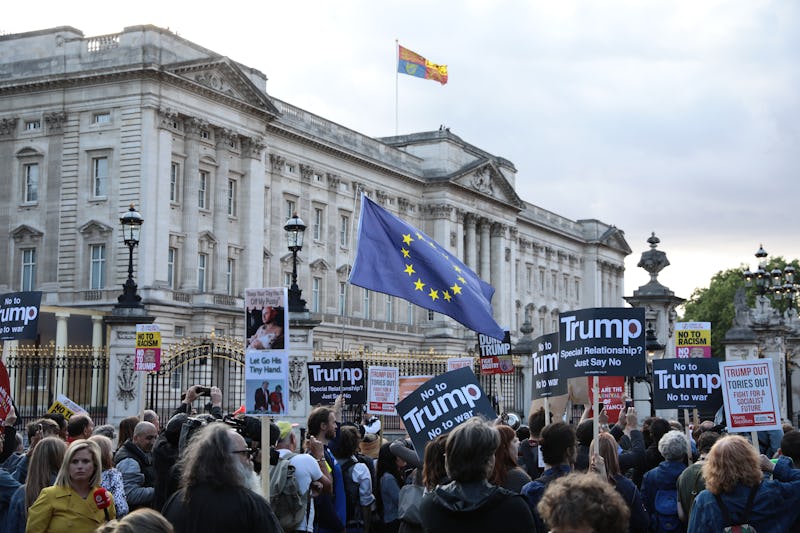 Dan Kitwood/Getty Images News/Getty Images
The president has kicked off a three-day trip to the UK this week. With that visit comes a number of scheduled events: official dinners, time spent with the royal family — and, for the people of London, a number of organized protests against POTUS. Monday marks the first day of the trip, and already, photos of UK protests against Trump are all over Twitter, showing just how many people are speaking out against the president while he's across the pond.
A year after the now-famous Trump baby blimp floated its way over cities, golf courses, and multiple countries, UK residents have come up with a number of protest phrases and styles. To ABC News, organizers of one of the protest groups, "Together Against Trump," said that they have rallies planned for both Monday and Tuesday of the president's visit. The protest on Tuesday already has over 8,000 people registered to attend, via its Facebook group. Another 34,000 people indicated their interest.
In addition to protests, a number of photos and videos have suggested the crowd sizes for various public events aren't giant. For example, the crowd standing outside of Buckingham Palace during Trump's visit to the queen can be seen, at one point, in this video. Similarly, the largely empty space along The Mall (a road near Buckingham Palace, where crowds often gather to see political figures) can be seen in this photo.
Here are just some of the protest signs, videos, and banners made by UK residents in direct protest of Trump's visit: