Ulta Is Changing Their Rewards Program, But Don't Freak Out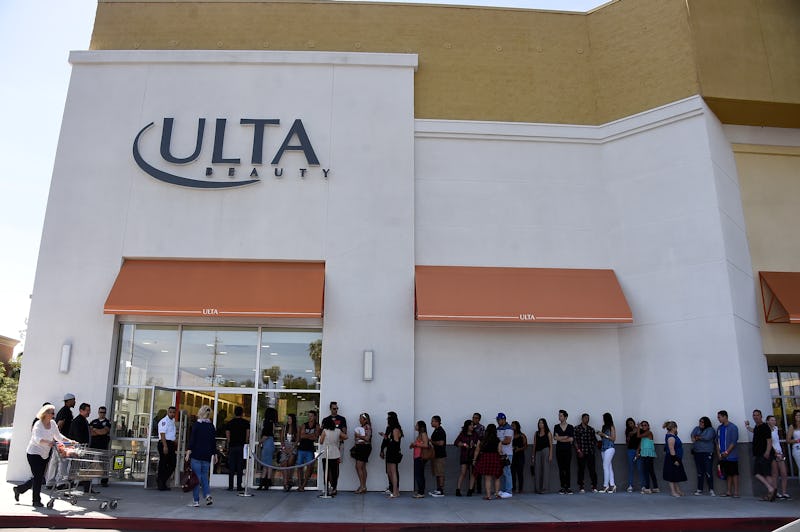 Frazer Harrison/Getty Images Entertainment/Getty Images
Everyone loves a rewards program. Discounts, freebies, cool new launches, how could anyone say no? In the new year, ULTA's rewards program is changing, but don't freak out. Everything is all good on the deal-snagging front. The beauty retailer is actually making their already stellar program even better for the most dedicated of beauty fans.
According to Hello Giggles, the Ulta rewards program — cleverly called Ultamate Rewards — is adding a brand new level to its existing tiers. Currently, the retailer has two levels: your initial level at which you join the program and a top-tier Platinum status, but a third appears to be well on its way.
The diamond level Ulta rewards is the sparkly new friend to the Platinum level, but it seems to go even higher. According to a post from popular beauty account TrendMood, Diamond members will earn points at 1.5x the regular rate, get free shipping on all Ulta.com orders over $25, and receive a $25 reward card for every beauty service. Basically, there's a whole lot of new perks for being a Diamond member.
In a follow-up post, TrendMood also revealed the amount members have to spend in order to reach Diamond status. Hold on to your wallets, though, because in order to reap the rewards, you'll need to spend a whopping $1200.
The jump between Platinum and Diamond is quite large. While getting to Platinum level costs you $450, reaching Diamond is well over double that amount. This seems to mean that hardcore beauty junkies and makeup artists are the ones who will benefit most from the new level.
Don't worry too much, though, the current levels don't appear to be changing. Ulta simply appears to be adding the new upper-tier a la Sephora's VIB Rouge level — but with some seriously swanky deals.
How do Ulta shoppers feel about the new Diamond level? Reviews appear to be mixed, but they center on the large amount of money required to hit the top tier.
When someone found out the amount, it was enough to nearly cause them to faint.
Others thought the cost would be astronomical.
Shock appears to be the general consensus regarding the cost of Diamond level.
Others, however, took issue with the rewards themselves and seem to believe that with better ones, the program would be better. Once you compare the new Ulta Diamond level with Sephora VIB Rogue rewards, there are some definite differences.
According to the Sephora website, you need to spend $1000 to hit Rouge status, but once you do, the rewards are plentiful including free 2-day flash shipping, free custom makeovers, a private hotline, and invitations to exclusive beauty events. The program takes less money to achieve, and the shipping deal is practically undeniably valuable.
Clearly, shipping is important to shoppers.
Others, however, seem stoked for the new level and can't wait to reach it.
Some are even calling reaching Ulta Diamond status as a New Year's resolution.
As of press time, Ulta has made no announcement about when the Diamond level will be implemented. However, they're sure to have Ulta lovers scrambling to go shopping to snag thos extra points. After all, Ulta's point system — which results in different tiers of discounts — is one of its biggest selling point, and given that Diamond status allows you to collect them faster, it's kind of ideal.
Whether you love or hate the idea of Ulta Reward's Diamond status, it definitely appears to be coming. If you're not in love, however, don't worry. You can still have a regular membership as well as your Platinum status. Basically, it's a win all around.