Joe Biden Reportedly Urged Mitt Romney To Run For Senate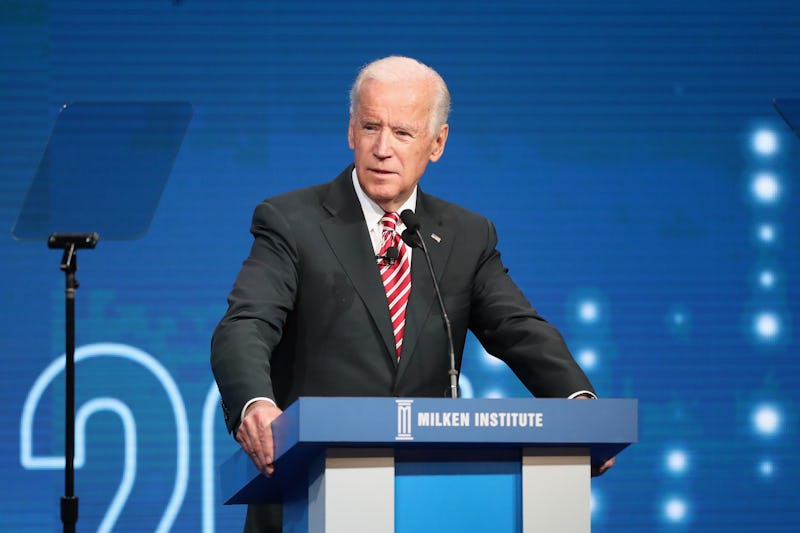 Frederick M. Brown/Getty Images Entertainment/Getty Images
Well, here's a weird one for you: During an appearance at Mitt Romney's ideas summit in Park City, Utah, former vice president Joe Biden reportedly said Romney should run for Senate and called him a man of integrity, according to CNN. And if you think it's odd that this reported comment is coming from Biden, who ran an election against Romney in 2008 (albeit as the Democratic Party's number two), you're not alone.
Biden, 74, has stayed in the public eye since his departure from office, stirring speculation he might mount a presidential run in 2020 at the age of 77. He's got a new political action committee (PAC), he's spoken about his decision not to run in 2016, and he's insisted that he could've won if he had. He looks every bit like someone who isn't quite ready to get out of the political game.
Yet his reported remark at the Romney event, attested to by two attendees to CNN, is surprising in how deliberately nonpartisan it is. The former GOP presidential nominee, after all, is a hyper-popular figure in Utah, which is a deep red state, so a Senate run would be an almost surefire win for the GOP. Here's what Biden reportedly said:
By the way, you should run for Senate.
Short and sweet, right? It's not hard to see why some progressives would be unhappy with Biden for this, even as an offhand remark that ran the risk of making it into the press. Were Romney to run ― that is, if longtime Utah Republican Orrin Hatch decides to retire ― he'd surely defeat any candidate the Democrats could run against him.
For perspective, despite then-candidate Donald Trump performing notably poorly in Utah for a Republican presidential candidate, he still defeated Hillary Clinton by a margin of 18 points. And that was with a third-party conservative candidate, Evan McMullin, in the race. Romney, on the other hand, is a Utah powerhouse ― a February poll showed him at 71 percent approval there.
However unlikely it is that any Republican could lose Hatch's seat, it's still politically strange that Biden reportedly encouraged a virtually undefeatable Republican to jump into the mix.
Of course, this all presumes that Biden is still planning a future in politics, or cares about the long-term health of the Democratic Party. And maybe he doesn't ― he is a private citizen, after all, and as such there's nothing in particular that prevents him from voicing his personal opinion about a potential candidate for office, regardless of their party.
But considering some of the attacks the 2012 Obama-Biden campaign hurled at Romney on both personal and policy grounds, to now hail him as someone of integrity who should try to bolster the current Republican congressional majority sends a confusing message. It makes Biden and Obama's past words about Romney seem disingenuous, whatever the truth of their opinions about him are. And regardless of what you think of Biden as a person or a politician, the sense that party leaders aren't actually sincere in their stated beliefs doesn't make it easy to build a stable political coalition.