President Trump's Childhood Home Has Been Rented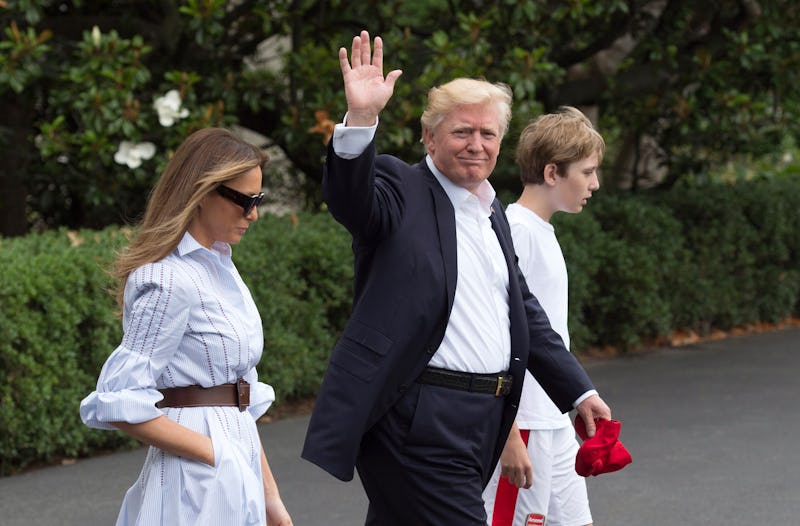 Pool/Getty Images News/Getty Images
If you want to live like the president has lived, your chance may have just passed. Last week, President Trump's childhood home in Queens was rented almost immediately after being listed. The president lived in the Tudor-style, single-family home in New York City from the time he was born until he was four years old.
According to DNAinfo, the Jamaica Estates home features five bedrooms and four-and-a-half bathrooms. There's also a five-car driveway and a two-car garage. In total, it reportedly measures 2,500 square feet. The house was most recently sold for $2.14 million at an auction in January. Last week, it was listed as available for rent at a rate of $3,500 per month.
It's not clear who rented the house, how much the tenant agreed to pay, or how long the lease runs, but listing agent Jason Friedman reportedly told DNAinfo on Friday that the agreed-upon rate was higher than the listing price and that the lease extended for more than a year. According to CNN Money, Friedman had received an offer within two hours of the listing going live. It's not clear if that offer is the one that went through, but it is clear that demand for a piece of the president's history — or, perhaps, just a comfortable place to live in Queens — was high.
High demand and competitive markets are nothing new to New York City real estate. Still, the property formerly owned by the Trump family seemed to draw a premium for the neighborhood. According to Zillow, the median listing price for homes located in Jamaica Estates was $999,000 through the end of April. Meanwhile, the average Zillow-estimated home value for the neighborhood was just north of $1 million. That's less than half of what Trump's childhood home sold for in January.
While his former home found a new tenant last week, the president had some housing news of his own recently. First Lady Melania Trump and the president's youngest son, Barron, officially moved into the White House last week. For the first nearly-six months of Trump's term, the first lady remained in New York City with her young son, reportedly so that Barron could finish the year at his previous school.
The first lady tweeted the announcement last Sunday, sharing a photo of her "new home," from the president's residence. "Looking forward to the memories we'll make in our new home," she tweeted.
Given the lease of her husband's former home in Queens, the first lady wasn't the only one to enter a new home with a presidential history last week.