Uma Thurman Just Said That These Hollywood Producers Are Allegedly Responsible For Her 'Kill Bill' Car Crash — VIDEO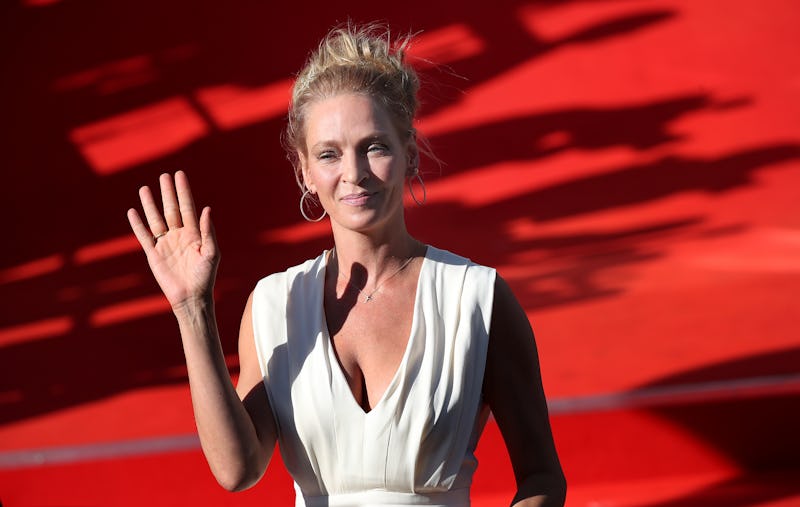 Ronny Hartmann/Getty Images Entertainment/Getty Images
On Feb. 5, two days after details about the incident were published in a New York Times op-ed, Uma Thurman released the Kill Bill car crash video on Instagram, and is holding three Hollywood producers accountable for its alleged subsequent cover-up. According to the caption on Thurman's post, the video was released to her from Kill Bill director, Quentin Tarantino, more than 15 years after the crash occurred.
Thurman called out those producers — Harvey Weinstein, Lawrence Bender, and E. Bennett Walsh—  in her Feb. 5 post, alleging that they prevented details about the accident from going public. Bustle reached out to reps for Bender, and Walsh for comment on Thurman's post, but did not receive an immediate response.
THE COVER UP after the fact is UNFORGIVABLE.for this i hold Lawrence Bender, E. Bennett Walsh, and the notorious Harvey Weinstein solely responsible.they lied, destroyed evidence, and continue to lie about the permanent harm they caused and then chose to suppress.the cover up did have malicious intent, and shame on these three for all eternity.
Update: A spokesperson for Weinstein issued to the following statement to Bustle on Monday night:
Harvey has tremendous affection for Uma Thurman nevertheless he denies these allegations. He did not give instructions to destroy the vehicle or orchestrate a cover-up and this is the first time he has learned that Ms. Thurman had any issues regarding the handling of her accident.
In fact, she continued working with Mr. Weinstein on three more films, including "The War with Grandpa" which was scheduled to be released this year.
Ms. Thurman has reported in the past that that Mr. Weinstein personally came on set during the filming of the scene where she was being buried alive, concerned with her well-being, he demanded that they reconfigure the shot to her approval so that she felt more comfortable.
We understand that members of the production team have stated to individuals in the media that Mr. Weinstein had nothing to do with the aftermath of the crash. Mr. Weinstein wishes Ms. Thurman would have spoken to him at the time to express her concerns and would like for her to provide any additional details so that he can assist in closing and repairing this chapter of her life. Once again, he is remorseful and regrets making a pass at her in England.
Earlier: In the video Thurman posted — which was recorded from the perspective of a camera mounted in the car's back seat — the actress can be seen driving Kill Bill's famous blue convertible at high-speeds through a heavily-wooded area. Thurman appears to lose control of the car while veering off a path, causing it to slam into a palm tree. Her body abruptly whips to the right, and her reaction to the pain caused by the accident is immediate. She can be seen holding the side of her head, which was injured upon impact, and her breath remains shallow and rapid as crew members rush to her aid.
Thurman described the crash to the Times, telling Maureen Dowd:
The steering wheel was at my belly and my legs were jammed under me. I felt this searing pain and thought, 'Oh my God, I'm never going to walk again. When I came back from the hospital in a neck brace with my knees damaged and a large massive egg on my head and a concussion, I wanted to see the car and I was very upset. Quentin and I had an enormous fight, and I accused him of trying to kill me. And he was very angry at that, I guess understandably, because he didn't feel he had tried to kill me.
In the caption for the Instagram video, Thurman claimed that "the circumstances of this event were negligent to the point of criminality" — though not, she believes, "with malicious intent." In Dowd's op-ed for the Times, Thurman shared the video, and told Dowd that Tarantino reportedly repeatedly pressured her to do the dangerous driving scene herself — even after she expressed her discomfort and told the film's producers she'd prefer it be done by a professional stunt person.
After Thurman spoke to the Times about Tarantino's alleged on-set negligence in regards to the stunt (as well as claiming that the director allegedly spat in her face and choked her with chains in order to motivate her performance), several celebrities — including Jessica Chastain, Reese Witherspoon, Judd Apatow, and Evan Rachel Wood — took to social media to express their outrage about the alleged abuse. Thurman's Instagram post, however, appears to convey at least partial forgiveness towards Tarantino, for his part in the alleged cover-up.
Quentin Tarantino, was deeply regretful and remains remorseful about this sorry event, and gave me the footage years later so i could expose it and let it see the light of day, regardless of it most likely being an event for which justice will never be possible.he also did so with full knowledge it could cause him personal harm, and i am proud of him for doing the right thing and for his courage.
While Tarantino, Weinstein, Bender, and Walsh have yet to publicly comment on Thurman's accusations, the fact remains that abuse of all kinds has been rampant in Hollywood for several decades.