Border Agents Tailed An Undocumented Girl With Cerebral Palsy To The Hospital — Now She Could Be Deported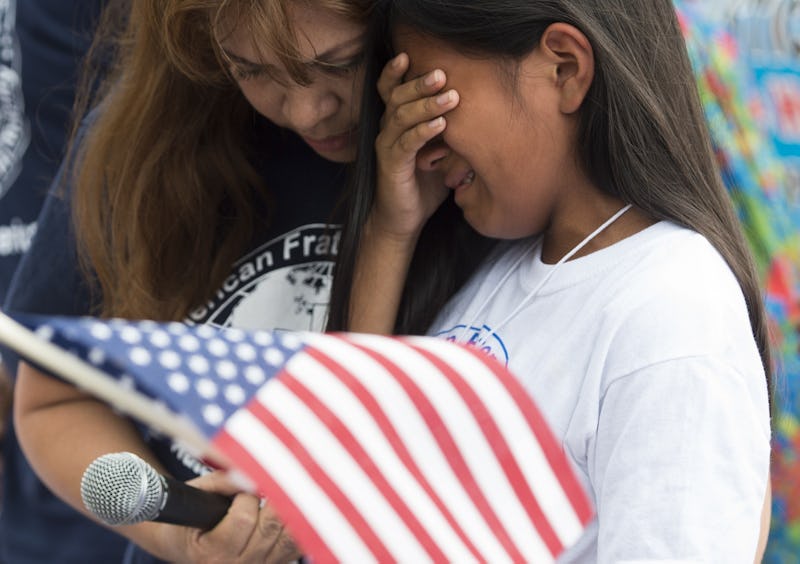 SAUL LOEB/AFP/Getty Images
Rosa María Hernández, an undocumented 10-year-old girl with cerebral palsy faces possible deportation after her gallbladder surgery in Corpus Christi, Texas. Hernández was born in Mexico, but came to the United States when she was three months old. She was traveling with her cousin, a U.S. citizen, in an ambulance from the Texas border town of Laredo when they drove through a Border Patrol station on the way up. Agents discovered Hernández's undocumented status and proceeded to follow the ambulance 80 miles to Driscoll Children's Hospital in Corpus Christi.
Hernández's undocumented mother, Felipa de la Cruz, who is in Laredo with her father, told the Corpus Christi Caller-Times that immigration officers waited outside her daughter's hospital room until she recovered from surgery. After hospital authorities medically discharged Hernández, she was not allowed to return home. Instead, the officers took the girl to a shelter in San Antonio for child immigrants and processed her immigration case, the Caller Times reported.
A Border Patrol spokesperson said in a statement:
The Laredo Sector Border Patrol is committed to enforcing the immigration laws of this nation. [...] Due to the juvenile's medical condition, Border Patrol agents escorted her and her cousin to a Corpus Christi hospital where she could receive appropriate medical care. Per the immigration laws of the United States, once medically cleared she will be processed accordingly.
In a statement criticizing the move, Texas state Sen. Juan "Chuy" Hinojosa told the Caller-Times that Border Patrol should prioritize their resources on drug traffickers and human smugglers.
Texas Rep. Joaquin Castro also criticized the Border Patrol's use of resources on Twitter, saying "a small child who just had surgery is not a threat to Texans' safety or our national security."
A spokesperson for U.S. Rep. Henry Cuellar of Laredo, who is tracking the case, said Hernández would be under the jurisdiction of Health and Human Services until an immigration judge can determine her custody, reported The Guardian. The hearing has not yet been scheduled. Attorney Leticia Gonzalez is currently representing Hernández.
Felipa de la Cruz told The New York Times the family moved to Texas from the Mexican border town of Nuevo Laredo in hopes of getting better treatment for her daughter's cerebral palsy, a neurological disorder than can impair coordination and cause seizures. Medicaid paid for her treatment.
Under President Barack Obama, the department adopted a policy that immigration agents should avoid enforcement in "safe zones" — hospitals, schools, churches and public demonstrations — unless there are special circumstances. But authorities don't necessarily follow the rule. In a 2015 report, the American Civil Liberties Union found that Border Patrol agents in Arizona entered hospitals to interrogate patients — one patient was reportedly forced to deliver her baby with a Border Patrol agent in the room.
There has also been discussion about whether Trump's hardline immigration stance will dissuade undocumented immigrants from seeking medical treatment. In Trump's executive order on Jan. 25, the Department of Homeland Security expanded its focus for deportation from convicted criminals to anyone living in the United States without documents.
ICE arrests under the Trump administration have risen by almost 40 percent since the first half of 2016, while arrests of noncriminal immigrants more than doubled. Despite the increase in arrests, the number of immigrants deported under the Trump administration are expected to be less than the number of immigrants deported last year, lagging behind the Obama administration's rate of deportation.
Hernández's fate is uncertain. Aurora Cantu, the cousin who accompanied Hernández to the hospital, told the San Antonio Express-News that Border Patrol agents presented two options: Hernández could spend several weeks in a detention center, or she could be deported, sent back to Mexico and unable to be with her parents.