A Court Ruled Undocumented Teens Can Still Get Abortions While They're Detained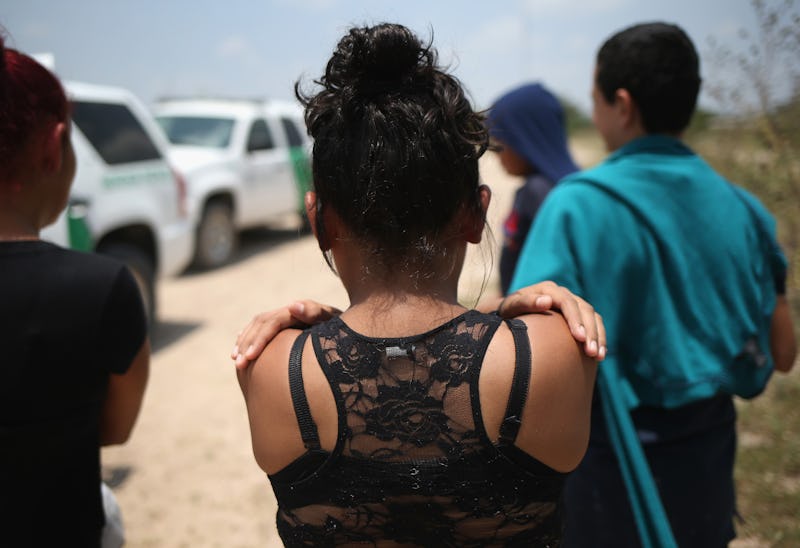 John Moore/Getty Images News/Getty Images
An appeals court has ruled against a policy established by the Trump administration in 2017 that effectively barred detained undocumented pregnant teens from obtaining abortions when in federal custody. In its ruling, the D.C. Circuit Court of Appeals said its judges were "unanimous in rejecting the government's position that its denial of abortion access can be squared with Supreme Court precedent."
According to the Hill, the three judges who heard the case were divided with Circuit Judges Sri Srinivasan and Robert Wilkins authoring the court's ruling opinion while Senior Circuit Judge Laurence Silberman filed a dissenting opinion. In noting their rejection of the Trump administration's claim that Supreme Court precedent squared with their denial of abortion access in their ruling, Judges Srinivasan and Wilkins said that, "Under binding Supreme Court precedent, a person has a constitutional right to terminate her pregnancy before fetal viability, and the government cannot unduly burden her decision."
"The government accepts the applicability of that settled framework to unaccompanied alien children in its custody," the judges went on to write in their ruling. "Those controlling principles dictate affirming the district court's preliminary injunction against the government's blanket denial of access to abortion for unaccompanied minors."
In a tweet celebrating Friday's ruling, the American Civil Liberties Union (ACLU), which represented the plaintiffs in the case, said "the Trump administration's cruel policy of blocking immigrant women from accessing abortion in federal custody was a blatant abuse of power."
"We're relieved that today's ruling continues to prevent the policy from taking effect while the case proceeds as a class action," the ACLU tweeted. "Abortion is a RIGHT, no matter your immigration status."
In a brief statement shared on Twitter, Rep. Diana DeGette called the ruling "another win for reproductive rights."
Each year, the Office of Refugee Resettlement (ORR) cares for tens of thousands of undocumented, unaccompanied minors as they await their immigration proceedings. While under the care of ORR, unaccompanied minors are provided with healthcare services that include family planning and reproductive health services, pregnancy tests and emergency contraception, according to Srinivasan and Wilkins, who noted in their ruling that "several hundred" of the unaccompanied minors in ORR's custody each year are pregnant.
According to Srinivasan and Wilkins's ruling, ORR rolled out a new policy in March 2017, which said shelters "are prohibited from taking any action that facilitates an abortion without direction and approval from the Director of ORR." Previously shelters could assist a minor in ORR care in accessing abortion services as long as federal funds were not used to obtain the procedure and all relevant state laws were followed. In fact, Srinivasan and Wilkins noted that ORR would transfer unaccompanied pregnant minors seeking abortion services if they were housed in shelters who, for religious reasons, objected to abortion.
Under the new policy, which rolled out the same month that E. Scott Lloyd became head of ORR, no requests for abortion services were approved, according to the D.C. Circuit Court. Jane Doe, an unaccompanied minor who obtained an abortion in October 2017 after a months-long court battle, joined three other unaccompanied minors denied abortion services while in ORR custody in filing a class action lawsuit against the Trump administration policy.
On Friday, the ACLU vowed to continue fighting the policy. "We will continue fighting to make sure that the Trump administration is permanently blocked from obstructing young immigrant minors' access to crucial health care and the constitutional right to abortion," they tweeted.