Here's What Your New Year's Resolution Should Be, Based On Your Sign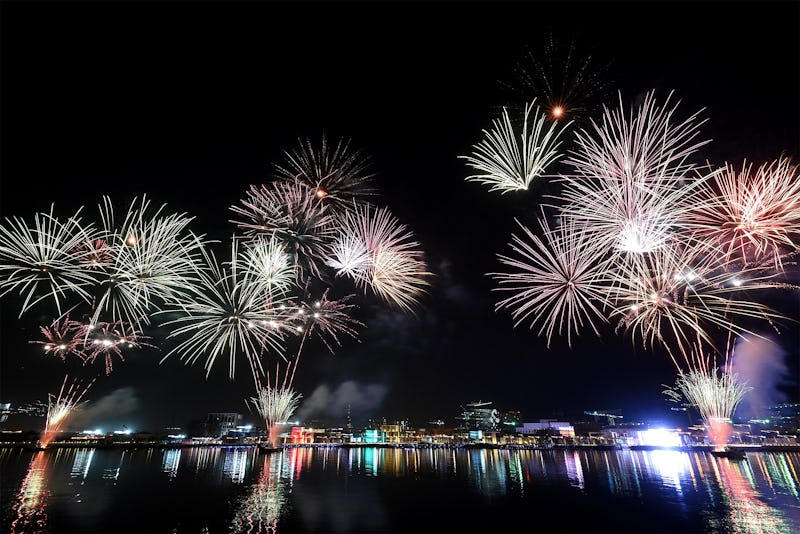 Tom Dulat/Getty Images News/Getty Images
Guys, I think 2018 is going to be a great year. Based on astrological forecasts, the planets and stars could be aligning for 365 powerful days of progress and direction. While all sun signs can meditate on this general notion, how about unique New Year resolutions for each zodiac sign? There might be an overall vibe of the upcoming year, but, we all play into it differently based on where the sun was situated amongst the stars the day we were born.
With every calendar refresher is a new chance to revitalize an aspect in your life that could use a little more attention. Life is a balancing act I don't think even a circus juggler could perfect. There's always something new coming into our lives that highlights what we need to ~werk~ on. And to that end, resolutions are self care promises to yourself. Of course, you shouldn't get on your own back, weighing it down with pressure to make everything about that one thing perfect. Start the new year free of looming disappointment. Like the energy of the year ahead, resolutions are all about moving forward. You got this, no matter what sign of the zodiac you fall under. Take care of yourself and enjoy a powerful, energetic year of positive direction.
Aries
There's no doubt, with Mars as your ruling planet, that you are an independent person with ambitious plans. With your ruling planet in cahoots with Jupiter under Scorpio, the brightest spotlight will be on your career. Show your desk and yourself some love in 2018. For the upcoming year, you'll want to become more acquainted with a healthy work-life balance. Dress your desk up pretty, do your work, but try not cancelling that 6 p.m. yoga class if you really don't have to.
Taurus
Venus, your ruling planet, is one of the actual stars of the sky this year. There's a lot of energy coming your way. Make it a priority to believe in yourself. All those dreams you have can come true. Don't doubt yourself. If you're feeling low, make time to take a nature walk. Getting outside more in 2018 could revitalize you with unexpected inspiration.
Gemini
Life is never dull when you're a Gemini. Being the twins of the zodiac, it's like you're living for two. 2017 might have brought unexpected opportunities for your career. Consequentially, this possibly has swept you up in a fresh new wave of interests. Focus on putting yourself forward in the new year. Get out of the house more often than not and don't shy away from a little self promotion.
Cancer
When it comes to being a crab, sometimes the greatest comfort is your shell. 2018 might provide more opportunities for you to be in the — gulp — spotlight. More so than you'd prefer, even. Make it your resolution to get acquainted with the uncomfortable. I mean, uncomfortable when it comes to raising your hand in a packed lecture hall or politely asking for a raise you feel you deserve.
Leo
Leo, in 2018, make more time to meditate. It's a practice that could really clear up past, current and even future issues. When you proceed through life with calm things get a lot less messy. With the way your planets are turning, this upcoming year could mean you're making lots of necessary moves towards those ultimate goals. Take a deep breath, find your center, and enjoy the ride.
Virgo
This year is going to be intense. In a good way. There's lots to do. Between your personal and work life, you might come across a lot of passion. Keep a gratitude journal in 2018. It'll help channel all this intense energy while also showing you all the things in life, big and small, to appreciate.
Libra
You might feel like all eyes are staring at you in 2018, Libra. Don't shy away from the attention! Why not make more time to ~give back~ in 2018. Find an organization that is close to your heart and spend weekends volunteering. You'll lead by example within your social circles.
Scorpio
2018 is a year to set all your plans in forward motion. Because this can take a lot of energy throughout the day, sign up for a class. Whether it's an art class or dance class, having something outside of your career to pour creative energy into will keep you feeling fresh!
Sagittarius
You're a natural traveller, always seeking adventure. By no means does 2018 slow you down. Make a bucket list of all the locations you want to explore. Forge a plan to get out there and conquer the map. This year is bound to be adventurous — even if you're just crossing state lines.
Capricorn
There are goals you'd like to achieve. This is the year to make your moves on those dreams. But it always makes sense to have a plan of action. Make a resolution to stay as organized as possible, especially when it comes to achieving your goals. Whether that means creating a new filing system in your office or keeping better tabs on your calendar, you'll want to focus on getting it together to make room for dreams come true.
Aquarius
Expect changes in 2018. But that's no reason to get frazzled. Switching it up can be a really good thing. Think new experiences, friends, opportunities. Make a resolution to go with the flow, like a jellyfish floating with the tide. Don't get too stressed about where life is taking you, because really, it's nothing to stress about. Enjoy the ride.
Pisces
There's a lot of work to do in 2018 — but your intuition probably already knew that. Rededicate yourself to work. Believe in your power to drive change. It might take a lot, but abandon self doubt. No matter what you face in 2018, promise yourself that you won't hold back on the work it'll take to achieve your ultimate dreams.