This Plus Size Halloween Collection Will Put You In The Mood For Fall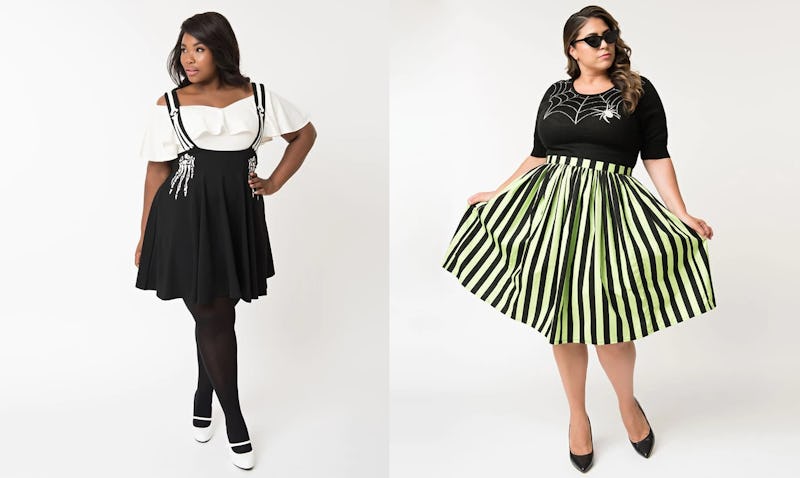 Unique Vintage
If you are mourning the end of beach weekends, patio hangouts, and flip-flop season, then you might be dismayed to hear that there has been a subversive, underground group that has been counting down since June until Halloween. And now is there time to shine, and Unique Vintage's plus size Halloween line is just the collection to start the upcoming spooky season with a bang. (Unique Vintage carries sizes XS-5X.)
If you like to keep your fall-game subtle and minimalist, then this isn't the capsule collection for you. However, if you like to swathe yourself in Halloween goodness and look like an extra from Hocus Pocus, then you have come to the right place. It's festive, kitschy, spine tingling, and it will instantly make you want to carve out a jack-o-lantern or request a hot apple cider.
The collection blurb reads, "Ready to up your style this Halloween? Whether youre looking for a flattering costume or creating a festive outfit for an event, this selection of creepy-yet-cute Halloween clothing is just what you need. With retro-inspired styles that have been updated for modern trends, you're sure to find something that will make you look like a pin-up princess come All Hallows Eve."
The collection carries both straight sizes and plus, where the plus sizes go up to a 4X. Many of the straight sizes have identical plus size counterparts, meaning you won't see a size 6 dress and feel disappointed that it didn't come in your size.
The collection has everything from dresses, to tops and skirts, to accessories, letting you build a whole new ghoulish fall wardrobe. You can find the entire collection collection here, but check out some picks below.
Get into the holiday spirit with these festive and quirky pieces. Fall is officially in full swing!