This Brand Lets You Swap Clothes If You Lose Or Gain Weight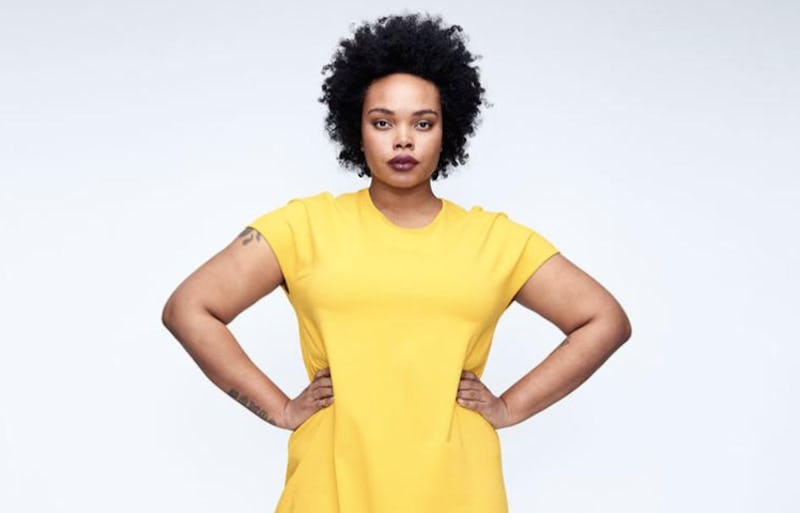 Courtesy Universal Standard
On April 17, plus size brand Universal Standard introduced Universal Fit Liberty (UFL), a program that will allow its customers to swap out an item of clothing for a larger or smaller size within one year of purchase. According to the press release for the new initiative, "A prime [shopping] prohibitor for plus size women is the anticipation that they will lose or gain weight in the near future and therefore can't justify purchasing a high-ticket garment that likely won't fit in a matter of months."
Universal Standard's wears are available in sizes 10 to 28, with current dresses existing at a price range of $80 and $180. As the company's founders Alexandra Waldman and Polina Veksler tell Bustle, they do not want "customers to feel bullied by their size" in a fatphobic world. "Everybody fluctuates in weight, whether you're a size 6, 16, or 26," they add. "So we thought, 'How can we remove the anxiety from the shopping experience and allow people to shop for the person they are now, rather than the person they might be later?' [...] We believe people are owed this."
Through UFL, both Waldman and Veksler feel that the "anxiety" of committing to a higher-end garment will dissipate, since they'll take an item back from the Core Collection regardless of the amount of wear (while also laundering and donating those in good condition).
As a plus woman who wears a size 18/20, Waldman knows that finding quality clothing above a size 14 can be quite the challenge, both within brick and mortar retailers and online. "You know how you have a favorite song and you've heard it a million times, but the moment you share it with someone else, it's like you've heard it for the first time?" she muses. "The moment I explained my situation to Polina, it was like I was hearing it for the first time."
As a straight size woman, Veksler admits that "you don't realize how difficult it is [for plus size shoppers]. This whole space is behind a veil unless you're participating in it. When Alex brought me into her world, it was the first time I really understood [that] there wasn't a single store that [she] could walk into and buy clothing."
Waldman's personal take on fashion is that "size 6 women have never had better taste, they've just had been options. It's a vicious circle: You don't have anything to wear so you wear whatever is available. But, really, I'm making the best out of very little," she tells Bustle. Preserving some of those options through a program like UFL could make a huge difference, she believes.
"Response has been overwhelmingly positive," the pair adds. "Our customers have applauded it. We have gotten a ton of emails and letters and social media praise for doing something that people haven't seen. We want to change the space. We want this to be the revolutionary thing that it can be and see it go to every facet of the fashion industry."
As for the reactions of the plus size and fat positive community online, perceptions are mixed. Nerd About Town blogger Stephanie Yeboah is personally a fan. "What with the general consensus being that plus size premium clothing can be a bit on the expensive side, here's hoping that the program will encourage women to invest in beautiful and well-made pieces without the anxiety or financial burden of having to replace ill-fitting pieces due to weight fluctuation," she tells Bustle. "I like the idea that we can invest in an item of clothing, with the security of knowing that we can get it replaced if our bodies change."
Amena Azeez of Fashionopolis isn't quite as sure. "On paper, the Universal Fit Liberty program sounds like a dream come true. It is helping non-straight size and plus size women find quality clothes without altering their bodies," she says. "However, what bothers me is the usage of the term 'liberate plus size women from their fear of investing in quality clothing' [found in UFL's press release]. This statement is reinstating the myth that plus size women are not comfortable with their bodies and are constantly looking for ways to alter it."
Azeez notes that "plus size women are so conditioned to seeing their current weight and body size as temporary that they consciously avoid investing in quality fashion." So "more than trying to liberate plus size women from the fear of investing in quality clothing," she wants brands to "aim for normalizing plus size bodies and making plus size clothing mainstream."
Similarly, blogger Isha Reid of An Autumn's Grace doesn't "like the attachment of weight to this concept," feeling that "there are a variety of reasons someone of any size might want to swap clothes."
She does, however, believe that creating a space where plus size women can swap sizes could have value. "Much criticism about plus size clothes is that they're too expensive," Reid tells Bustle.
In that sense, investing in Universal Standard garments — safety net included — could be a new approach to shopping for plus size customers.