Oxford Admitted More Women Than Men For The First Time In Almost 1,000 Years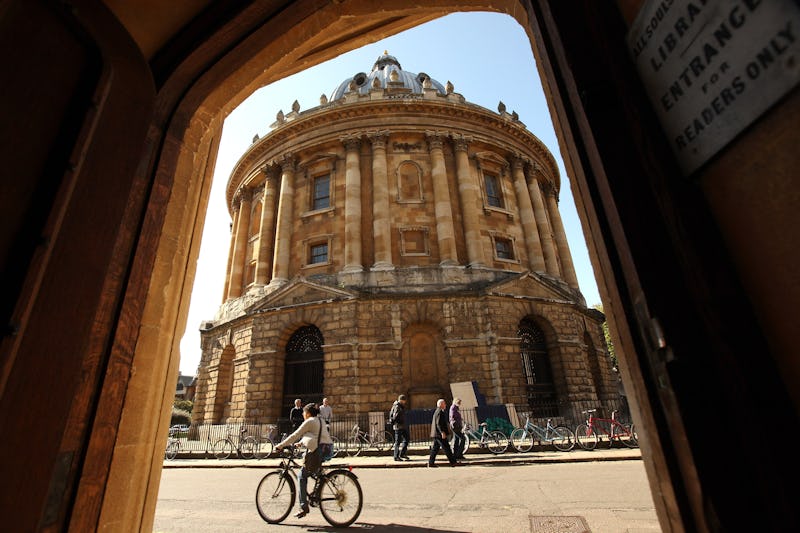 Oli Scarff/Getty Images News/Getty Images
Recently, it was announced that this year, the University of Oxford will do something unique in its 1,000-year history: admit more women than men. Oxford, which began as a university back around 1096, will welcome a class of undergraduates for that comprises 1,070 women and 1,025 men, according to the Guardian. And this is a watershed moment for a lot of reasons — and sheds light on the many ways in which education has been, and continues to be, a gendered battleground.
As an Oxford grad myself, this is a proud moment. Oxford's position at the very top of the world academic tree — in addition to being the oldest university in the English-speaking world, it's also ranked number one globally — makes it a focal point for issues of educational change, from gender parity to dealing with the ongoing effects of colonialism. But when it comes to gender issues, the institution has actually been lagging behind many other universities for some time. Women were allowed to attend lectures and take examinations at Oxford from 1879, but it wasn't until 1920 that they were allowed to officially be "admitted to the university" and be awarded Oxford degrees, according to the University. Harvard and Yale both also made that leap in 1920, but Cornell began admitting women in 1870, and Oberlin beat them all by opening its doors to women in 1837. Oxford's first-time gender parity represents a big step forward at the top of the educational ladder, and it's a big symbolic victory for advocates of women's education — but it also represents a new phase in an extremely traditional educational setting.
Gender parity in admissions has been a long time coming, and it's already been achieved in many colleges and universities, particularly in the U.S. However, it's far from the full story. A 2014 study of admissions across 128 colleges and universities in the U.S. by the Washington Post found that, in that year, 16 admitted women and men at equal rates, including Harvard, Princeton and Johns Hopkins, 48 admitted more women than men, including MIT and Carnegie Mellon, and 64 admitted more men than women, including Brown, Amherst and Tufts.
The issue of gender parity in university admissions is increasingly telling an intriguing story: women are attaining degrees in greater numbers than men. According to the Atlantic, in 2017, 2.2 million more women went to college in the U.S. than men, and the trend is occurring elsewhere too: 30,000 more women were accepted to UK universities than men in the same year. Since 2015, according to the U.S. Census, women have also been more likely than men in the U.S. to get college degrees, which represents a major shift from previous generations. As the 2014 study shows, that doesn't equate to gender-equal admissions at every university across the U.S.; individual cases like Oxford's reveal why it's important to look at the details of these trends and not just the overall numbers. Because while women are clamoring all over the world to gain an education, every institution's story is different.
It's also important to remember that this educational disparity isn't driven completely by shifts away from sexism. Trying to get to the bottom of the rising gender gap in college admissions, researchers have found that boys are increasingly less likely than girls to apply for colleges in the first place, but that other factors also come into play: women have a lot more to gain from college degrees, as they can earn three times more as a graduate, while men increase their earning power by two times if they go to college. And even with degrees in hand, women with degrees earn less than men just one year out of college. Men also continue to dominate STEM field admissions across the board. University admissions are reflections of underlying societal needs and beliefs, and while women are being allowed through the gates in high numbers, their presence is a complex picture that needs to take many things into account.
Oxford's new class reflects an important step forward, but it's necessary to realize that this is only part of the story. As more women strive to get degrees around the world, it's important to recognize that the pursuit of educational equality is one of the most crucial ways to fight sexism.