Every Update You Need About Kate Middleton & Royal Baby #3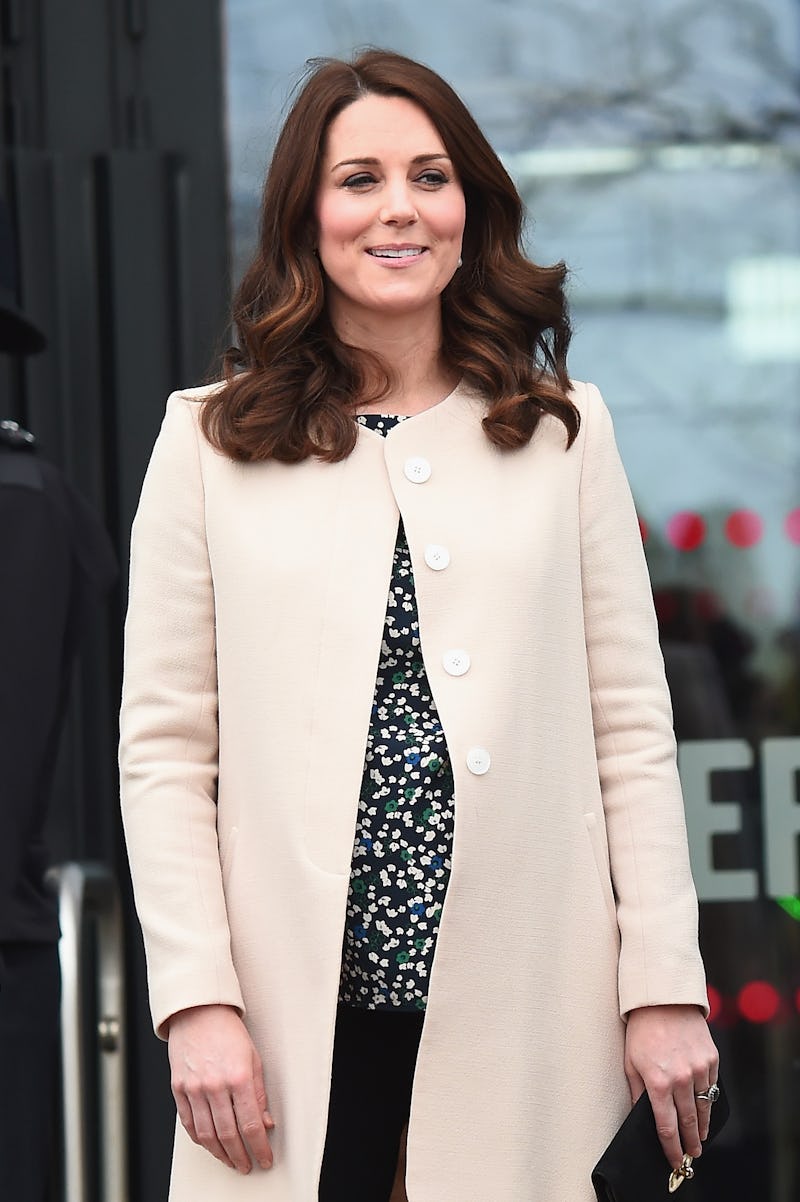 Eamonn M. McCormack/Getty Images Entertainment/Getty Images
It's happening — everybody stay calm! On Monday morning, Kensington Palace confirmed that Kate Middleton has been admitted to the hospital in the early stages of labor, which means her third child could arrive at any time now. Prince George and Princess Charlotte are so close to meeting their new sibling, and for royal family fans across the world, it's a really exciting time.
1 p.m. ET: Middleton, William, and their new baby leave the hospital after greeting the crowd.
12:48 p.m. ET: Princess George and Charlotte have left the hospital after visiting to meet their new little brother; Kensington Palace reports that Middleton and the new baby will be leaving the hospital on Monday evening.
11:25 a.m. ET: A Union Flag has been raised over Buckingham Palace and a State Standard has been raised over Windsor Castle to celebrate the baby's birth.
9:45 a.m. ET: The official notice of the baby's birth is placed outside of Buckingham Palace.
8 a.m. ET: Kensington Palace announced that Middleton welcomed a baby boy weighing eight pounds and seven ounces on Monday morning around 11 a.m. UK time. Prince William was present for the birth, and both mom and baby are said to be doing well.
EARLIER: According to tweets the palace sent out, Middleton and Prince William arrived at the Lindo Wing of St. Mary's Hospital (the same place she welcomed her first two children), and media is already gathering to be in place for when baby number three finally makes his or her way into the world. So far, this is still a developing story, so more updates are to come.
"Her Royal Highness The Duchess of Cambridge was admitted to St. Mary's Hospital, Paddington, London earlier this morning in the early stages of labour," the palace said in their tweets. "The Duchess travelled by car from Kensington Palace to the Lindo Wing at St. Mary's Hospital with The Duke of Cambridge."
That means it's officially go time. That also means that we are (hopefully) just hours away from finding out if the baby is a boy or a girl, something that's still a mystery.
The palace also shared a photo of the media all lined up outside of the hospital, because in case you hadn't noticed, this is a Very Big Deal.
People added that Middleton was admitted just before 6 a.m. United Kingdom time, adding that there have been a group of fans outside the hospital who have been there, waiting for this moment since April 9. Now that's dedication.
And already, it seems like there's a lot of excitement happening outside the Lindo Wing, and it's not just the media who are gathering. Photos taken outside the hospital show that tons of fans are there, too, preparing for the moment the baby's birth is finally announced — and, later, when Middleton emerges from the hospital with her little one, giving the world the first glimpse of her baby.
The past week has already been a pretty exciting one where this family is concerned. On Saturday, Queen Elizabeth turned 92 years old, celebrating her birthday with a concert featuring performances from Shawn Mendes and Tom Jones. The day also marked the announcement of the Queen's Commonwealth Trust, which aims to "champion, fund and connect young leaders who are working hard to change the world."
Oh, and after that, Prince Harry and Queen Elizabeth were both there to cheer runners on at the London Marathon the very next day, with Elizabeth there to start things off and Harry waiting at the finish line.
And now, that excitement is only going to continue. With less than a month to go until Meghan Markle and Prince Harry tie the knot, this is shaping up to be a very busy spring for the royal family — and an eventful one for fans who are looking forward to seeing all of this unfold. What a week!
Fingers crossed that more updates about baby number three and Middleton come through from Kensington Palace soon. It goes without saying that fans can't wait to find out the baby's sex and name, not to mention see the first photo of him or her with Mom and Dad. It's hard to tell how long the wait ahead might be, but hopefully, the palace will keep us all in the loop.