Border Wall Negotiations Have Reportedly Stalled & A Second Shutdown Could Start Soon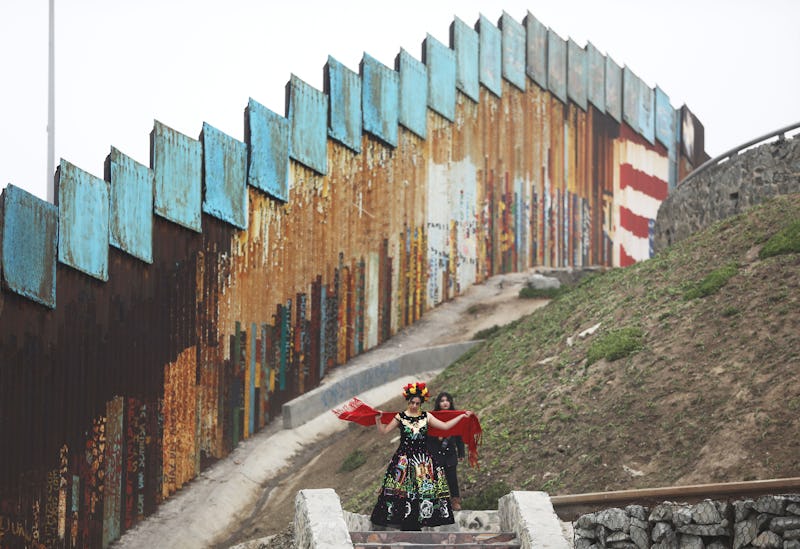 Mario Tama/Getty Images News/Getty Images
The most recent government shutdown was the longest in U.S. history, but another closure could soon be on the way. Updates on border wall negotiations show another government shutdown might be unavoidable, as both sides have reportedly failed to find a functional middle ground so far.
"I think the talks are stalled right now," Senate Appropriations Committee Chairman Richard Shelby told Fox News Sunday. "I'm not confident we're going to get there."
The most recent government shutdown ended less than three weeks ago and lasted 35 days, ending when Congress agreed on a temporary funding package to re-open the government through Feb. 15. The shutdown had hinged on President Donald Trump's insistence that Democrats approve more than $5 billion to fund a border wall on the U.S.-Mexico border, which the party outright refused to do. However, Trump has indicated that he does not intend to let the issue go. And on Sunday, the president suggested that if Democrats did not comply with his border wall request, they would then be responsible for a second shutdown, which could begin as early as the end of the week.
"It was a very bad week for the Democrats, with the GREAT economic numbers, The Virginia disaster and the State of the Union address," Trump tweeted early Sunday afternoon. "Now, with the terrible offers being made by them to the Border Committee, I actually believe they want a Shutdown. They want a new subject!"
One of the major issues contributing to the new stalemate is a proposal by Democrats that would limit the number of undocumented immigrants that the U.S. Immigrations and Customs Enforcement (ICE) agency is allowed to detain at any given time, according to The Washington Post. Democrats have reportedly requested a limit of 16,500 detention beds for undocumented immigrants who are picked up within the United States. The number would not apply to those detained at the border, per the Post.
However, Republicans reportedly asked that undocumented immigrants with criminal records not be included in that 16,500-bed cap. Democrats, according to the Post, argued that such an open policy would be ineffectual at limiting ICE's detention rates.
The fight over a border wall, sometimes framed by Republicans as a fight over border security, has dominated national politics since mid-December. On the campaign trail, then-candidate Trump promised that a new barrier would be built to separate the United States and Mexico, under the premise that it would cut down on the number of undocumented immigrants coming into the country. As he approached the second half of his first term, he seemed to pivot toward trying to deliver on that pledge, which Democrats largely oppose.
However, around the time that he turned toward actualizing his border wall promise, Democrats took over the majority in the House of Representatives, making it harder for Trump and other Congressional Republicans to move their agenda forward. Still, during last week's State of the Union, Trump spoke about "plans for a new physical barrier, or wall, to secure the vast areas between our ports of entry," explaining that "this is a smart, strategic, see-through steel barrier — not just a simple concrete wall."
But as long-term funding negotiations between Republicans and Democrats have already reportedly stalled, it remains entirely unclear whether such a border wall will ever come to fruition. After two years as the legislative minority under a Republican president, Democrats appear eager and willing to put their proverbial foot down.