Updates On The Fyre Festival Reveal The Chaos Of The Luxury Event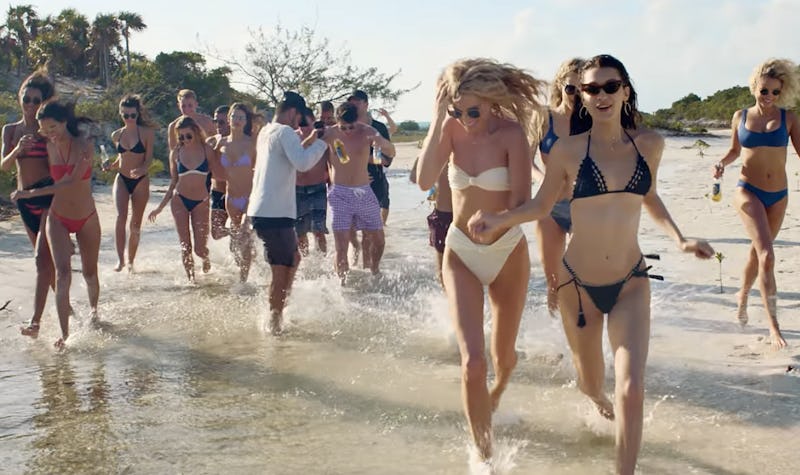 Fyre Festival On YouTube
On Thursday night, reports started to spread across social media about the disaster at the Fyre Festival, a luxurious cultural event set in Exumas, Bahamas, which promised "a blend of music, art and food." What became evident, however, was that the reality of the festival was apparently far from what the marketing had promised. Tickets went for as much as $12,000, with the hefty price of admission supposedly to cover a chartered flight from Miami, luxury catering, private villas for sleeping quarters, and performances from musicians such as Blink 182, Major Lazer, and Disclosure. However, as dismayed guests at the Fyre Festival seemed all too eager to share online, the event reportedly failed to deliver a lot of it, with the festival seemingly left in a state of disorganized chaos.
According to a variety of posts shared on Twitter, Instagram, and Reddit, the Fyre Festival grounds were apparently full of half-built tents and litter. Water and food were reported to be in scarce supply, with catered meals amounting to little more than slices of bread and cheese and a small garnish of salad. Other reports were claiming that the situation became even more tense overnight, with allegations of there being feral dogs roaming wild through the site, luggage being thrown to people from the back of a truck, and festival staff and security being difficult to find.
In the early hours of Friday morning, the organizers of the Fyre Festival addressed the chaos of the event on Instagram, stating:
Things got off to an unexpected start at day one of Fyre Festival. FOR THOSE CURRENTLY ON GREAT EXUMA. We are working to comfortably accommodate guests and deliver a great experience. If you have needs, please head to the "BLUE HOUSE" on the main festival site. Security, first aid, and Fyre Festival staff are here to assist immediately, 24/7. FOR THOSE WITH PENDING TRAVEL TO THE EXUMAS TOMORROW. Due to circumstances beyond our control, and in line with a culture of safety, all inbound charter flights to the Exumas have been canceled. Your ticket and any funds uploaded to your RFID band will be refunded. Thank you for bearing with us as we work through the growing pains that every first year event experiences. Revised itinerary information will be shared soon for the remainder of this weekend and weekend two.
Update, April 28, 12:13 p.m. EST: The Fyre Festival organizers have released an updated statement on Instagram regarding the current circumstances of the event:
Fyre Festival set out to provide a once-in-a-lifetime musical experience on the islands of Exuma. Due to circumstances beyond our control, we must postpone this experience. We are working tirelessly to ensure each guest leaves the island safely and ask for everyone's patience and cooperation as we continue to provide ongoing updates via email and our official social media channels as they become available, including refund information.
Update, April 28, 2:28 p.m. EST: On Friday afternoon, Ja Rule released a statement about the events on his Twitter account. "I truly apologize as this is NOT MY FAULT," he wrote. "But I'm taking responsibility and I'm deeply sorry to everyone who was inconvenienced by this."
One thing is for sure, you guys. This is definitely not what these festival goers signed up for.
Update, April 29, 10:23 a.m. EST: Fyre Festival released a new statement via email, signed by "Billy and the Fyre Festival Team." In this update, they further explained the situation. Here's an excerpt:
Yesterday was a very challenging day for all of us. But we would like to fully explain what happened. Billy McFarland and Ja Rule started a partnership over a mutual interest in technology, the ocean, and rap music. This unique combination of interests led them to the idea that, through their combined passions, they could create a new type of music festival and experience on a remote island. They simply weren't ready for what happened next, or how big this thing would get.
The team also announced they will be giving full refunds to this year's guests, along with VIP passes to next year's festival.
After speaking with our potential partners, we have decided to add more seasoned event experts to the 2018 Fyre Festival, which will take place at a United States beach venue.All festival goers this year will be refunded in full. We will be working on refunds over the next few days and will be in touch directly with guests with more details. Also, all guests from this year will have free VIP passes to next year's festival.
They also thanked everyone for their "continued patience and understanding." The statement continued, "We apologize for what all of our guests and staff went through over the last 24 hours and will work tirelessly to make this right."