The 2nd Police Officer Shot In Kissimmee May Not Survive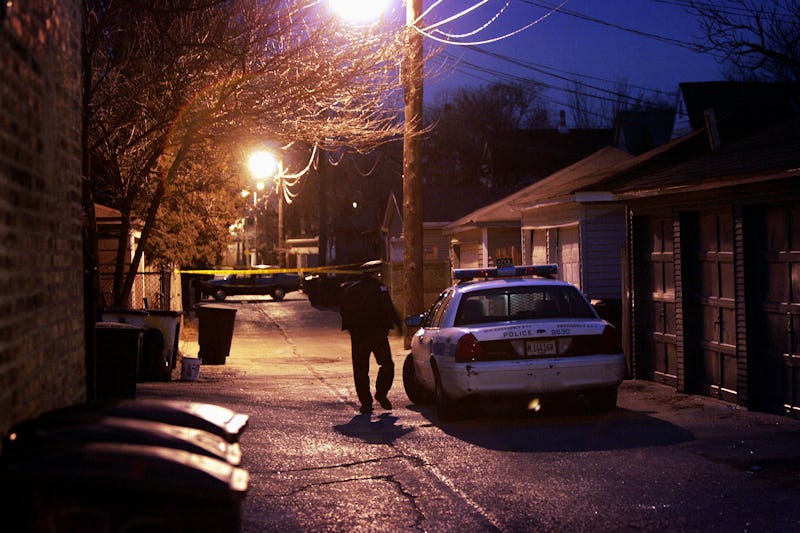 Scott Olson/Getty Images News/Getty Images
Two police officers were shot in Kissimmee, Florida, on Friday evening while responding to a call of suspicious persons. On Saturday morning, Police Chief Jeff O'Dell held a news briefing at the department to give updates on the Kissimmee police shooting.
Officer Matthew Baxter, a veteran of three years, was killed in the shooting. Sgt. Sam Howard is reportedly in "grave critical condition" at the Osceola Regional Medical Center. According to the New York Daily News, O'Dell said at the press briefing on Saturday that Howard is not expected to survive.
News reports describe the incident on Friday evening as an "ambush." O'Dell said the officers were unable to return fire, adding, "they were surprised." He announced on Friday that three suspects were in custody, with a fourth being sought.
On Saturday morning, O'Dell said that one suspect, Everett Miller, who was arrested several hours after the shooting, faces a first-degree murder charge. He added that Miller will be transported to the Osceola County Jail in Officer Baxter's handcuffs.
Florida Gov. Rick Scott tweeted on Friday night that he was "heartbroken" about the Kissimmee officers being shot. "Praying for a quick recovery for officer in critical condition," Scott added. President Trump also tweeted about the Kissimmee shooting on early Saturday morning: "My thoughts and prayers are with the @KissimmeePolice and their loved ones. We are with you!"
Orange County Mayor Teresa Jacobs also tweeted about the shooting on Friday night. "Please join in prayers for families, friends, and law enforcement," she added.
The Kissimmee shooting wasn't the only one in Florida on Friday night. According to the Associated Press, two officers were shot and wounded after responding to an attempted suicide at a Jacksonville home. Three other people were reportedly in the house during the incident. One police officer was shot in the stomach, and the other in both hands.
Kissimmee police said that Baxter was the first officer to die in the line of duty in 25 years. He is survived by a spouse — whom local reports say is also a police officer — and three children.
Sgt. Howard, a 10-year veteran on the force, remains in critical condition. In a press briefing on Friday night, O'Dell said about Howard's injuries: "the prognosis is not looking good."