Here's What Officials Are Expecting From Hurricane Harvey In The Next Few Days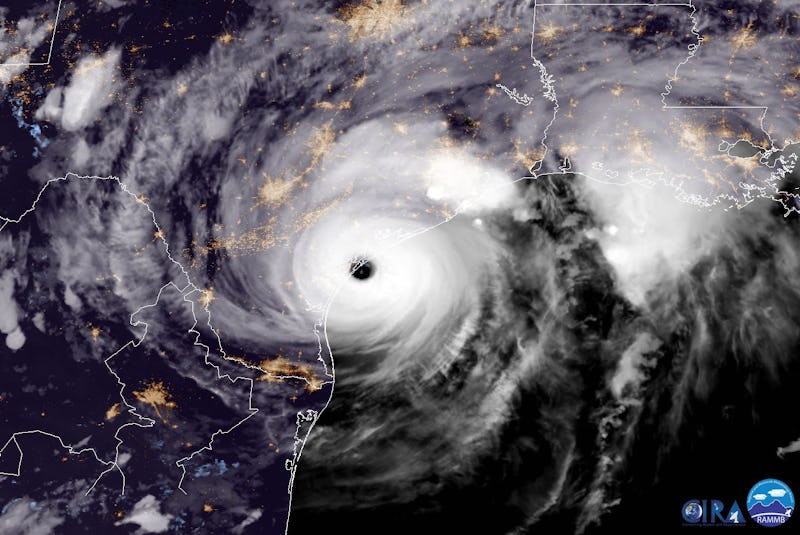 Handout/Getty Images News/Getty Images
A Category 4 hurricane made landfall on Texas Friday night, and by the next morning, according to the National Hurricane Center's updates to Hurricane Harvey, it had downgraded to a Category 1 storm carrying powerful winds at nearly 90 mph. Residents in Texas remain on high alert, as the hurricane is expected to linger on parts of the state for days cause "catastrophic" flooding.
The chief of the Federal Emergency Management Agency (FEMA), Brock Long, cautioned early on Saturday that the storm was "turning into a deadly inland event."
With power lines and trees struck down, more than 213,000 Texans had no electric power on early Saturday morning, according to the Electric Reliability Council of Texas. In the areas of Rockport, Aransas Pass, and Port Aransas of Texas, meteorologists reported building issues such as power outages that took place during the storm.
During a news conference on Friday morning, Rockport mayor Patrick Rios urged those who had chosen not to leave the area to "mark their arm with a Sharpie pen with their name and Social Security number." Rios went on to say, "We hate to talk about things like that. It's not something we like to do but it's the reality, people don't listen."
Hurricane Harvey's re-categorization to a class one storm should not take away the fact the storm carries the potential to fatally harm local residents and buildings. After making landfall in Rockport, Texas, the storm is expected to carry on for several days which may lead to deadly storm-surge flooding and even tornadoes in the affected areas.
Speaking of the severity of the storm, Houston mayor Sylvester Turner urged locals to take it seriously and prepare for its aftermath. "People need to know, this is not a one-[day], two-day event and done," Turner said.
After assessing the potential damage the storm may cause, The National Hurricane Center issued its very first public storm surge warning for the coastal parts of Texas like Port Mansfield, Corpus Christi, Port O'Connor, Morgan City, and Galveston Island. Such a warning means that a potentially deadly storm is expected to hit an area in the next 36 hours.
So, what's next for Texans? According to weather forecasters, locals may see Hurricane Harvey become a tropical storm by later Saturday but even then, the storm will continue to pour massive rainfall over the middle and upper Texas coastline, which could result in downed or washed away building signs, bridge closures, and even mandatory evacuations.