What We Know About The Suspicious Packages Sent To Clinton, Obama & A CNN Office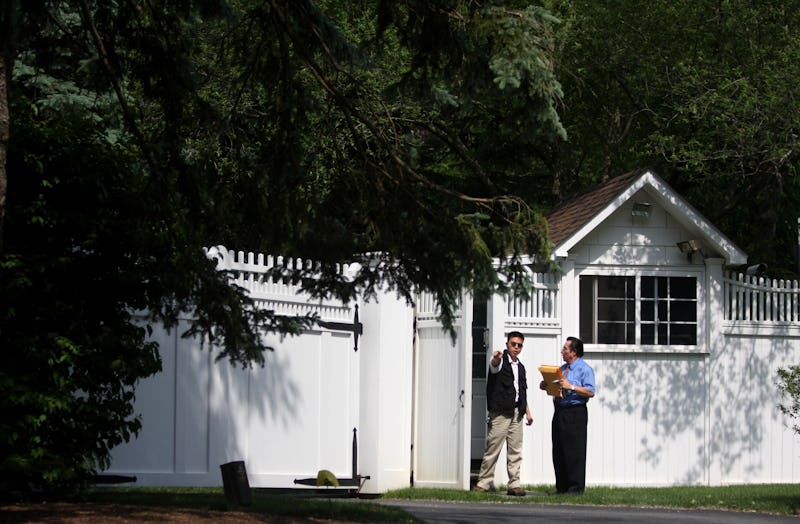 Yana Paskova/Getty Images News/Getty Images
Suspicious devices have been found at the homes of major political figures and, now, also at news outlets. Updates to the suspicious package situation began with packages addressed to Hillary Clinton and Barack Obama. Both contained "potential explosive devices," the Secret Service said Wednesday.
CNN then reported that the White House had also received a suspicious package — a report that came before the Time Warner Center in New York, where CNN broadcasts from, was evacuated after a "suspicious device was discovered." Bustle has reached out to the White House and CNN for comment.
These are updates to the developing situation as they come in.
Jeff Zucker, president of CNN, emailed all New York-based employees Wednesday morning. "The Time Warner Center has been evacuated out of an abundance of caution, as a result of a suspicious package having been received in the mailroom," Zucker emailed. "We are working with authorities to determine the severity of the situation. The NYPD is on scene, and we [are] working closely with them to take every precaution. We are also checking all bureaus around the world, out of a complete abundance of caution."
An FBI spokesperson, in response to a request from Bustle about the Clinton and White House packages, wrote in an email, "The FBI is working in coordination with our law enforcement partners to investigate the suspicious packages."
White House Press Secretary Sarah Sanders released a statement Wednesday morning, commenting on the Obama, the Clintons, and "other public figures" but did not mention a potential attack on the White House. "We condemn the attempted violent attacks recently made against President Obama, President Clinton, Secretary Clinton, and other public figures," Sanders said in the statement. "These terrorizing acts are despicable, and anyone responsible will be held accountable to the fullest extent of the law. The United States Secret Service and other law enforcement agencies are investigating and will take all appropriate actions to protect anyone threatened by these cowards."
The president's son, Donald Trump Jr., also commented on Twitter. "As someone whose family has directly been the victim of these mail threats I condemn whoever did this regardless of party or ideology," Trump Jr. wrote. "This crap has to stop and I hope they end up in jail for a long time." It was not immediately clear if Trump Jr. was referring to Wednesday's attacks or when his wife was hospitalized in February after receiving white powder in the mail.
The Secret Service denied initial reports by CNN that there was a suspicious package addressed to the White House. The Secret Service tells Bustle:
At this time the Secret Service has intercepted two suspicious packages, one in New York, and one in Washington, D.C. Reports of a third intercepted package addressed to the White House are incorrect.
On Twitter, the Secret Service directed media to their statement. It notes that Clinton's package was intercepted Tuesday and Obama's on Wednesday. "The packages were immediately identified during routine mail screening procedures as potential explosive devices and were appropriately handled as such. Both packages were intercepted prior to being delivered to their intended location. The protectees did not receive the packages nor were they at risk of receiving them."
Mobile phone users in Manhattan received an emergency alert just after 11 a.m. "Police Activity: Residents on W 58th St btw Columbus & 8th Av shelter in place immediately." This is where the Time Warner Center is located in New York City.
Vice President Mike Pence also tweeted a statement. "We condemn the attempted attacks against fmr Pres Obama, the Clintons, @CNN & others," Pence wrote. "These cowardly actions are despicable & have no place in this Country. Grateful for swift response of @SecretService, @FBI & local law enforcement. Those responsible will be brought to justice."
Police are investigating another suspicious package at one of the offices of Congresswoman Debbie Wasserman Schultz in Sunrise, Florida, local media reports. Bustle has reached out to Sunrise Police and Wasserman Schultz's office for comment.
CNN reported that the device that arrived at their offices Wednesday "mid-morning" was addressed to former CIA Director John Brennan. He has been a frequent guest on CNN, where he has criticized the president — who in turn revoked his security clearance. The device, if it cannot be defused onsite, will be transported to the Bronx, CNN also reported.
Speaker of the House Paul Ryan also tweeted out a condemnation. "Those behind such reprehensible acts must be brought to justice," Ryan tweeted. "We cannot tolerate any attempt to terrorize public figures. I am grateful to the @SecretService, Capitol Police, and all law enforcement who guard against these threats."
Chelsea Clinton used Twitter to send a thank you to the Secret Service. "Every day, I am grateful to the women and men of the United States Secret Service. Thank you."
Zucker emailed employees again later on Wednesday to ask that they take extra care as they "communicate via social media." He asked CNN reporters not to include images or geotags that would share location. "We have no particular reason to be concerned, but just think it would be the most cautious approach," Zucker wrote.
Ivanka Trump, the president's daughter and adviser, posted a message to Twitter, too. "I strongly condemn the attempted acts of violence against President Obama, the Clinton family, @CNN & others. There is no excuse—America is better than this," Trump wrote. "Gratitude to the @SecretService and law enforcement for all they do to keep this nation safe."
Downtown San Diego was also closed off after suspcious packages were found outside the building where The San Diego Union-Tribune offices are located, the paper reported. CNN reported that Sen. Kamala Harris also has offices in the building.
President Trump did not write his own full tweet commenting on the situation. Instead he quote tweeted the vice president and added, "I agree wholeheartedly!"
Senate Majority Leader Mitch McConnell released a statement to a local news station in Kentucky. "I stand with all Americans in condemning today's attempted acts of domestic terrorism," McConnell said in the statement. "As we continue to learn more, Americans are united in gratitude for the first responders — the Secret Service, the Postal Service, and other law enforcement — who protect our leaders and public figures from such unconscionable acts."
Melania Trump commented on the events through her spokesperson to CNN. "Mrs. Trump condemns all forms of threats and violence, and thanks law enforcement for their heroic efforts," spokesperson Stephanie Grisham said.
Press Secretary Sanders tweeted out an update just after 12 p.m. "This is an ongoing situation that President Trump and his admin are monitoring closely," Sanders tweeted. "Our condemnation of these dispicable acts certainly includes threats made to CNN as well as current or former public servants. These cowardly acts are unacceptable and wont be tolerated."
Lily Adams, communications director for Sen. Harris, confirmed on Twitter that the senator's office was evacuated, but the packages were not addressed to the senator.
In a press conference, New York City Mayor Bill de Blasio called the device sent to the CNN office an "act of terror," per CBS Evening News. He added that there was "no specific threat" to other locations in the city. New York Police Department Commissioner James O'Neill said the police found an apparent live explosive device and white powder at the Time Warner Center.
CNN reports that the package that was sent to Wasserman Schultz was addressed to Eric Holder but was sent to Schultz's office because that was what was on the return address. CNN reports that her address was also listed as the return address for the packages sent to Obama and Clinton.
According to NBC San Diego reporter Artie Ojeda, the San Diego police reported the packages at the San Diego Union-Tribune office did not include any explosive devices or suspicious objects. "Better safe than sorry," one officer said.
At a press conference, New York Gov. Andrew Cuomo said his office was, in fact, sent a potentially explosive device. An NYPD spokesman later said it was not a bomb nor was it related to the other suspicious packages, according to the Associated Press.
ABC News reports that a suspicious package was also addressed to Rep. Maxine Waters, but was intercepted by Capitol Hill police. In a statement to Bustle, Waters says:
I have been informed by U.S. Capitol Police that my Washington, DC office was the target of a suspicious package that has been referred to the FBI. I am appreciative of the law enforcement entities who intercepted the package and are investigating this matter. I unequivocally condemn any and all acts of violence and terror.
Later that day, another suspicious package addressed to Waters was discovered in a South Los Angeles postal facility. In a tweet, the LAPD said, "We are working closely with our federal law enforcement partners given the number of suspicious devices discovered across the nation." The LA postal facility was promptly evacuated.
On Wednesday afternoon, President Trump expanded on his comments regarding the suspicious packages. "I just want to tell you that in these times, we have to unify," he said. "We have to come together and send one very clear, strong, unmistakable message that acts or threats of political violence of any kind have no place in the United States of America."
The first lady also issued an official condemnation. "We cannot tolerate those cowardly attacks and I strongly condemn all who choose violence," she said at the White House on Wednesday.
Former president Bill Clinton tweeted on Wednesday afternoon, "Thank you to the @SecretService and all law enforcement agencies who responded to this week's incidents. They work tirelessly to keep our country and communities safe. I am forever grateful for their efforts."
According to CNN, the FBI reported that the suspicious package was located near the Clinton residence in Chappaqua, New York.
In comments to CNN on Wednesday, Arizona Republican Sen. Jeff Flake said that Trump should not have previously referred to the media as the "enemy of the people." The Republican said that he hoped Trump took on "a more civil tone" and that such a change "would make a difference."
In a company-wide email, Zucker said that the Time Warner Center had been opened once again. "The NYPD has concluded its security sweep, and it is now safe to return to the building," Zucker's statement read. "I so appreciate your patience, as I know what a long day this has been for all of you."
In a separate statement, Zucker highlighted the Trump administration's attacks on the American press. "There is a total and complete lack of understanding at the White House about the seriously of their continued attacks on the media," Zucker said. "The president, and especially the White House press secretary, should understand their words matter."
"Thus far," Zucker added, "they have shown no comprehension of that."
High-rankings Democrats have also expressed dismay at Trump. New York Sen. Chuck Schumer and California Rep. Nancy Pelosi called Trump's statement "hollow until he reverses his statements that condone acts of violence."
In a joint statement, Pelosi and Schumer stated, "Time and time again, the President has condoned physical violence and divided Americans with his words and his actions: expressing support for the Congressman who body-slammed a reporter, the neo-Nazis who killed a young woman in Charlottesville, his supporters at rallies who get violent with protestors, dictators around the world who murder their own citizens, and referring to the free press as the enemy of the people."
In a statement, FBI director Chris Wray said the investigation into the suspicious packages was of "highest priority." He added, "We have committed the full strength of the FBI's resources and, together with our partners on our Joint Terrorism Task Forces, we will continue to work to identify and arrest whoever is responsible for sending these packages."
The FBI has urged citizens to alert the agency about suspicious activity at 1-800-225-5324. You can learn more by going here.