UPS Is Hiring For 100,000 Seasonal Positions With Flexible Hours This Year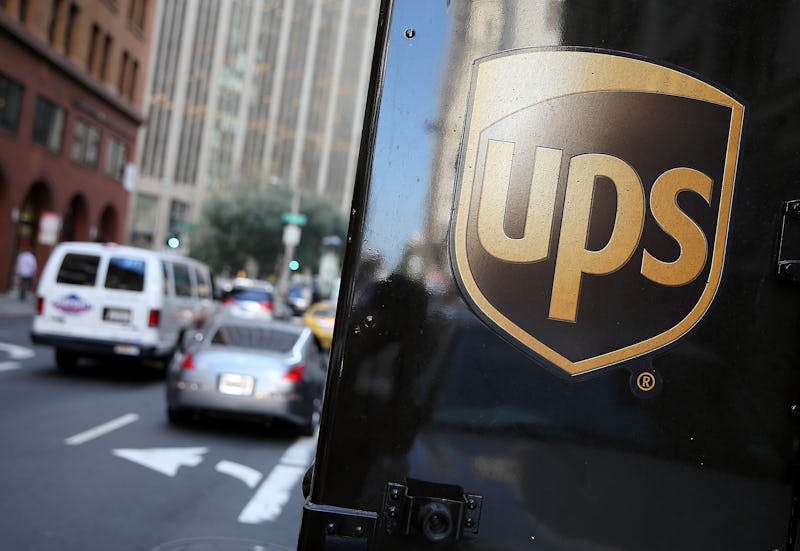 Justin Sullivan/Getty Images News/Getty Images
The holiday season is simultaneously one of the most exciting and most stressful times of the year. Twinkly lights and bows on buildings, in addition to Mariah Carey's unparalleled "All I want For Christmas Is You" playing nonstop on the radio definitely lighten the mood. But, at the same time, the holiday season comes with a whole slew of additional expenses. Luckily, due to the stark increase in shopping, plenty of companies hire additional help for just the holiday season. Looking for some extra spending money to get through the winter? UPS is hiring more than 100,000 seasonal employees for the holiday season.
According to a press release, the United Parcel Service, Inc. (UPS) recently announced it will be looking to fill more than 100,000 positions for the holiday rush between November and January. Last year, the Atlanta-based company hired around 95,000 additional holiday employees, but ended up spending $125 million in delay-related expenses anyway. So, to avoid this happening again during the 2018 holiday season, UPS decided to push the number over the six-figure threshold. Full-time and part-time positions are available — and if you're looking for something more steady, more then one third of all temporary seasonal employees end up with a full-time position, according to a press release from UPS. Even Chief Executive Officer David Abney began as a part-time employee with UPS.
"Every year, we deliver the holidays for millions of customers. In order to make that happen, we also deliver thousands of great seasonal jobs at our facilities across the country," said Chief Operating Officer Jim Barber in the press release.
Package handlers, drivers, and driver-helpers make up most of the roles being searched for during the holiday season. Further, just because you aren't familiar with a UPS store near your home right now, doesn't mean you should not apply. In many cities across the country, a good deal of the seasonal hires are asked to staff temporary facilities that the company builds just for the seasonal shipping rush, in addition to its permanent package hubs.
If 100,000 still sounds like an unbelievably large number to you, consider that the National Retail Federation (NRF) discovered a total of $691.9 billion spent during the holiday season in 2017. This is an increase of five and a half percent since the previous year. Of this number, $138.4 billion (almost exactly one fifth) was spent online and other non-store sales. This portion is up eleven and a half percent from 2016.
Last year, during Cyber Monday — a shopping holiday that focuses on virtual deals — more than 81 million Americans took advantage of all the online shopping world had to offer. This number is even greater that those who participated in Black Friday which takes place annually the Friday after Thanksgiving.
For The NRF's Annual Thanksgiving Holiday Consumer Survey, researchers categorized Black Friday weekend shopping into three categories: (1) in store only; (2) both in store and online; and (3) online only. The second category was the most popular, with 64.6 million respondents saying they shopped both in store and online. Category 3 came in second place with 58.4 million respondents saying they shopped exclusively online. Only 51.6 million said they shopped inclusively in stores.
Basically, people are shopping more, especially online. So, the need for more people to facilitate your online shopping habit is growing.
If you're interested in a position with UPS during the holiday season, you can apply here.