Upside-Down Christmas Trees Are Trending This Season & Twitter Is Very Confused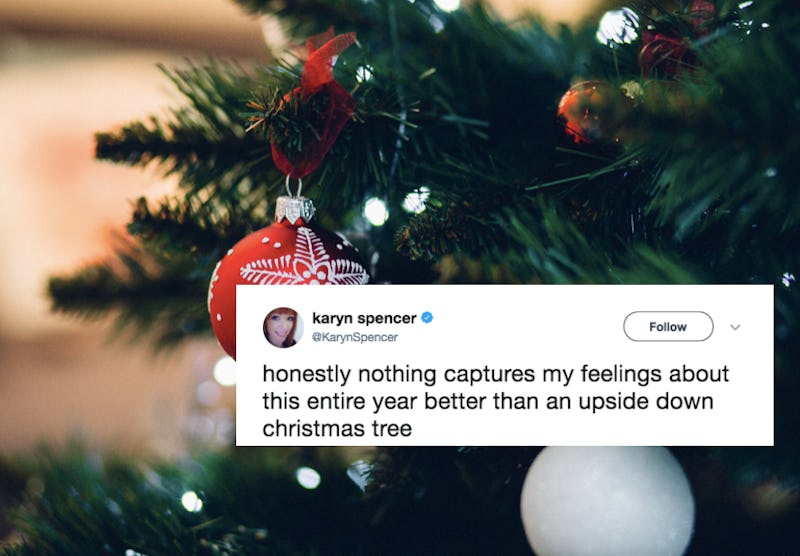 Pexels/@karynspencer/Twitter
Get ready to celebrate the holidays Stranger Things style. Upside-down Christmas trees are now officially a thing, and Twitter, as per usual, has a lot to say about it. As the trend's Twitter Moment puts it: "They're in hotels and they're on sale in stores, whether you like it or not."
According to a Pew Research Center study, nowadays folks are less inclined to keep up super traditional holiday... well, traditions. Whether the upside-down Christmas tree is a way of reigniting people's interest in having a tree, or simply one of those occurrences where one person or store did it and everyone else immediately latched on in the name of holiday uniqueness and-or capitalism is uncertain.
The origins of the upside-down tree are equally uncertain, but tweets began appearing this month showing a myriad of upside-down trees decorating stores, hotels, and public spaces. It's catching on in some surprising places, like Claridge's, a five-star hotel in London, which unveiled its annual holiday tree installation Nov. 22, revealing an upside-down tree arranged by renowned fashion designer Karl Lagerfield. The Caterer compared the tree to a "silver stalactite" that's "hung with silver lametta decorations, silver butter leather feathers and snowflakes handmade by craftsmen in Germany, with tree candles providing the lighting." For those curious, it looked a little something like this:
Good news: If this trend is appealing to you, you can have your very own space-saving upside-down tree from Target for a mere $989.21. Or, if it isn't up your alley, you can just bask in the by turns baffled, witty, and enthused commentary from Twitter. Let's just say people have feelings about this trend:
1. Stop
2. A Fan
3. Too Much Tequila
4. Merry Christmas, Satan
5. Ornament Arranging Skillz
6. $1,000
7. Life Is Hard In 2017
8. But Seriously, ONLY In 2017
9. #WhyTho
10. It's A No From Me
Some people have also expressed belief that turning the tree upside-down is not only disrespectful to Christmas traditions, but to the holiday as a whole. It turns out, though, that the tradition of hanging fir trees upside-down goes back to the Middle Ages, and it has a Christian basis, according to Birmingham Mail. "Europeans did it to represent the Trinity" of the Christian father, son, and holy spirit, the Mail reported.
Whether you like the upside-down tree or not, it's decidedly not the weirdest holiday trend to surface this year. A different kind of plant has already captured that title: the pineapple. Yep — people are decorating holiday pineapples, and it's apparently become an entire phenomenon on Pinterest, where searches for pineapple holiday trees are on a serious rise.
It's not clear why upside-down trees suddenly surged in popularity this year, but weird as they are, there are a few solid reasons why holiday pineapples have made their way into wintry homes. First, they're nondenominational, so for folks who aren't religious or just don't feel like adhering to a particular religion's decor, a pineapple is ideal. As one Bustle writer previously pointed out, pineapples are also relatively tiny, so they're great for the eternally tiny apartments tons of millennials will be living in for the next 30 years while we give all our money to student loan companies.
On top of that, pineapples signal hospitality. "Pineapples are seen as a welcoming motif — their depictions serve as door knockers, bookends and tchotchkes, and they almost always come in a hotel gift basket," according to Apartment Therapy. So, yeah, pineapples do make sense, and people have come up with tons of cool and creative ways to decorate them.
In all likelihood, the time of upside-down trees will pass, and next year Twitter will have a new trend to dissect. After all, it wouldn't be the holidays without a little controversy to stir up the interwebs.