Urban Outfitters' MASSIVE Black Friday Sale Includes Buy One, Get One 50% Off For The ENTIRE Store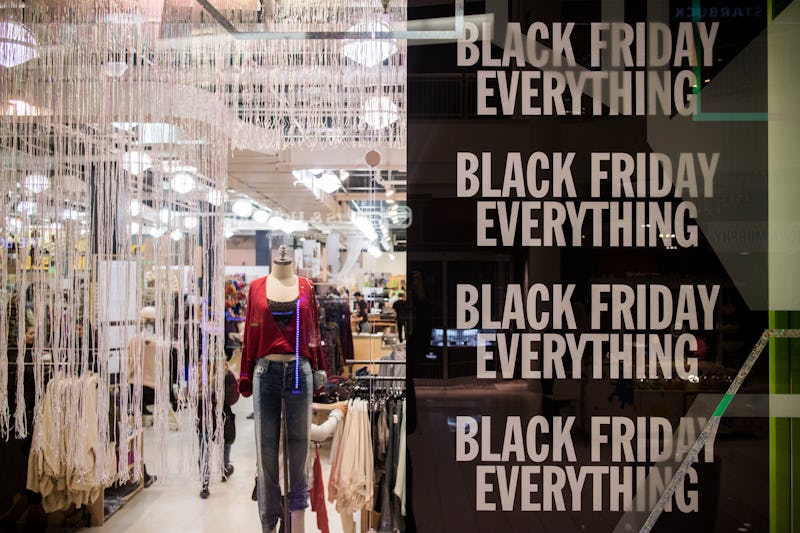 Stephen Maturen/Getty Images News/Getty Images
It's the holiday shopping home stretch. Black Friday is almost here and there are lot of sales and events to get excited about. Urban Outfitters' Black Friday Sale (sizes run from XS to XL) is killer. The retailer is having some advance sales to be aware of, though. With many retailers getting a head start on the shopping bonanza several days early or on Thanksgiving Night aka Black Friday Eve, there are important distinctions to note. The brand suggests using the Store Locator tool on its site to confirm the exact hours for your fave UO outpost.
As for the items on deal? Urban Outfitters will be offering discounts on some of your fave clothing brands, such as Champion, FILA, and more.
Here is a breakdown of the retailer's holiday shopping savings.
According to the Urban Outfitters PR department, UO Rewards Members will get 20 percent off their entire purchase on Monday, Nov. 19 and Tuesday, Nov. 20. Take a break from food prep and pumpkin pie baking to enjoy some retail sales.
On Wednesday, Nov. 21 through Friday, Nov. 23, shoppers can BOGO half off the entire site. On Saturday, Nov. 24, shoppers can enjoy 30 to 40 percent off sale items. On Sunday, Nov. 25, UO Rewards Members can take $10 off $50 purchases, $25 off $100 purchases, and $50 off $150 orders.
From Wednesday, Nov. 21 through Monday, Nov. 26, which is Cyber Monday, Urban Outfitters is offering free worldwide shipping on orders over $50. There are some additional UO savings that will reveal themselves throughout Cyber Monday.
Ultimately, there are a lot of deals and discounts. You can make the store and its site your one-stop shop this holiday season. Some exclusions apply, so you will have to pay attention as you shop.
Below are some choice items to shop during the sale. Please note the full prices are listed below, as different discounts and offers will apply depending on when, where, and how you shop. That will effect the final price you pay.
1. Basic But Necessary Hoodie
2. Cropped Logo Tee
3. Reversible Sweater
4. Plaid Pants
5. Grunge Goddess Slip Dress
6. Cardigan
7. Raw Denim Mini
8. Jumpsuit
9. Mom Jeans
There a plenty more deals, steals, discounts, and savings at Urban Outfitters this holiday season. Be sure and take advantage of them.
Did you know that you can find Urban Outfitters promo codes at the Bustle Coupons page? Bustle Coupons is a service provided by Groupon in collaboration with BDG Media, Inc. Each time you use a coupon or promo code from Bustle Coupons to make a purchase, Groupon and BDG Media, Inc. earn a small commission. This article was created independently from Bustle's sales department.