Urban Outfitters' New Fake Flower Collection Is Both Stunning & Super Affordable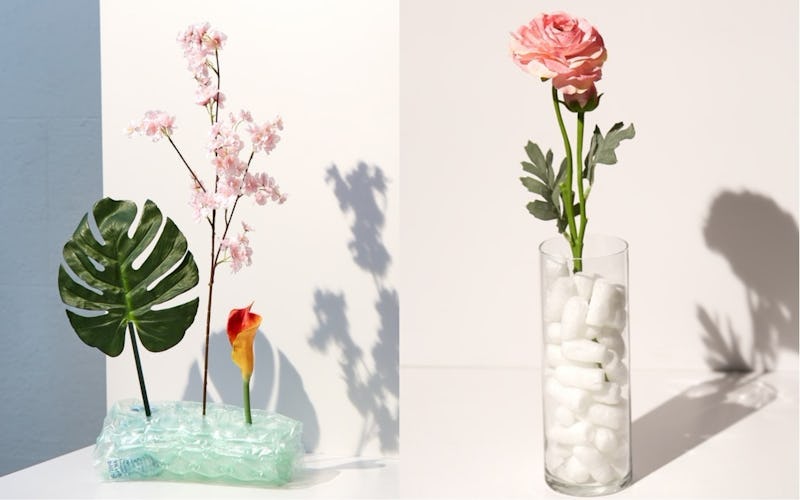 Urban Outfitters
Nothing livens up a living room like some fresh greenery...provided you're able to keep your plants alive for more than a few days. For those of us whose green thumb is lacking, Urban Outfitters is launching a collection of faux flowers. They're all the beauty of budding flora without any of the responsibility of an actual, living plant.
Lest you think these your run of the mill craft store fake flowers, your eyes will be more than deceived by Urban Outfitters' new faux floral collection. Ranging from household staples like calla lilies and peonies to more exotic flowers like ambrosia and bottle brush, these artificial plants could very easily pass as the real deal. Honestly, if you sprayed some floral perfume on a few of these plants, maybe added a mist of water droplets to really sell the idea, your houseguests would likely be none the wiser.
If you lean more green than gaudy when it comes to plants, there are also plenty for you to pick from in this assortment. There's fake eucalyptus and a faux bite your tongue (which apparently the name of an actual plant that exists in nature...who knew?). There are even monstera leaves and palm branches which stand almost four feet tall. Statement plants aren't just for those capable of caring for living greenery anymore.
The faux flower range starts at a reasonably low price point. A handful of the artificial flowers and plants, like the peonies and cherry blossoms, are available for just $6. The bigger, more exotic fake plants, like the ambrosia and bite your tongue, are available at the $24 price point, which might make sense with your budget if you're prone to purchasing real plants and letting them die. (No judgement if that's you as, admittedly, it's me too.)
The most expensive plants in the bunch are those aforementioned extremely tall monstera leaves and strelitzia plants. The 2.5 foot monstera leaves are $50 a piece. The strelitzia plants are $100 for a set of two leaf stems.
Could you find a few more affordable options at your local craft store? Certainly. However, Urban Outfitters is touting their collection as offering more exotic as well as more realistic plants options.
According to the website descriptions, the faux plants are made from the materials you'd expect: plastic, foam, wire, and glue. The wire makes the plants malleable, allowing you to bend the leaves to your liking. At least in pictures, the texture and coloring on the assortment makes them more than passable as a living plants.
The collection is also something to consider if you've got a special occasion coming up. With couples spending an average of $3,000 on wedding flowers, perhaps fake flowers are the way to go if you want your bouquet to bloom beyond your wedding day.
According to Value Penguin, the average bridal bouquet runs about $65 on the low end and upwards of $255 on the higher end. Each wedding party bouquet can cost an additional $30 to $100, depending on how much you're splurging on flowers.
While you may not want to go all faux floral for your wedding, subbing out a few fresh bouquets for artificial ones could certainly help your budget. Plus, you'll have a floral momento from your day that you won't have to worry about watering.
In celebration of spring being here (at least according to the calendar), Urban Outfitters is having a two-day pop up shop in New York where customers can peruse their new faux floral collection as well as other home goods. Located at 232 Elizabeth Street in Nolita, you can stop by the shop on Friday, March 23 and Saturday, March 24. The full collection is also currently available online on urbanoutfitters.com.
Even if the weather isn't behaving accordingly, this new faux flower collection allows you to still bring a little springtime into your life.