Urban Outfitters' Teensy, Small Batch Ice Cream Maker Is An Apartment Must-Have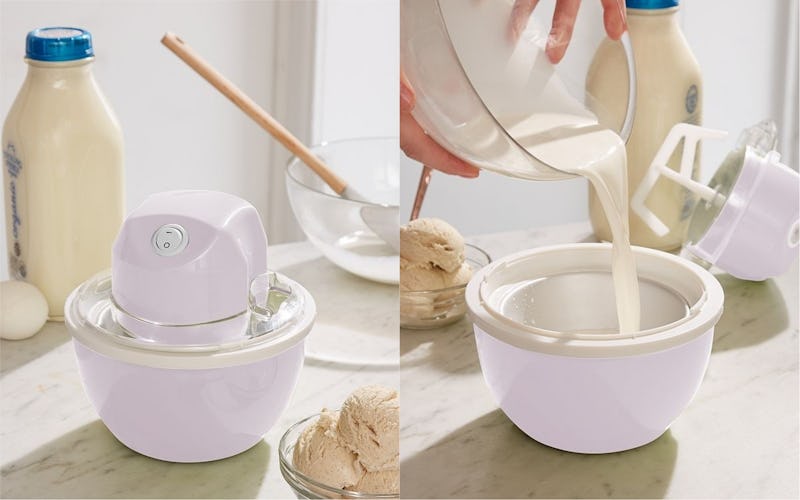 Urban Outfitters
Have you ever tried to make DIY ice cream at home without an ice cream maker? I have. It involved a giant freezer bag, ice cubes, milk, and vanilla extract. The result was a bowl of watered down vanilla-tasting milk with ice chips floating in it — not ideal. I wanted to try my hand at homemade ice cream, but didn't want to have to dish out $200-$300 to get a restaurant-grade machine. If you've ever been in the same unfortunate boat, your search is over. Urban Outfitters is selling an ice cream maker designed to produce full pints of your favorite flavor — and it's only $40.
The store's ice cream maker is perfect if you've been looking for a smaller machine that can still churn out a good amount of your desired soft serve flavor. The mini appliance comes in lavender and white, and includes an instruction manual that showcases a few different recipes. "This little thing is pretty awesome and cute. Makes the perfect personal size ice cream," one customer commented in their five-star review. So far, so good. After all, not even having to leave your house to get a brand new pint of ice cream is pretty much the ultimate dream.
Urban Outfitters is pretty much the one stop shop for affordable, treat-yourself kitchen appliances. Forget a regular old waffle maker — UO has one that makes heart-shaped waffle. Perfect for whipping up the morning after a fight with your partner or roommate as an I'm-Sorry-breakfast, or simply for whenever you need a little waffle-fueled love in your life. Wait, waffles that are shaped like hearts? I think Leslie Knope would cry tears of joy if these were passed around the table at Galentine's Day.
If you're not satisfied with the candy flavors you see on shelves all the time and want to Master Chef it up in your own kitchen, Urban Outfitters has the perfect product for your culinary imagination: a straight up candy maker. The adorable turquoise countertop appliance comes with an easy-pour chocolate-melting pot and two separate trays for molding candies into heart and teddy bear shapes. You can use classic chocolate chips — or any other flavor combo you come up with. The world is your oyster, chef.
Last but not least, a product that is a true jack of all trades: a miniature grill. This adorable little appliance allows you to quickly and easy cook single serve burgers, panini press your sandwiches, and grill fruits or veggies. It heats up easily and you can wipe it down for super easy clean-up. Better yet, a recipe booklet comes with the product if you're in need of some inspiration. Is this what Monica used on that one episode of Friends?
Browsing Urban Outfitters' website makes me want to fill every square inch of my kitchen countertop with mini appliances. I mean, imagine the amount of money you could save on eating out if you made ice cream, burgers, and waffles in your own kitchen in a matter of minutes. They're adorable, they're affordable, and sometimes you just need mini waffles or homemade candy in your life.