Ursula K. Le Guin Has Passed Away At The Age Of 88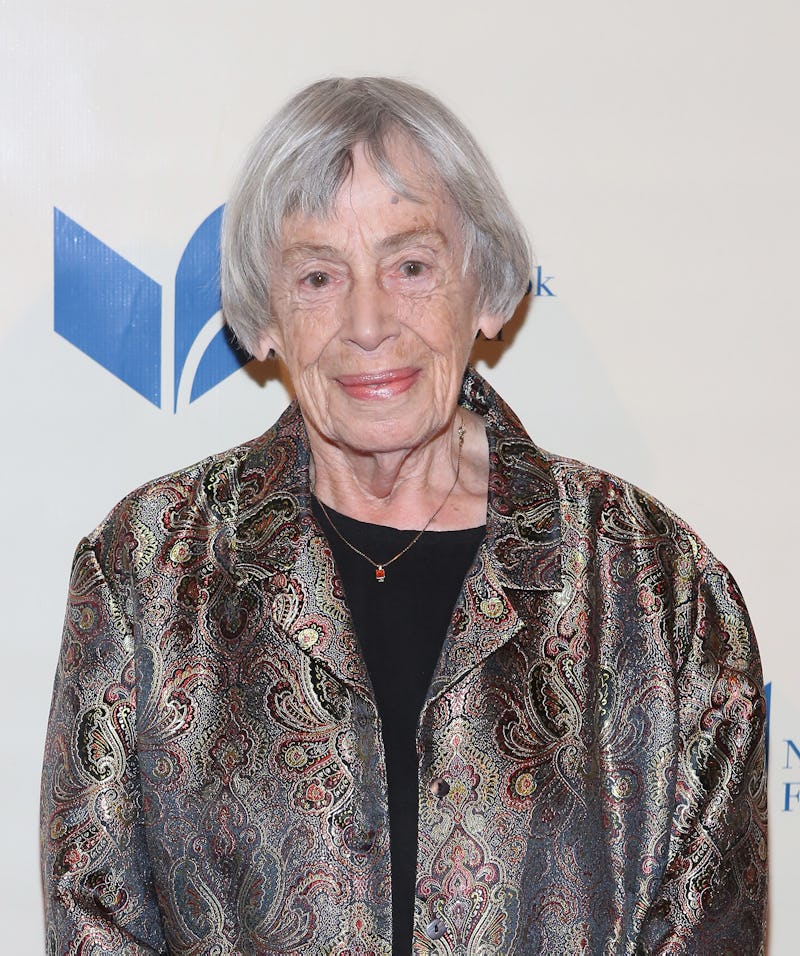 Robin Marchant/Getty Images Entertainment/Getty Images
A pioneer in the world of literary science fiction and fantasy, author Ursula K. Le Guin has passed away at the age of 88, The New York Times reports. She died in her home in Portland, Ore. on Monday, according to her son, Theo Downes-Le Guin. He did not give a cause of death.
Le Guin won the Hugo Award, Nebula Award, Locus Award, and World Fantasy Award for her work, in addition to the National Book Foundation's Medal for Distinguished Contribution to American Letters. Le Guin wrote for children and adults, and some of her most famous works include A Wizard of Earthsea andThe Left Hand of Darkness. Most recently, she released a book of essays titled No Time To Spare: Thinking About What Matters. She wrote over 20 novels, in addition to books of poetry and hundreds of short stories and essays. The collection was released in December 2017, just a month and a half before her death. All told, her books have been in print for almost 50 years and have been translated into more than 40 languages.
Born in Berkeley, Calif. on Oct. 21, 1929 to two anthropologists, Le Guin was always fascinated by stories and mythologies. She pursued a degree at Radcliffe College, and later attended Columbia University, where she received a master's degree in romantic literature of the Middle Ages and Renaissance. She went on to win a Fulbright fellowship in Paris, where she met a Charles Le Guin, a fellow Fulbright scholar who later became her husband. They moved to Portland, where she taught history at a local university.
Her first book, Rocannon's World, came out in 1966, and two years later, she released what would become one of her most famous works, The Wizard of Earthsea, the first book in a series about a boy who lives on a magical fictional archipelago inhabited by humans and fantastical creatures alike. The boy, after discovering his innate magic, decides to attend a school for wizards — an idea many believe might have inspired a more famous wizarding school: Hogwarts.
Regardless of whether or not Le Guin planted the seed of inspiration for Harry Potter, her influence upon literature — fantasy, sci-fi, or otherwise — is undeniable. Her work has inspired Game of Thrones author George R.R. Martin, Terry Pratchett, Margaret Atwood, and countless others.
In an essay from her recent collection (published online by LitHub), Le Guin wrote about her impatience with the term "The Great American Novel," and, in the process, said something very sensible about what it takes to create literature that stands the test of time. She wrote:
"Art is not a horse race. Literature is not the Olympics. The hell with The Great American Novel. We have all the great novels we need right now—and right now some man or woman is writing a new one we won't know we needed till we read it."
Though she certainly would not want to lay claim to the word, in her passing, she will certainly be remembered as one of the Great American Novelists.