Ursula K. Le Guin Wrote One Final Book Of Poetry — And It Could Be Published With Your Help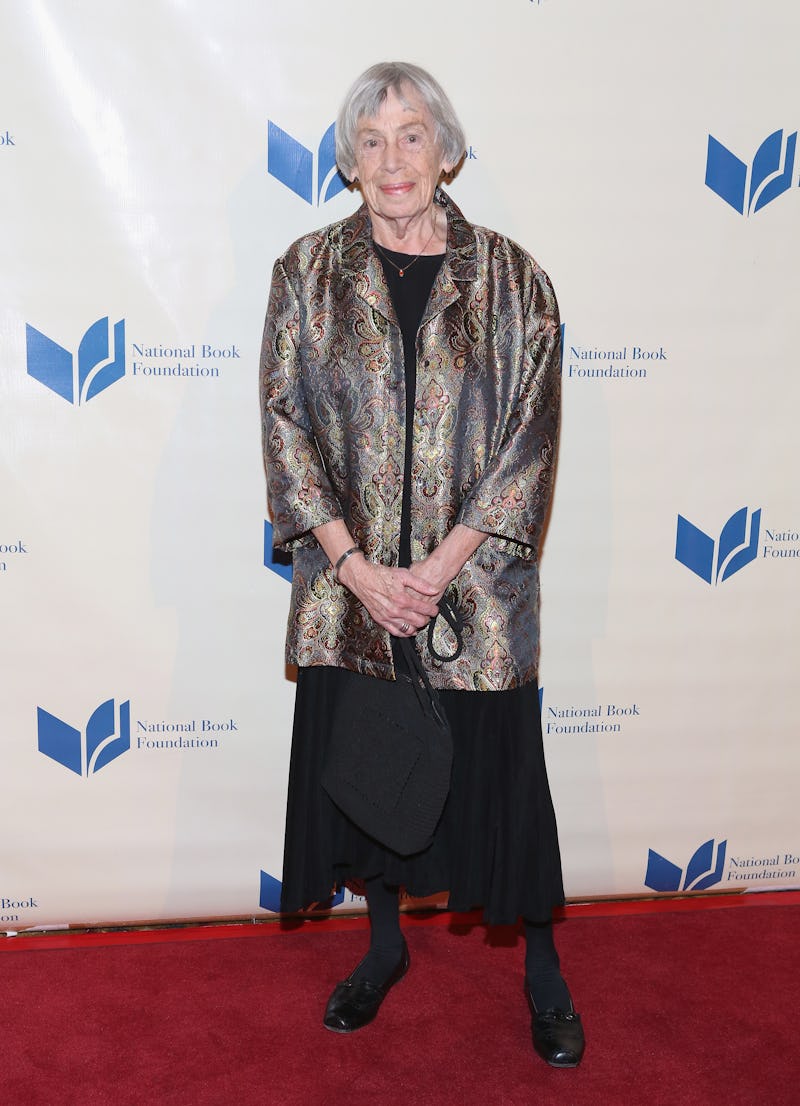 Robin Marchant/Getty Images Entertainment/Getty Images
This fall, a new tome of poetry may be hitting the shelves — but its author, Ursula K. Le Guin, will never witness its debut. Le Guin, the prolific writer who passed away in January 2018, was a visionary creator - and now her final work, a poetry collection entitled So Far So Good, is being brought forth into the world by a small, independent publisher, who has launched a fundraising campaign to shoulder the costs of publishing So Far So Good. If they succeed, it will be Le Guin's 13th collection of poetry.
Copper Canyon Press, a non-profit, independent publishing house that has exclusively published poetry since the early 1970s, was approached by Le Guin to publish what would become her final work. Just days after sending in her final edits for the collection, Le Guin passed away on January 22. And the staff at Copper Canyon Press, based in Townsend, Wash., were left with a stack of short, sage, powerhouse poems from one of the country's most beloved sci-fi/fantasy writers (though Ursula hated the distinction: "Where I can get prickly and combative is if I'm just called a sci-fi writer. I'm not," she once said in an interview with the Paris Review. "I'm a novelist and poet. Don't shove me into your damn pigeonhole, where I don't fit, because I'm all over. My tentacles are coming out of the pigeonhole in all directions.")
Despite her "prickliness," Le Guin is perhaps most well-known for several of her sci-fi fantasy works, most notably The Left Hand of Darkness and The Dispossessed, for which she became the first person to both Hugo and Nebula Awards, two of the most prominent sci-fi/fantasy literary awards in the world, for the same two novels.
But despite her sci-fi fame, Le Guin has said that her love of writing came incredibly early, and it came in the form of poetry. It makes sense, then, heartbreakingly so, that this posthumous work is one of poetry, and is a rumination on the end of one's life.
"She's a guide for how to process the world in different ways, how to process the environment, your day to day life, how you process the end of your life," said Silky Shah, a longtime Le Guin reader and Executive Director of the Detention Watch Network. Copper Canyon Press has released one poem from Le Guin's collection and, in the same intensely succinct way she has always written, Le Guin faces down the ways in which aging can shift our sense of belonging. Entitled "Ancestry," the opening lines read: "I am such a long way from my ancestors now in my extreme old age that I feel more one of them than their descendant."
Copper Canyon's fundraiser is an "all or nothing" campaign — meaning, if the press doesn't meet their financial goal of $25,000, then the project won't be funded at all. All the pledges, all the donations — they're moot, unless they collectively hit the mark. So it's understandable that their campaign comes with a few perks. For those who donate $100 or more, Copper Canyon Press will print a name — either that of the donator or that of a loved one — in every copy of the book's first edition.
It's a way of honoring a woman who tackled gender, race and environmental activism throughout her works, covering the topics she felt were essential and addressing them in ways her readers could relate, no matter their age, no matter their backgrounds or their beliefs. Le Guin was a uniter, and her final book is here to continue her work.