This Skier Is Training For Her FIFTH Olympics & She Has Solid Advice For Reaching Your Goals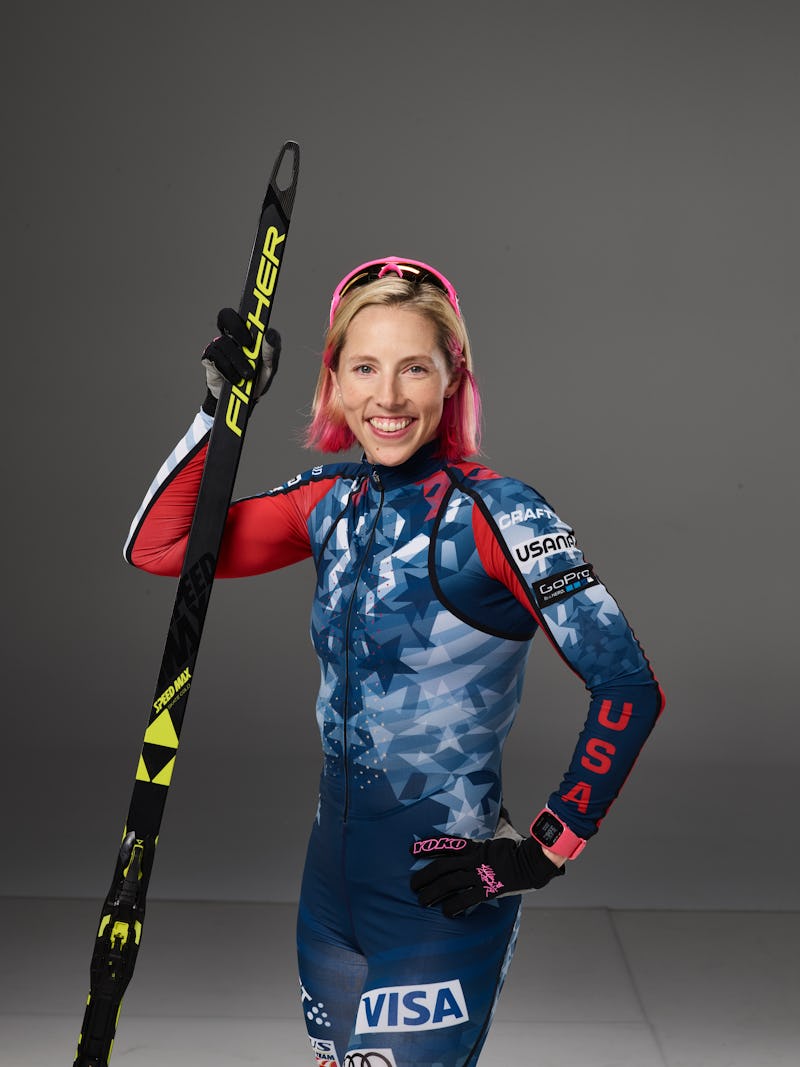 USOC/NBC Olympics
U.S. cross-country skier Kikkan Randall's first memory of the Olympics is actually set in her grandparents' living room in 1988 — long before she made her own Olympic debut in Salt Lake City in 2002. It was the opening ceremony of that year's Winter Games in Calgary, but Randall, 35, can still recall the music and the cowboy hats that the American team wore as they entered the stadium. More importantly, she remembers deciding, in that moment, that she'd find her own way to the Olympics "somehow, in some sport," she tells Bustle. Now, just a few weeks before the opening ceremony of the 2018 Winter Olympics — which, if she qualifies before the end of the Jan. 22 qualification window, will be her fifth Olympics — Randall tells Bustle she wants to inspire more people to try cross-country skiing with what she hopes will be a very successful trip to Pyeongchang.
"When I watch a sport on TV that I've never tried before and I see someone perform it at a high level, it inspires me to go out and maybe try something new," Randall tells Bustle. "I hope that by getting some good results, we'll get people cheering behind the American team and inspire them to say, 'You know what? I'm going to try skiing. That looks pretty fun.'"
Ideally, the good results Randall describes will nab her a spot on the medal podium in South Korea. Though she's participated in four Olympic games, she has yet to bring home any awards — but that doesn't mean she's a stranger to victory. In 2012, Randall became the first American woman in three decades to win a World Cup title in cross-country skiing, finishing first in the sprint and fifth overall. Then, in 2013, she placed third in the same competition, continuing to make her mark in a sport that's gone years without an American star. Randall's proudest moment came when she had the opportunity to share a gold medal win with a teammate in a World Championship race in 2013.
"We went into the race as underdogs, but we believed in ourselves and had a plan to ski smart," she says. "The individual successes have been amazing and fun too but to celebrate that moment with my teammate right as we finished... and to be able to stand on top of the podium and think about representing the USA, it was really one of the highlights of my career so far."
Randall's often found her greatest successes when she's gone in as an underdog. The realization of her long-time Olympic dream came just days after her 19th birthday, when she learned she'd qualified to compete at the 2002 Games in Salt Lake City. At that point, she'd only been seriously pursuing cross-country skiing for three years. She raced against "some older girls that had been beating [her] up pretty good," Randall says, at the 2001 National Championship — the competition that would ultimately qualify her for the Olympics.
"That whole day, from going into the race being unsure, to being with the big girls, to making a big move and winning my first national championship, and then finding out that I qualified for the Olympics — it was just an amazing day," Randall tells Bustle.
Though she placed 44th at her first Olympics, Randall says that simply being in Salt Lake City gave her good perspective on her big picture dreams for gold; she's always been about the long game, which is reflected in her advice to others with Olympic-sized dreams. Randall suggests breaking down big goals into the smaller victories that will help get you to where you want to be. After her participation in the games at Salt Lake as a teenager, she set out a plan to distinguish herself among her age group at the World Cup. Her history-making performances at the World Cup and national levels have boosted her confidence going into 2018.
"It's just a chance to put everything I have on the table one more time and remember to really enjoy the experience," Randall says of what she hopes will be her fifth shot at an Olympic medal. "To take in the feel of the Olympics and go out there and perform the best I can. I have a good feeling about it."
That type of attitude will surely take her far.
To learn more, visit teamusa.org. The Winter Games begin LIVE Feb. 8.