US Navy Destroyer Commander Elaine Brunelle Is The Boss You've Always Wanted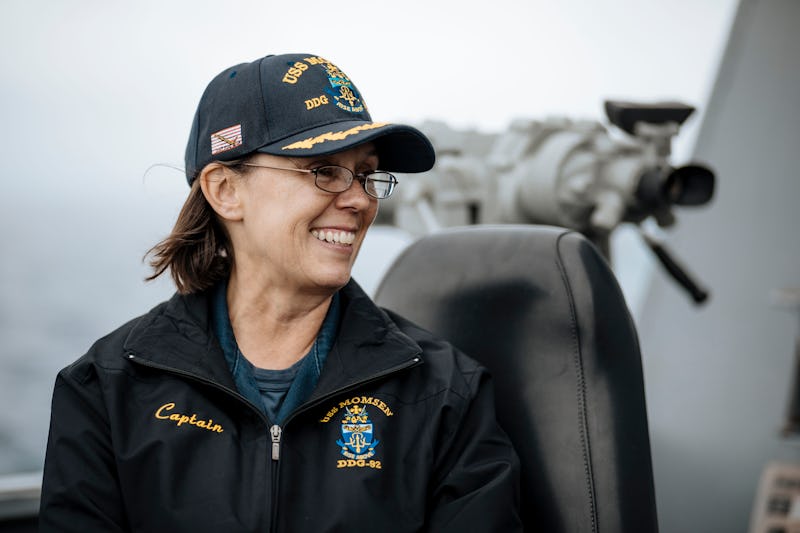 America's Navy
When it comes to leaders, we're all familiar with the tough guys and the smooth operators. But it can be hard to come by a boss who you actually aspire to be like. There's something special about a leader who couples warmth and openness with strength and laser focus — and something uniquely effective.
Future bosses take note.
One night in June, somewhere off the coast of Oregon, Commander Elaine Brunelle climbed the stairs from her cabin to the pilothouse aboard the USS Momsen to lead her crew through a storm. The ship took 16-degree rolls as waves more than 12 feet tall crashed against its bow. The crew deftly navigated the weather, though she conceded — unfazed, "it was a little sporty."
The Sea demands respect. As long as we honor that, we'll make safe passage.
As Captain of the USS Momsen, Commander Brunelle is responsible for everything aboard her ship, including the lives of the people she oversees — many of whom are young Sailors experiencing their first time at sea. It's impossible to overstate how vital her duties are. It's up to her to ensure the ship and crew maintain a state of maximum battle readiness. If the ship were to sink, Commander Brunelle would be the very last person off.
That level of responsibility can be humbling, and it should be. Just like the leaders she most admires, Commander Brunelle approaches her job with humility — so she doesn't mind being humbled, again and again, by the force of the sea. It's the reason she sought out advanced leadership training early on in her Navy career. She studied executive leadership and earned a Master of Public Administration to better understand the nuances of leadership and be the best possible leader for her Sailors.
The biggest driving factor that led me to serve in the military is that I wanted to make a difference in the world. I wanted to be part of something bigger than me.
The Momsen is a US Navy guided missile destroyer, a ship with serious firepower and a crew of more than 300 people. On any given day, Commander Brunelle might lead these Sailors in air defense operations, humanitarian assistance missions, counter drug ops, fishery enforcement, or multinational force projection exercises.
For 30 years, she has served in the military; first, as an enlisted Airman in the Air Force, and then as a commissioned Surface Warfare Officer in the Navy. Her career hasn't exactly been typical — though she's hardly the first woman to command a ship, not many people are selected from the Air Force ranks to become officers in the US Navy. Commander Brunelle has navigated her path to leadership in much the same way that she steered the Momsen through a storm from the ship's homeport in Everett, WA, down to San Diego, and on to Pearl Harbor, HI: with quick thinking, an unshakeable calm, and a deep commitment to the people she serves with.
In every exercise and evolution, she holds each member of the crew to the same high standard. She even participates in firefighting drills — she can don her firefighting suit and man a hose in a minute and fifty seconds flat. It's a bad day if the Captain is putting out the fire, but if it something goes wrong, her crew needs to know they can count on her.
And she can count on them.
It's important for everybody to have their voice heard because this is the group. This is it. This is what we do, and we have to do it together as a team.
Most afternoons, Commander Brunelle's voice echoes over the ship's PA system through the Momsen. She informs the crew about upcoming evolutions and updates them on the events of the day. But she also takes questions. Any Sailor, no matter how junior, can call in and submit a question to her which she then answers for the whole crew. And this is just one of the ways that she connects with her Sailors.
Every single Sailor meets with Commander Brunelle when they board the ship. After this, she gets to know them, and they get to know her, through daily check-ins. This level of communication helps create a positive culture, but Commander Brunelle also views it as critical for mission success. The Momsen is largely self-sustaining. The crew must be able to handle the ongoing operations of the ship and deal with any situation that might arise while they're at sea. Everyone needs their voice to be heard because there's only this team to rely on if something goes wrong.
I'm proud of [the crew]. I'm proud of the accomplishments that they do every day. They truly are just a breath of fresh air. This crew is proof positive that you can do whatever you choose to do. The sky's the limit.
This article is sponsored and provided by America's Navy.