The US Open Is Sorry It Penalized A Female Player For Fixing Her Shirt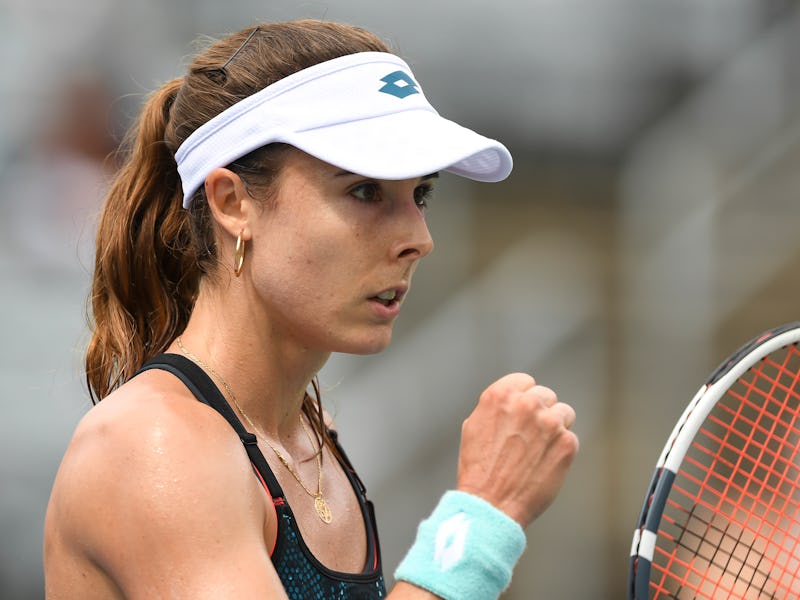 Minas Panagiotakis/Getty Images Sport/Getty Images
The US Open is attempting to quell the backlash after penalizing a female player who took off her shirt briefly during a match. There has been an outpouring of anger over a seeming double-standard between rules for male and female tennis players after French player Alizé Cornet received a penalty Tuesday for switching her shirt because it was on backwards. The United States Tennis Association (USTA) — which heads up the US Open — issued a statement apologizing for Cornet's penalty and said it's clarifying their rules.
Many on Twitter shared displeasure at the fact that a woman was not being held to the same standard as men. On the day Cornet received her penalty, news outlets such as BuzzFeed noted that men were taking off their shirts in reaction to the 96-degree weather on the courts in Queens, where the matches were being held.
The USTA clarified their policy in response to the reaction surrounding Cornet's penalty. "We regret that a Code Violation was assessed to Ms. Cornet yesterday," the statement said. "We have clarified the policy to ensure this will not happen moving forward."
The violation happened after Cornet came back from a 10-minute break. She had put on a fresh shirt during the mandatory pause in the game, but realized it was on backward when she returned to the court, Reuters reported. She quickly corrected the issue, briefly exposing her sports bra. This led umpire Christian Rask to issue a penalty on a code violation.
USTA officials clarified to BuzzFeed that the French player was "only assessed a warning with no further penalty or fine." According to USA Today, it clarified its policy, stating that "all players can change their shirts when sitting in the player chair… This is not considered a Code Violation."
The Women's Tennis Association (WTA) also released a statement about Cornet with policy clarifications. Some outlets reported when the WTA had rules about females only changing their shirts when off-court, while no similar rules applied to men. The WTA said this was untrue.
It said it was "was unfair and it was not based on a WTA rule, as the WTA has no rule against a change of attire on court."
The WTA has always been and always will be a pioneer for women and women's sports. This code violation came under the Grand Slam rules and we are pleased to see the USTA has now changed this policy. Alizé did nothing wrong.
This statement virtually pinned the warning given to Cornet on the umpire's misinterpretation of the rules, but The Telegraph pointed out that it would be easy to implement the rules incorrectly because of the vagueness of the terms.
"According to the WTA handbook, if you want to go off court to change your clothing, you can only do it at the end of a set," The Telegraph points out. "Crucially, though, the handbook never says that an official 'change of attire' break is required for any player who wants to adjust their clothing."
During a Wednesday press conference, Cornet addressed the apology and said she appreciated the US Open officials' sentiment.
"I think it's very fair from them (the USTA) to apologize to me," Cornet said. "I really appreciate it. I mean, I think that the proportion that it took is huge. When I woke up this morning, I didn't think that this code violation would become so famous in less than 24 hours, and I'm very surprised about it, actually, to be honest."
All this news came shortly after the French Open said famed tennis player Serena Williams couldn't wear her black catsuit that was designed by Nike to help her deal with her post-pregnancy blood clots. With the Cornet news on top of that, the world will be keeping it's eye on tennis courts — and not just to see the great drop shots.