The Way This Olympic Skier Deals With Stress Is The Self-Care Inspo You Need For 2018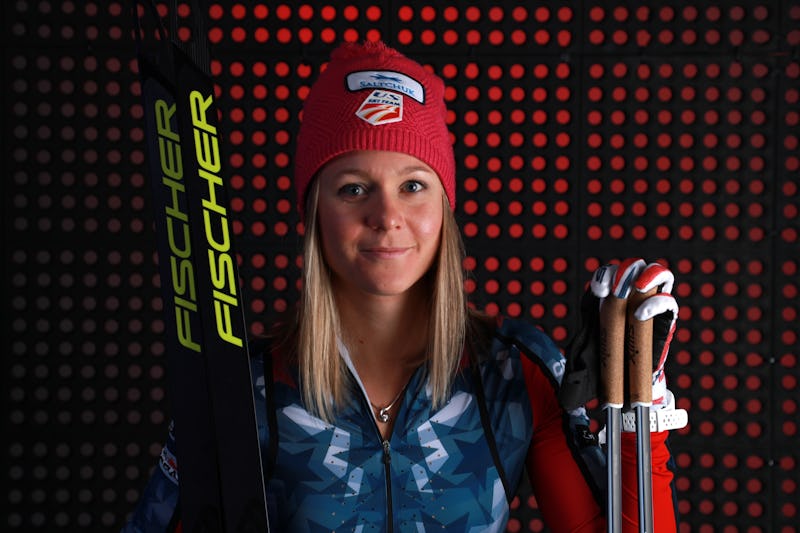 Ron Jenkins/Getty Images Sport/Getty Images
Balancing school, work, and a social life can be difficult for anyone, but American skier Sadie Bjornsen takes things to another level. Not only does the 28-year-old hope to be the first American woman to medal in cross-country skiing at the 2018 Winter Olympics in February, but she's also a dedicated student at Alaska Pacific University, pursuing a master's degree in business. Things can get stressful when you're training for the Winter Olympics and completing a master's degree at the same time, but Bjornsen is remarkably laid-back about it. "We live a pretty wild lifestyle. We don't have time to come home between races," Bjornsen tells Bustle. "We live out of these 50-pound suitcases. Every week, we are switching countries."
Bjornsen's cross-country skiing career seemed almost inevitable. She was born in Mazama, a small town in Washington state famous for its cross-country trails. She started skiing competitively when she was "six or seven years old," she says. (Her brother, Erik Bjornsen, is also an Olympic skier.) "It originally started as this family activity and something for our family to do to get outdoors," she tells Bustle. "[Skiing] was like a family vacation to me." She also qualified in 2014 for the Winter Olympics at Sochi, though she did not medal.
Bjornsen isn't one to shy away from challenging herself — in fact, she says, it's a way to cope with the pressure she faces. By the time she was a sophomore in high school, she was competing internationally, an experience she calls "incredibly terrifying." She remembers arriving to Slovenia for a competition as a teenager and crying because she felt so intimidated. But that trip ended up being a turning point. "I wanted to conquer this huge fear and become one of the best in the world," she says.
These days, when she gets nervous in the days leading up to races, she works on visualization, a mental technique where you imagine a future event. Bjornsen pictures herself going through a course and the moves she'll make, she says. "I work really closely with a sports psychologist, and I try to check in with her once or twice a week," she says. She talks to the psychologist about her feelings and any pressure she feels. She also talks to her teammates and says the U.S. Ski Team is "like a big family."
Another way Bjornsen practices self-care is through writing her feelings in a journal, which is a proven way to reduce stress. "I do a fair amount of journaling, which some people may laugh about, but it's such an awesome way to get your feelings out," she says.
When she's not on the slopes, you can usually find her finishing homework. "If I have free time, I generally spend it studying," she says. During the 2014 Winter Olympics in Sochi, Russia, she woke up early before races to attend classes remotely — even though she had every reason to request an excused absence. "I've always liked to do things the correct way," she says. "I've never wanted shortcuts."
Incredibly, Bjornsen doesn't veg out when she's not skiing or studying. During her limited free time, she says you can find her practicing French (her fiancé, Jo Maubet, is from France). She's also a voracious reader, and reads a book every night before bed.
Even with all the pressure she faces, Bjornsen says she has fun while she competes, and that's likely a bigger key to success than anything else. Racing has "taken me all over the world, and I've met a lot of really incredible people along the way," she says.
Most of us aren't Olympic-level athletes, nevermind pursuing a graduate degree at the same time, and will never understand the pressure Bjornsen faces. She has every reason to be stressed all the time, but she stays calm thanks to self-care and never taking herself too seriously. There's a lot to learn from Bjornsen's approach to life.
To learn more, visit teamusa.org. The Winter Games begin Feb. 8.