USA Gymnasts Won't Train At The Place Larry Nassar Abused Them Any More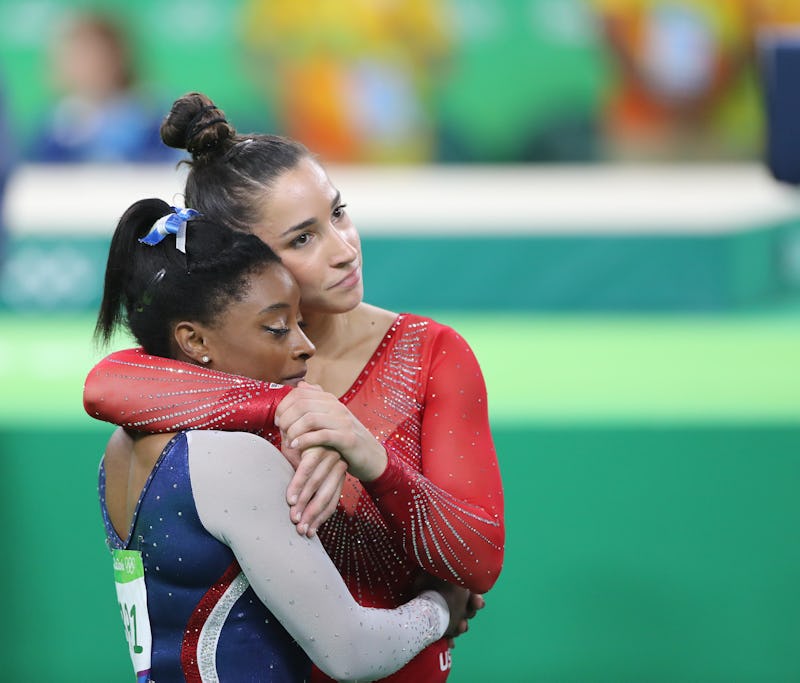 Tim Clayton - Corbis/Corbis Sport/Getty Images
After gymnasts Aly Raisman and Simone Biles said that were sexually abused at the national team training site by former team doctor Larry Nassar, USA Gymnastics announced it won't use Karolyi Ranch in Huntsville, Texas, as its center any more. The decision comes amid the fallout from Nassar's trial, in which he pleaded guilty to sexually assaulting underage girls. He was convicted on child pornography charges in a separate criminal case and has been sentenced to 60 years in prison, an effective life sentence.
Both Raisman and Biles have said they were among the gymnasts Nassar sexually violated, and both have said that some of the abuse took place at the Karolyi Ranch. As such, this has raised concerns about gymnasts having to continue to train at the site, with Biles writing in an Instagram post that it would be traumatic for her to have to return to the site of her assault to train for the 2020 Olympics in Tokyo:
It is impossibly difficult to relive these experiences and it breaks my heart even more to think that as I work towards my dream of competing in Tokyo 2020, I will have to continually return to the same training facility where I was abused.
Both Biles and Raisman competed in the 2016 Olympics, and both took home gold medals. Biles, currently 20, has made no secret of her desire to return to the 2020 games in Tokyo.
As NBC News detailed on Thursday, freshly minted USA Gymnastics President and CEO Kerry Perry released a statement affirming the decision to halt training at the Karolyi Ranch, stating that the safety of its athletes are a top priority:
It has been my intent to terminate this agreement since I began as president and CEO in December. Our most important priority is our athletes, and their training environment must reflect this. We are committed to a culture that empowers and supports our athletes. We have cancelled next week's training camp for the U.S. Women's National Team. We are exploring alternative sites to host training activities and camps until a permanent location is determined. We thank all those in the gymnastics community assisting in these efforts.
The ranch, named after the famed husband-and-wife gymnastics coach duo Bela and Marta Karolyi, has been a major site for American Olympic gymnasts for years. Last year, a lawsuit alleged that a "toxic" environment at the ranch helped enabled Nassar's abuse.
Raisman, who claims Nassar began molesting her at age 15, and groomed her by sneaking her desserts that were disallowed by the ranch's strict dietary restrictions, called for USA Gymnastics to abandon the ranch as a training site on ESPN's Outside The Lines this week. Specifically, she argued that no gymnasts should have to train there again.
"I hope USA Gymnastics listens because they haven't listened to us so far. I hope they listen and I hope they don't make any of the girls go back to the ranch," she said, as detailed by Deadspin. "No one should have to go back there after so many of us were abused there."
Clearly, USA Gymnastics has similarly decided that its relationship with the controversial ranch should come to an end. The site began hosting monthly camps for the U.S. national gymnastics team back in 2000, and in 2011, it was selected as a training site for the U.S. Olympic team.
That means both the 2012 USA women's gymnastics "Fierce Five" team, as well as the 2016 "Final Five" team, trained at the Karolyi Ranch. It remains to be seen what new training center USA Gymnastics will turn to after severing ties with the site.