Uzo Aduba's Speech About LGBT Allies Will Inspire You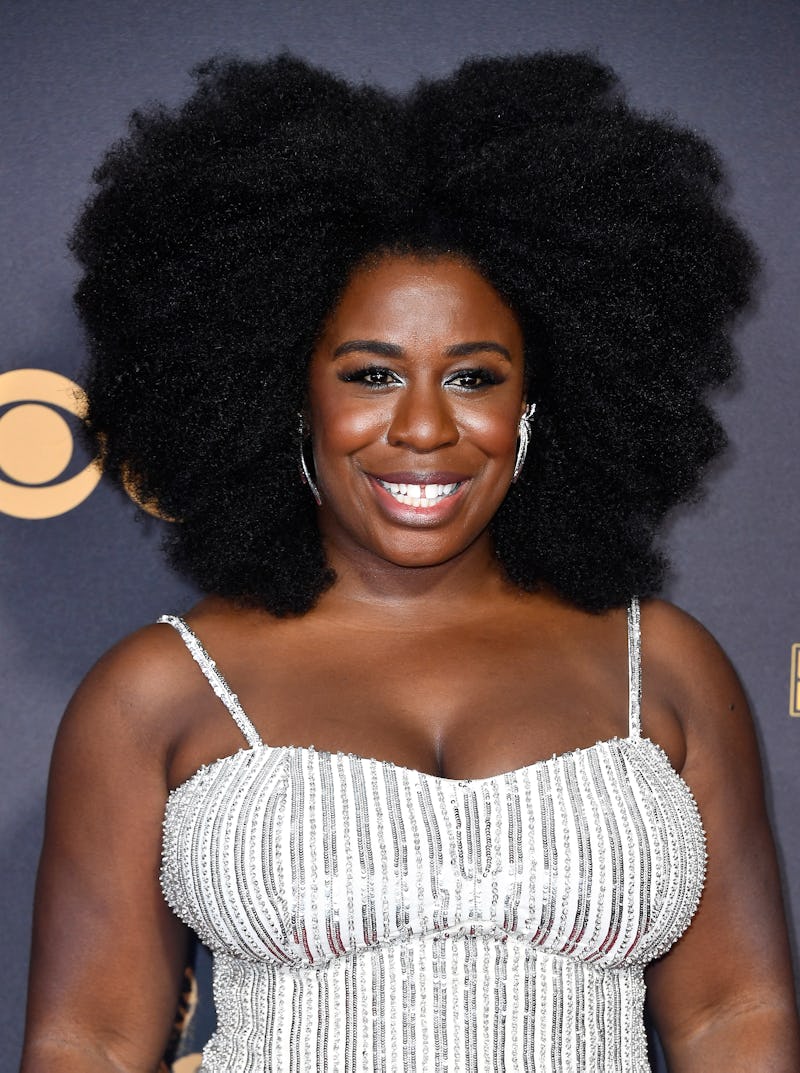 Frazer Harrison/Getty Images Entertainment/Getty Images
You can always count on an Uzo Aduba acceptance speech to be equal parts inspiring and tear-inducing. Case in point: Uzo Aduba's speech the HRC National Dinner in Washington, D.C. on Saturday, Oct. 29. The Orange is the New Black actor received the Ally for Equality Award and gave an extremely touching 15-minute acceptance speech that emphasizes the importance of living your truth and having allies outside of the LGBTQ+ community.
The 36-year-old actor took the stage at the Washington Convention Center on Oct. 28 to accept her award and her inspirational words served as a personal letter to those in her life that were coming to terms with their LGBTQ+ identities. She starts off by talking to the crowd about a family member named "Sam," (she said Sam is a fake name she uses in the speech for privacy reasons) and how an encounter with her openly gay friend Frankie inspired Sam to be open about his sexual identity, something she notes that she encouraged him to do while keeping in mind that things will always get better.
"What I want you to know is that you most certainly are special, but also that you are not alone," she said in the speech. "Many have come before you in this fight to live a life openly and equally, but it is my hope that none will have to come after you to achieve this basic human right that which is afforded to anyone else upon this earth."
She also recalls a time in which one of her best friends from her childhood, Crowley, came out to her when they were in college. She describes Crowley as always being a loving and supportive friend to her, and notes that her No. 1 priority following his coming out was for her to be as loving and supportive to him as he had always been to her.
The Ally for Equality Award is normally given to those who "publicly stand up for the LGBTQ community, committing their time and energy to improve the lives of LGBTQ people and advance equality for all Americans." Aduba has always been vocal about her support for the LGBTQ+ community, so it would be a bit of an understatement to say that she very much deserved the honor. The actor stars as Suzanne in Netflix's hit series Orange is the New Black, which has become known for its realistic depictions of women in same-sex relationships.
She also shows support for the community when she's not on screen as well. Last year the actor attended the Point Foundation's annual gala, where she delivered another personal speech about a time in which she defended a classmate in middle school by standing up to a bully. "The next day I came to school, and they all were sitting at a different table," Aduba said, describing the incident in the speech. "I sat at that table by myself everyday."
She also gave a few words of wisdom to the young men and women receiving scholarships that night. "I want you to know that each of you is a member of my chosen family," she said. "And that every single day—so long as I have breath in my lungs — I chose to fight for your cause, to stand beside you, and serve as a reminder that we see you."
Her words are super encouraging to listen to, and they serve as a reminder of how important it is to take action and be an ally to the LGBTQ+ community. Her speech at the HRC National Dinner clocks in at 15 minutes, but it's definitely worth watching every minute.