What The Woman Roseanne Barr Attacked With A Racist Tweet Wants People To Know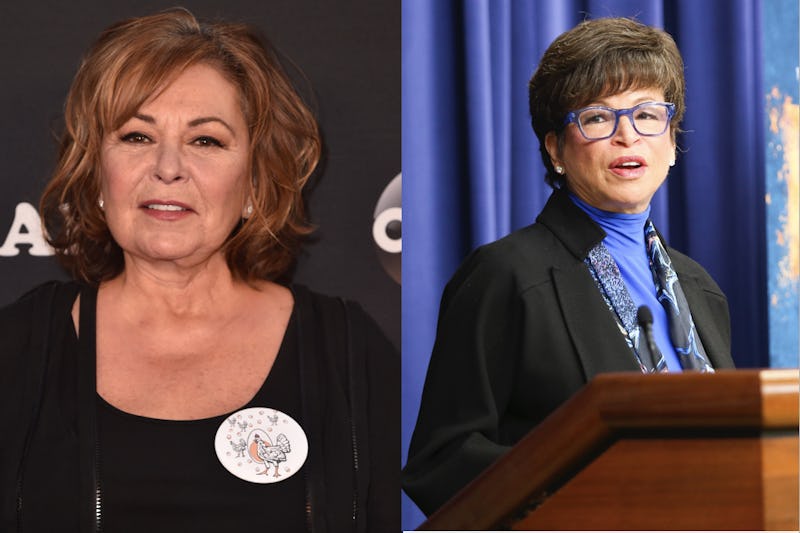 Alberto E. Rodriguez; Paul Morigi/Getty Images Entertainment/Getty Images
Former president Barack Obama's senior adviser has a message for Roseanne Barr and her "ape" tweet. On Tuesday, while appearing on MSNBC, Valerie Jarrett responded to Barr's racist tweet, saying, "First of all, I think we have to turn it into a teaching moment. I'm fine. I'm worried about all the people out there who don't have a circle of friends and followers coming to their defense."
The former senior adviser was joined by hosts, Joy-Ann Reid and Chris Hayes, as she appeared on MSNBC's town hall event on racism. According to a press release from MSNBC, Jarret went on to say,
The person who's walking down the street minding their own business and they see somebody cling to their purse, or want to cross the street, or every black parent I know who has a boy who has to sit down and have a conversation, 'the talk' as we call it, and as you say, those ordinary examples of racism that happen every single day. I think that's why I'm so glad to be here this evening talking with all of you.
The racist tweet refers to the Roseanne star calling Jarret the "child" of Planet of the Apes and the Muslim Brotherhood on her Twitter profile on Tuesday. The comedian and actress deleted the tweet later on. But criticism was swift after that, with condemnations and disapproval from countless social media users to high-ranking ABC figures.
Amid growing disapproval from observers, ABC cancelled Roseanne on Tuesday while the network's entertainment president, Channing Dungey, released a statement. Dungey said, "Roseanne's Twitter statement is abhorrent, repugnant and inconsistent with our values, and we have decided to cancel her show."
Jarrett also took a moment to touch upon the current presidency under Donald Trump and said, "Tone does start at the top, and we like to look up to our President and feel as though he reflects the values of our country. But I also think that every individual citizen has a responsibility too, and it's up to all of us to push back."
The former senior adviser said, "Our government is only going to be as good as we make it be. And as Reverend always taught me, you have to be — people on the inside have to push hard and people on the outside have to listen."
Some critics say that certain remarks from the president in the past and present may have emboldened people to hurl unkind and crass comments about others, particularly about their personalities and appearances. For instance — and it's an unfortunately lengthy list, so sit tight — Trump has passed disparaging remarks about Justice Ruth Bader Ginsburg and Justice Sonia Sotomayor's weight, Hillary Clinton's "stamina," former presidential candidate Carly Fiorina's "face," saying Elizabeth Warren has a "nasty mouth," calling Rosie O'Donnell "disgusting, both inside and out," Megyn Kelly's "blood coming out of her wherever," and more.
But it isn't just figures like Clinton, Ginsburg, and others that he has publicly derided and mocked; Trump has also issued eyebrow-raising remarks and rants about Muslims and immigrants, referring to them as risks to American national security. In 2017, Trump indirectly referred to African American NFL player Colin Kaepernick as a "son a b****" for kneeling during the national anthem in order to protest police brutality.
Barr's colleagues have also lambasted her for her racist tweet. Roseanne actress Sara Gilbert tweeted, "Roseanne's recent comments about Valerie Jarret, and so much more, are abhorrent and do not reflect the beliefs of our cast and crew or anyone associated with our show. I am disappointed in her actions, to say the least."
After thorough rebukes from social media users combined with the termination of Roseanne, Barr tweeted an apology and said she was apparently "leaving" Twitter. "I apologize to Valerie Jarrett and to all Americans," Barr tweeted. "I am truly sorry for making a bad joke about her politics and her looks. I should have known better. Forgive me — my joke was in bad taste."