Van Jones Urges Democrats To "Out-Love" Trump's Hate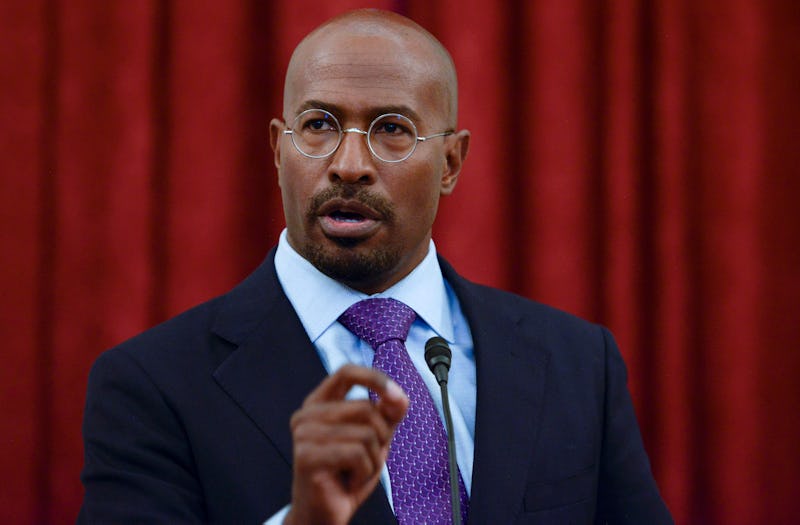 Leigh Vogel/Getty Images Entertainment/Getty Images
In a powerful speech Saturday, CNN commentator, civil rights activist, and former Obama administration advisor Van Jones cautioned progressives against adopting Donald Trump's tactics and rhetoric as they work to resist his policies. Speaking at The People's Summit in Chicago, Jones urged compassion and called on progressives to find a common purpose with both the Democratic Party and those who hold markedly different political opinions.
"We've got to be careful. A president has a spiritual grip on the country," Jones told the thousands of progressive activists who gathered in Chicago over the weekend to discuss strategies for cultivating an intersectional people's movement. "Now Trump is president and everybody is acting like a jack*ss, including, all too often, us." The winning strategy, he stressed, would not include attempts to "out-ugly," "out-divisive," or "out-insult" Trump:
We can out-love him, and we can out-work him, and we can out-solidarity him. ... That's what our movement is. ... You are not going to become the thing that you are fighting. You are going to put your love against these other people's hate. We're going to put our hope against their fear. We're going to put our compassion against their cold hearts, our pink hats against their barbed wire, and we're going to win.
Jones argued elites in both the Republican Party and the Democratic Party voters were "tricking" voters into getting caught up with fight against each other. Jones recalled the time he, a staunch environmentalist, marched with coal miners seeking better health insurance.
"It's wrong in America for people to be screwed over by corporations. I don't care who they voted for," Jones said, urging his fellow activists to support those being treated unfairly no matter their political affiliation. "You want to vote against me, go on and vote. Vote against me in two, three elections. But I don't want you to die," he said.
While Jones spent much of his speech addressing fellow progressives, he also had a message for establishment Democrats – recognize the needs and concerns of African Americans as they are the community that makes up one of your most important voting blocs.
"When we're being gunned down in the streets, when our bodies are filling up the prison people will tell us, 'that's not my issue,'" an impassioned Jones said of the "trickle down justice" African American voters are often told to accept by establishment Democrats. According to Jones, the African American community is often asked "to throw itself on hand grenades" to further Democrats' opportunities despite being the party's core vote.
"Stand with us," he said. "We stand with you on every issue. Stand with us and be proud to do it. That's all we're asking. No more booty call politics. Put a ring on it."