Jax's Father Has Died & His 'Pump Rules' Co-stars Are Sending Their Love On Twitter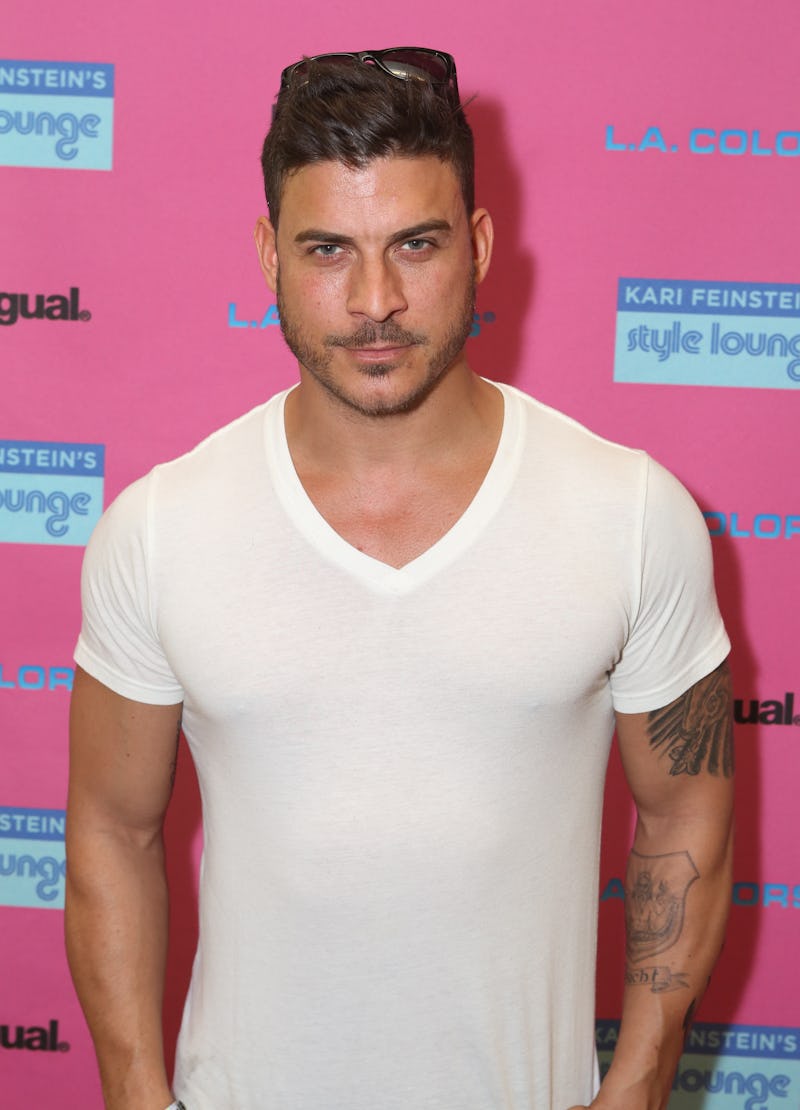 Alison Buck/Getty Images Entertainment/Getty Images
Some sad news has emerged about someone near and dear to one of Vanderpump Rules' mainstays. Jax Taylor's father has died after a battle with esophageal cancer, as reported by Us Weekly and shared via Taylor's own statement on Twitter. The Pump Rules star's tweet about his father's unfortunate passing will definitely make fans of the show more than a little emotional.
Taylor wrote on Twitter on Dec. 28 about his father, Ronald Cauchi:
My heart is broken, I lost my best friend and the best man I have ever met last night, I love you so much dad I can't even breathe anymore, only person not letting me fall right now is my amazing girlfriend. I love you dad.
The reality star first revealed that his father was battling the serious illness earlier in December. He said on Twitter, "Yes cancer fu&king sucks, watching my father go through this disease is killing me...prayers to all the families that have to deal with this awful disease."
Taylor revealed to Bravo's The Daily Dish that his father had been diagnosed with cancer in October of this year. He also shared his frustration with the situation and said, "There's nothing I can do." The Pump Rules star also called his father "his idol" in the interview and admitted that it's been "rough" to watch him go through a battle like this.
Many of Taylor's Pump Rules co-stars have taken to Twitter to share their support for him, including his girlfriend, Brittany Cartwright, who has been by his side the whole time.
His best friend and co-star, Tom Schwartz, also took to Twitter to send some support.
SUR manager and Pump Rules cast member, Peter Madrigal, replied to Taylor's statement with:
Katie Maloney also tweeted her condolences and let Taylor know that she's there for him.
Ariana Madix replied to Taylor's statement to let him know that he's not alone during this time.
Cartwright's mother, Sherri Cartwright, who appeared in a couple of Pump Rules episodes on Season 5 and on the spinoff Jax and Brittany Take Kentucky also sent kind thoughts along.
In the past, Taylor's been open about his relationship with his family, including his father. He told Mel Magazine that his parents had differing viewpoints about his reality TV career. He said that his mom, who's been on the show before, thinks that it's "fun" whereas his dad never got into the show much. But, he said, "As for my parents, as long as I'm happy, they're cool," in reference to his career path. So, it sounds like he's had a great relationship with his parents.
In the Mel Magazine interview, he also seemingly opened up about how he was handling his father's illness. He didn't describe the situation with his father specifically but did say that he had been "going through some family issues." While it's possible that he could have been referring to something else that was going on, it makes sense that he was referencing his father's disease here as the interview was posted in November and his father was diagnosed with cancer in October. Taylor wasn't dealing with his "family issues" in the best way and said, "A lot of my friends are reaching out [during this hard time], and I appreciate them telling me that they get what I'm going through. But I've never lost anybody before; I've never even been to a funeral. So I'm going through something right now that I don't know how to deal with." It's heartbreaking to look back on Taylor's words now considering this sad news.
It's nice to see Taylor's Pump Rules friends and co-stars support him during what has to be a difficult time for him. This crew may be involved in their fair share of drama during any odd episode of their Bravo show, but they're always there for each other when things get tough.