Star Stassi Schroeder Has A National Holiday & It's All About Individuality & Self-Confidence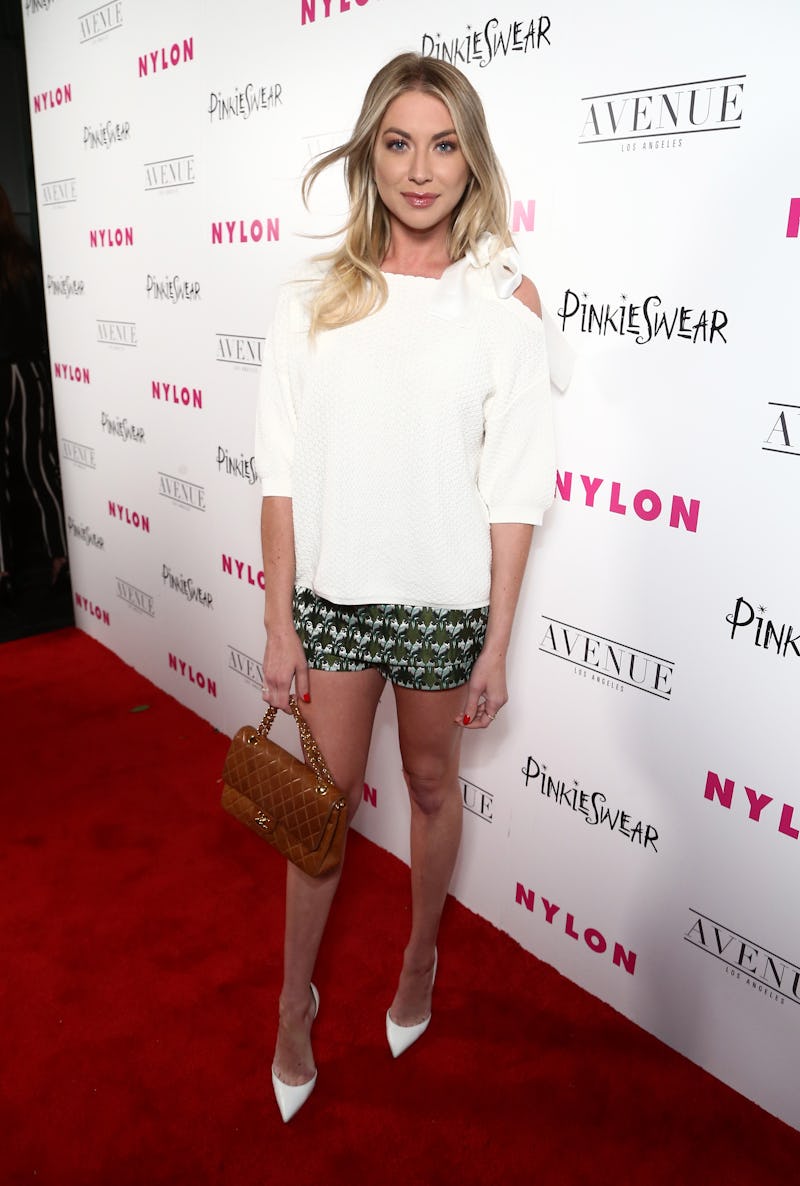 Tommaso Boddi/Getty Images Entertainment/Getty Images
A national holiday to recognize mirror pics and an Instagram hashtag may seem a little gratuitous at first. But before you judge, hear Stassi Schroeder out. Vanderpump Rules' Stassi officially founded National OOTD Day, June 30, but it's really so much more than a hashtag. On the day's official site, Stassi explained why OOTD (Outfit Of The Day) Day is a celebration everyone could benefit from because it's really a day to focus on confidence and self-worth. And who couldn't use an annual day to embrace and check in on those things?
Fittingly falling on Stassi's 30th birthday on Saturday, OOTD Day encourages everyone to look and feel their best in order to most effectively take on the world, according to the official OOTD website. Stassi wrote that she simply wants people to take a few extra minutes in the morning, put in a tad extra effort, snap and post a photo, and shamelessly enjoy the love it deserves. "Because even if you don't have your sh*t together, dressing like you have your sh*t together makes you feel like you have your sh*t together," she explained on the site. Well said.
Fans may not know this, but Stassi was actually documenting her OOTDs long before she created the holiday. "I believe that style is artistic and that expressing yourself with your outfit directly affects your inner self-confidence," she wrote. "When you have a great outfit on, your day is that much better, and in my opinion, you should honor that feeling with an OOTD!... Celebrate what makes you feel good about yourself."
The new national holiday is also super official — Stassi applied and got OOTD Day nationally recognized. "It was quite a process. I had to have a mission statement and what I wanted to do with it," reality TV star explained to People in an interview published on June 28.
Props to Stassi for actually turning something like an Instagram hashtag, which can often lend itself to superficiality and race for likes, to mean something much deeper and more lasting and significant. Further, she wants all people, regardless or gender, age, or body type, to feel the love and work with what they've got. "Take a good hard look at your body and choose your favorite parts. Got 'em? Good," she wrote on the site. "Now keep those in mind and find a uniform that accentuates those parts."
While encouraging people to live their best lives with OOTD Day, Stassi's been making moves elsewhere too. She and the Pump Rules cast are currently in production for Season 7, as Season 6's finale aired April 30. And of course, she's been jet setting with her boyfriend Beau Clark in Europe, giving fans infinite FOMO.
While Stassi's ex boyfriend Patrick and Lisa Vanderpump had a super awkward encounter documented in last season's finale, it's uncertain if her current beau will appear on the show. But she's clearly moved on to better things. "It's so weird because I'm like, is this what a relationship is supposed to be like, where someone's just nice to you all the time?" Stassi explained about her current relationship on The Daily Dish podcast in April. "I realized I've never been in a healthy relationship ever yet. This is my first one... Now I can really appreciate how wonderful this is and how fun and easy it is. I can be happy all the time."
Stassi's also been out and about backing her fellow VPR ladies and their endeavors too. She recently supported Kristen Doute's James Mae Collection launch in LA alongside Katie Maloney-Schwartz. "So proud of @kristendoute. Her t-shirts are as soft as a 1 hour old baby's ass," she wrote on Instagram. The three peas in a pod also celebrated Gay Pride together this year in West Hollywood.
Loyal VPR fans would only be so lucky to have a National Pump Rules day or Lisa Vanderpump Day in the future. Neither are likely, but hey, Pump Rules lovers can dream.