Vanessa Trump Was In A Movie You Might Remember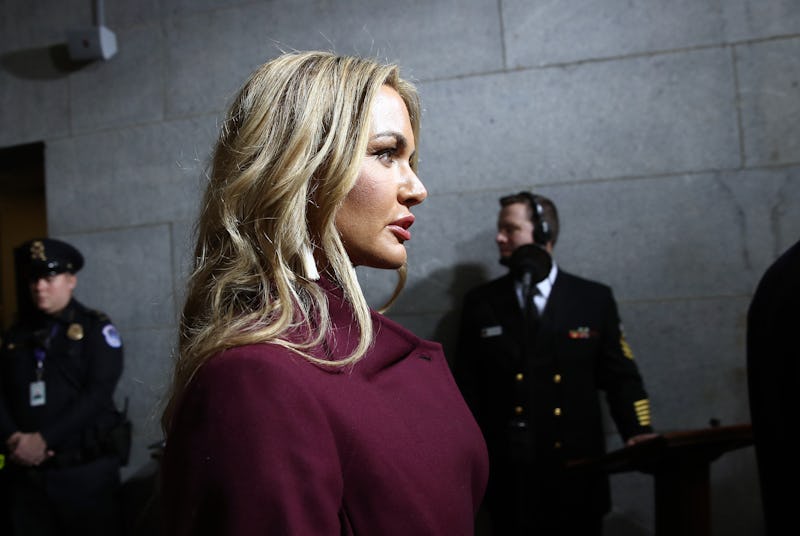 Win McNamee/Getty Images News/Getty Images
Donald Trump Jr. has recently been making headlines for meeting with a Russian attorney last year to obtain potentially incriminating information about Hillary Clinton. His wife, however, has a career that veers away from politics. Vanessa Trump is an actress and former model who is currently a stay-at-home mom.
Vanessa had a minor role in Something's Gotta Give, the 2003 romantic comedy starring Diane Keaton and Jack Nicholson. In the movie — which features Nicholson's character developing feelings for Keaton's during a romantic weekend with Keaton's character's daughter — Vanessa plays one of many "beauties."
In 2004, according to her IMDb page, Vanessa served as a celebrity judge on the Miss U.S.A. pageant, and she has since appeared on The Oprah Winfrey Show and The Apprentice alongside her father-in-law, the current president. But Something's Gotta Give is Vanessa's most notable acting role — though acting is not all she does.
Vanessa's mother ran a modeling agency, so she has been modeling since she was a child — first for her mother's agency, Kay Models, and later for top agency Wilhemina Models. More recently, for a brief period of time she was the designer of a handbag line called La Poshett. Her time as a designer lasted until 2013.
Vanessa is currently a stay-at-home mom. She and her husband have five young children. Although her husband is submerged in a political scandal, Vanessa seems to avoid talking about politics in favor of showing off her kids.
The president and his kids — particularly Donald Jr., Eric, and Ivanka — make headlines so often that the rest of the Trump family does not often appear on Americans' radar. But many of them have had and continue to have lives away from politics, and Vanessa is just one example.
However, even though she does not choose to extensively advertise her political views, Vanessa joined her husband in supporting her father-in-law's candidacy, and is reportedly a staunch supporter of the Second Amendment.
Nonetheless, it is clear that Vanessa's top priority right now is her family. She has worked in the film, television, and design industries, and occasionally campaigned for her father-in-law during his presidential candidacy, but her tweets indicate that nothing matters more to her now than her kids.