Vans Is Launching A Spongebob Collection & It Will Bring You Right Back To Your Childhood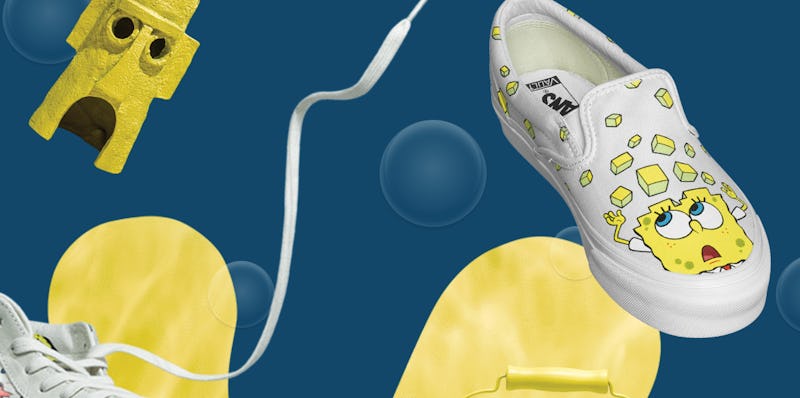 Courtesy Vans
Cartoon-themed collaborations and merchandise is everywhere lately, and it seems like Vans is jumping on the bandwagon with their newest product. Get ready to be catapulted back into middle school because Vans is launching a Spongebob Squarepants collection, and people are excited. Very excited. According to POPSUGAR, the collection is launching on Feb. 24, and it includes a variety of items including T-shirts and (of course) shoes, but also skateboard decks. Because, I mean, it's Vans.
When the collection (which is a Vans Vault collaboration) was announced, people on Twitter promptly freaked out. For Vans, a company known for its skateboarding apparel originally, collaborating with a surf-inspired show makes total sense. One Twitter user posted, "Spongebob and Vans? Match made in heaven," so consumers clearly agree that the partnership seems totally natural and organic. Another user simply said, "This is everything."
People everywhere are excited to grab the shoes and T-shirts, and given that they're available in men, women's, and kids sizes, there's something for everyone! The shoes range from the traditional high-top variety of Vans, to the low-rise, to the traditional slides — some pairs even feature the classic black-and-white checkered pattern Vans is known for. If you're looking for a more subtle Spongebob reference, this collection has that for you. If not, it has some more in-your-face pieces, too.
The images for the collection feature gorgeous "under the sea" shots that would make Spongebob, Patrick, and crew proud.
This collection is limited edition, so it's far to say that you'll want to keep an eye on the Vans Vault website before it launches on Feb. 24. People are already talking about the collaboration non-stop, which means that there's a good chance pieces will sell out fairly quickly.
Whether you're looking for an animated drawing of Spongebob himself on your feet or just a tiny Spongebob on the tongue of your Sk8-Hi Vans, there's something for everyone.
There are even a couple pairs checked with tiny Patricks all over the shoe, because not everyone is primarily a Spongebob fan, of course.
The Sk8-Hi sneakers in the collaboration still feature the classic Vans squiggle across the shoe, though, so not to worry — people will definitely still recognize these shoes as Vans no matter what. The slip-on styles similar look like classic Vans, so there's no missing what kind of shoes you're wearing, despite the interesting patterns and character depictions.
In case you already aren't convinced, it's worth emphasizing just how excited fans are about this collaboration. Not only do the brands mesh completely, but it's the perfect does of still-relevant nostalgia to bring to your wardrobe. I mean, is there anyone who isn't brought immediately back to 4 p.m., watching Spongebob after school when they hear "Who lives in a pineapple under the sea..."? No. The answer is no.
One user tweeted that it was their only priority to get their hands on a pair of high-top Spongebob Vans, and can you really blame them?
Fans are generally freaking out about the items, and are eagerly awaiting the drop. Twitter user Coponmon simply tweeted, "Oh shit, Vans vault x Spongebob so lit dude."
And, according to everyone else on the Internet freaking out about the launch, this collaboration is, indeed, lit.
People are ready to snatch them up ASAP.
One Twitter user even said they were ready to purchase every single style and pair in the collaboration.
According to POPSUGAR, the items in the collaboration will only be available for sale in a few select retailers, unfortunately. But, given the high demand from consumers, it's worth speculating that the collection may end up online at some point as well. The demand for nostalgic merch is only growing, and this might be the most exciting collab for kids of the early '00s yet.